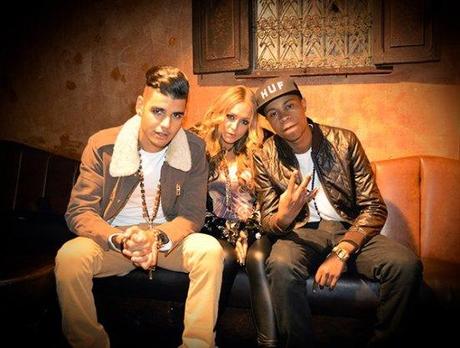 Hello boys and girls, so we are back with an amazing line up for 2013. To start the year with a bang it's only right that we start with an exclusive interview!
Hotwire are the new kids on the block but are full of potential. Comprised of George, Daniel and Sophie you would be forgiven for thinking: 'Wait, they're just another N-Dubz', but we have to say their musical talent is so much more. These guys (and gal) weren't brought together through a reaity tv show but for their love of music: 'We just love it. To be inspired by something you have to love it. We want to do it because we love it, that's the main thing.' George met Daniel through mutual friends and ended up becoming best friends and George and Sophie went to school together. Sophie joined Hotwire 2 years ago.
Their inspirations range from garage, hip-hop, rnb to classical, as well as rock and reggae.  'We listen to everything to be honest. George is Greek so he grew up listening to a lot of Greek music.' However George had other influences as well 'When I was younger Usher was my biggest inspiration and where he is today I would say he still is. Elvis Presley as well. My dad played a lot of his music when I was growing up.' Despite that George really does have an eclectic taste in music saying that he'd love to work with the likes of Labrinth or Kanye as 'they are both musical magicians' and 'Rihanna would be another.' As George pointed out the music scene is massive, so when it comes to home grown UK talent: 'Definitely Tinie Tempah, Dappy and Skepta. I really would love to do something with Emeli Sandé and Adele. That's more like my style.'
Daniel's biggest influence is Tupac but he would choose similarly to George when it comes to collaborators: 'If I could choose, I wouldn't just choose one. I would definitely work with Kanye West because I think he has the most creative mind as a rapper. Domestically I would want to work with Skepta because I like his style and the way he does things.'
Sophie brought it back for the girls telling us that her biggest influence was 'Whitney Houston because of her soul and the power she lets out when she sings' but she would most like to work with 'Joss Stone. I like her style, her vocals and she's an inspiration in my eyes'.
We moved onto fond memories based around music. Sophie said hers was when Take That filmed their video for 'Up All Night' on the road where she used to live: 'They even asked me to be in it. It was just about seeing the effect they had on people as they were filming.' The boys however both chose band memories. Daniel said: 'The first time me and George made a finished song. It must be my fondest memory because it felt natural, as if it was meant to be.' But for George it was their first music video: 'I know it sounds silly but the amount of years we kept going 'We're gonna make a music video one day and be on TV' and then we actually achieve it, that makes it a big deal.'
To wrap up we moved onto some fun stuff. So if a film was being made about their lives who would they most like to play them? Daniel: 'Denzel Washington because he's just as cool as me.' All we can say to that is: with big claims comes great responsibility, and a lot to live up to. Sophie said: 'Megan Fox because she's hot and sexy.' That we agree with. Lastly George said: 'Johnny Depp because he's just as weird and as crazy as me, or Leonardo DiCaprio, because he's a wavy dude.' Now we had to go to Urban Dictionary for an explanation of wavy, it gave some interesting results…
The last thing we asked Hotwire was what advice they would give to other artists trying to make it today: 'Just stick to chasing the dreams you have and believe in it 100%'. Sound advice we think.
Check out Hotwire's official video for 'Did You Know' and download it here.
-TWSH
Follow Hotwire:
Facebook Twitter Youtube