I love trying out different cuisines, so where better to be than London – however there are so many places to choose from, so many different types of food, I feel I'll never get through them all and so choosing becomes hard.
When I heard about BunnyChow in Soho I knew this had to be a place on my list. There's been quite a buzz about it – South African cuisine with a twist, and being a laid back eat in restaurant with cheaper options – perfect for a smaller budget or somewhere to grab something to eat on the go.
Recently Alex and I met after work and went along to find out what it was like. Situated on a corner on Wardour Street, it seemed to be getting quite a bit of interest from passers by. The inside was pretty cool! Alex and I went up to order before taking a seat in the window.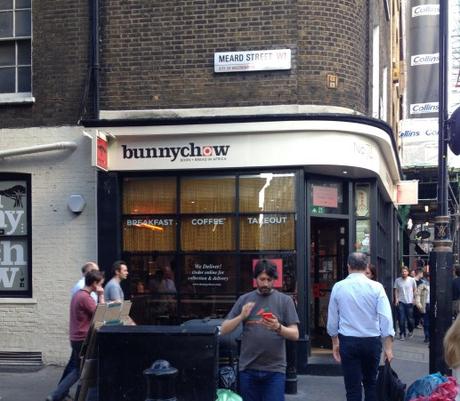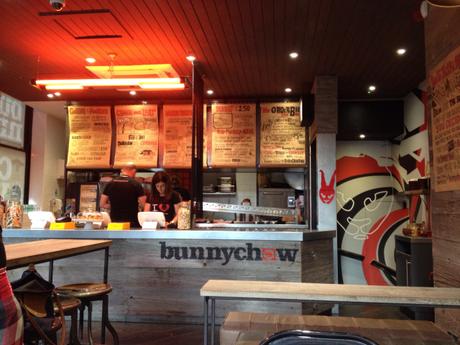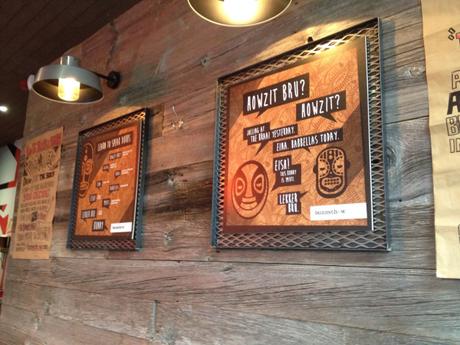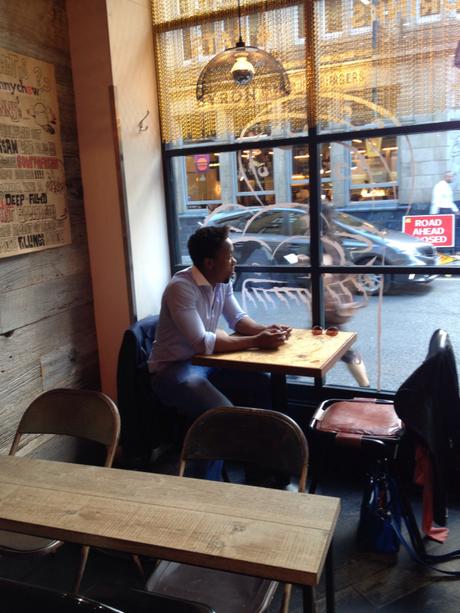 The deal with bunnies –
So there are 4 fillings to choose from, which can be served in a white, whole or brioche bun. All look super tasty.
I went for the Durban Bunny which was curry mutton with mango chutney, served with rice in a bun and a poppadom on top. Alex went for the Piri Piri bunny which came with Piri Piri pulled pork, rice, salad and peppers. Both came with a home made coleslaw style side, which was fresh and not creamy – just the way I like it.
We also ordered a side order of African spiced samp as I was intrigued as to what it was.
Samp is a type of grain, dried corn kernels that have been stamped and chopped until broken with added spice. It's really high protein, and low in GI, goes well with sweet or savoury and is basically a great substitute for rice etc. 
Drinks were hard to pick. With quite a few tasty fresh juice options, which you could add a shot of spirit to, and other soft drinks. After much deliberation I chose the Green Mamba with gin and Alex went for the North Beach with Rum.
Once we ordered we sat down and waited for our food to be ready, I thought they might call you over to collect your dishes, but they even bring the food and drinks to your table. The bunnies were delivered, followed not long after by the samp (I had added this to our order after…I knew I'd regret it if I didn't try it!).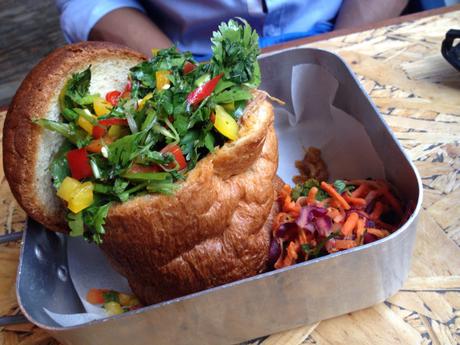 Alex's Piri Piri Pork Bunny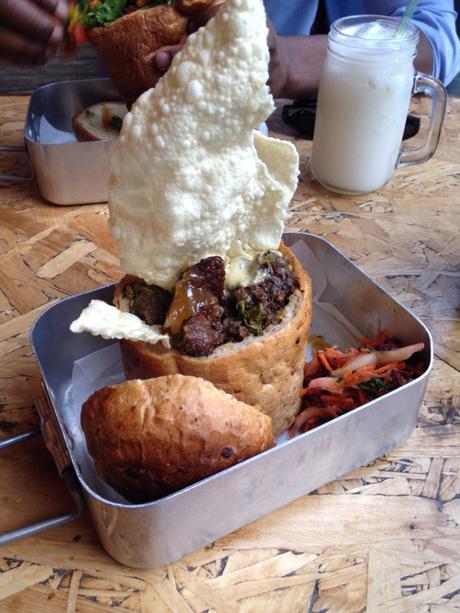 My Durban Bunny – How incredible does this look?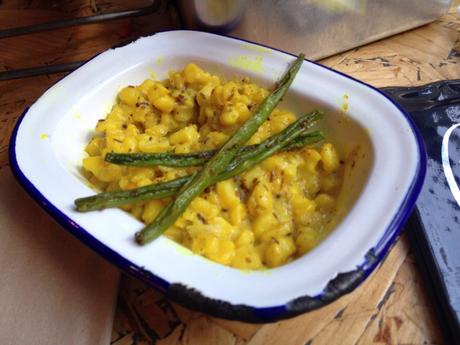 African Spiced Samp
They look amazing…and then came the big decision…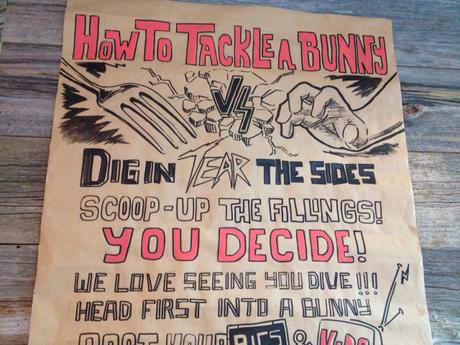 This is the poster on the wall…
Alex picked his up like a burger, I did a little during and then more towards the end, eating out of the bun with a fork for some of it and tearing the sides, as I thought it was too full to pick it up. I only like messy food at home :P
Alex did query the salad on top of his bun (he's a fussy eater when it comes to veggies) but still tried and ended up eating it all – he said it tasted really good! The pulled pork was tender and the fillings were really thought out.
Mine was amazing. I hadn't had mutton before, and this was tender and really tasty. There was the perfect proportion of rice to meat and sauce, and the poppadom on top was a fab addition making great presentation but also perfect for the curry. The bun was pretty soft, and the homemade coleslaw was fresh and crunchy – delicious.
They had different sauces you could try on your dishes too. I had a bit of the hot sauce which was great!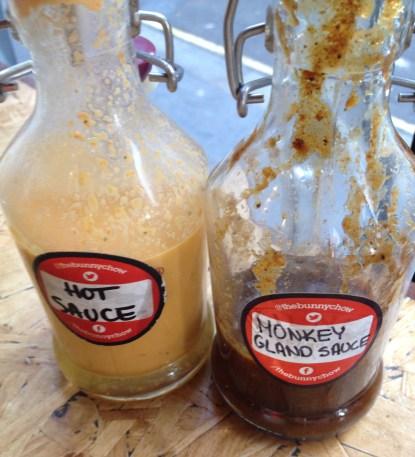 The samp wasn't as spicy or flavoured as I expected with African food, which might be because my taste buds have got so used to spice, but it was still nice. Alex tried it too and even liked it a little – I love how's he now trying new things!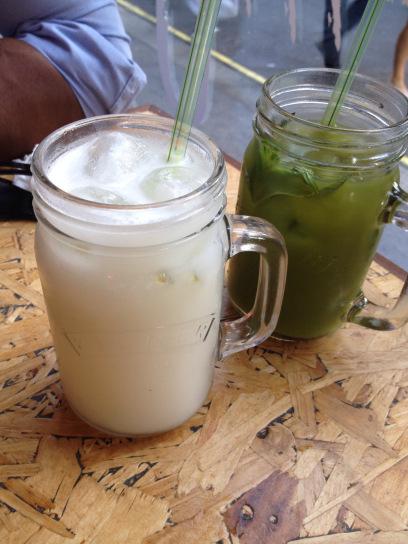 Left: North Beach, Right: Green Mamba
The cocktails we chose were great too and we liked the way they were served. They tasted really fresh, and were super refreshing. You could really taste the cucumber in mine too.
After finishing we sat for a little while to let our food go down, finished out cocktails, admired bunny chows decor before thanking everyone who served us for a great meal.
I would highly recommend trying Bunny Chow! With reasonably priced, extremely delicious food and drinks, friendly and efficient service, and a pretty cool dining in area, it's definitely a must try if you're in the soho area! Why not treat someone this weekend? It won't cost a lot to wow to a friend/other half!
Let me know what you think!
Chloe xx