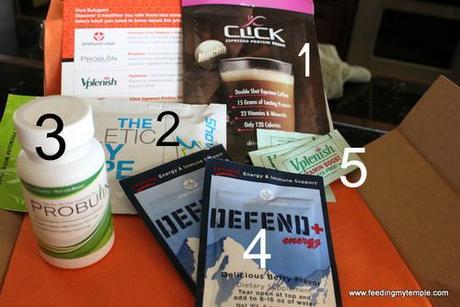 ​Yo! So, do you have a Bulubox yet? You should. Don't worry. They don't pay me to tell you that or to write these posts. I just think its cool. Here is what was in my August box. 
1. Click Espresso Protein Drink | Known as the coffee lovers protein drink. CLICK is a rich, delicious powdered beverage. Each 12- 14 ounce serving contains a double shot of gourmet espresso coffee, 15 grams of lasting protein and 23 essential vitamins and minerals. All CLICK products are naturally flavored, colored, gluten-free and CLICK's high quality protein is made from cows that are NOT treated with the rBST.
Ok, so here's the deal. I have had a packet of this stuff sitting in my pantry for oh, 9 months? Yeah. You know me, I'm quite predictable when it comes to my shakes, so this will come as no surprise. I prefer Shakeology. No, it doesn't have caffeine in it, but I'm ok with that. The reviews of this do look promising though. Check back with me in about 6 months. 
​
2. Shower Pill | Not a pill, not a shower and definitely not a baby wipe... It's the hygiene supplement to maintain your freshness while you lead an active, busy lifestyle. Premium, 9x8 inch, thick and durable wipe that is individually packaged for true on-the-go versatility.
​
I'm always weary of any sort of "wipe." It grosses me out typing that. I don't want to feel sticky, I don't want to smell like chemicals, and I don't want to feel like I'm coated in soap residue. This does the trick. If I lived in a city with long walks and days of running around like a mad man, this would be in my bag at all time. Instead I work in the sticks and the only thing that makes me sweat is getting in and out of brand new Corvettes. Yeah, my life is hard. ​
​3. Probulin | Probulin is a "gourmet" probiotic made only for people who are serious about maintaining a healthy digestive system. Since Probulin is a live bacteria product – which includes the patented strain Lactobacillus acidophilus DDS-1 – we use proprietary gastric bypass technology which minimizes the "loss" of good bacteria before it reaches the small intestine.
Wait, what? Gastric bypass? I'm so confused. I do always need a good probiotic ( as we all do, so go get one), so this should be interesting to try once my delicious chocolate chewable probiotics run out. ​
4. Imuno-Viva Defend Plus | Defend+ Energy supports immune function, increases energy levels, created by physicians, tastes great and 4x the vitamin C of a glass of orange juice. Pour the antioxidant--activity rich powder into an 8-12oz glass of water and enjoy great tasting immune support.

With disgusting cold and flu season being a creeper, I WILL NEED THIS. I could probably use one now since its no longer 125 outside and the ragweed is able to thrive, so chances are I will kill one before the weekend is over. And with a "delicious berry flavor" who wouldn't like these? ​
5. Vplenish Vitamin Powder Packets | VPLENISH contains a specially formulated blend of taste-free, clearly-dissolving vitamins and minerals including C, B6, B12, and D, plus zinc, antioxidants and electrolytes. VPLENISH® is all natural, calorie-free, kosher, gluten-free and caffeine-free.
​
These are like little packets of vitamins that can be sprinkled onto fruit, yogurt, oatmeal, teas, coffee, you name it. Again, I get all my vitamins from Shakeology, but I will probably throw one of these into my husbands 10:00pm bowl of Captain Crunch. ​