Alex and I have been together over 4 years now and from what I remember, we've only been for breakfast a couple times at most! Can you believe it? When everyone is so into brunch these days.
I decided this had to change – there are so many mouth-watering brunch menus I want to make my way through and we've got to start somewhere.
First stop – The Blue's Kitchen.
Sunday mornings you always expect to be busy when it comes to brunch in London, but we only had to wait 10-15 minutes for our table at The Blue's Kitchen in Camden – this was awesome news when I was so hungry! 
We ordered drinks at the bar whilst waiting, Alex going for a frozen margarita (claiming a hair of the dog would make it all better!) and I settled for a pineapple juice (completely disagreeing with Alex and not imagining anything worse!).
Nestled in a great spot in one of their booths we ordered our brunch, me the healthy breakfast – Poached eggs, heritage tomatoes & grilled avocado  with sautéed kale, pistachios & goji berries. They didn't have any sweetcorn fritters so they supplemented this with toast and halloumi instead – and Alex the Pig & Biscuits – Southern biscuits topped with juicy pulled pork, poached eggs, hollandaise sauce & sprinkled with crispy bacon bits – determined to try something new. Although to settle the blow of not going for the American breakfast which is one of his faves he also ordered a small stack of pancakes for us on the side – How piggish were we?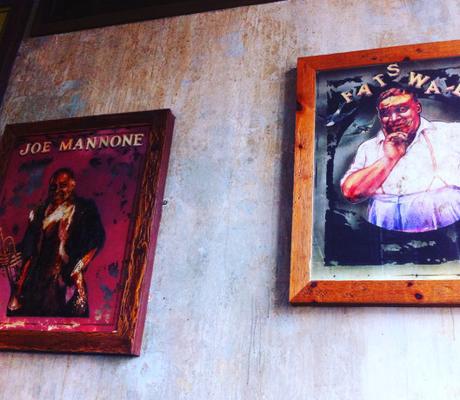 I loved the decor! The whole American theme is really growing in the UK.
I also asked for a tea, there's nothing better than a traditional tea to settle everything right?
When our dishes arrived they all looked amazing – it could have been the hunger talking but looking back now these pics even make me peckish. Mouths watering and tummys rumbling, I only just managed to get these shots before we dug in.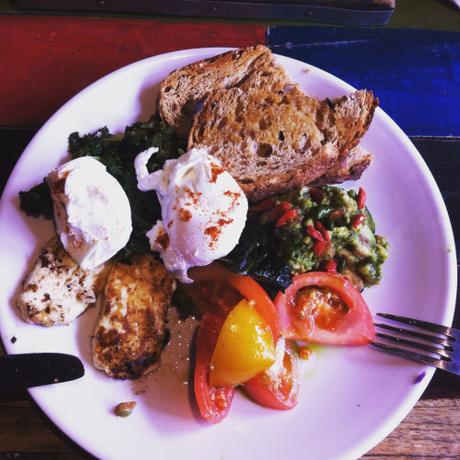 My healthy breakfast was incredible. The poached eggs still runny when you cut into them, the avocado with pistachios and goji berries were a super tasty combination I would never have thought of creating and the kale wasn't mushy. I was a little disappointed I didn't get to try the sweetcorn fritter as I'd been ogling this dish all week on the online menu, but the addition of halloumi definitely made up for that! I love halloumi.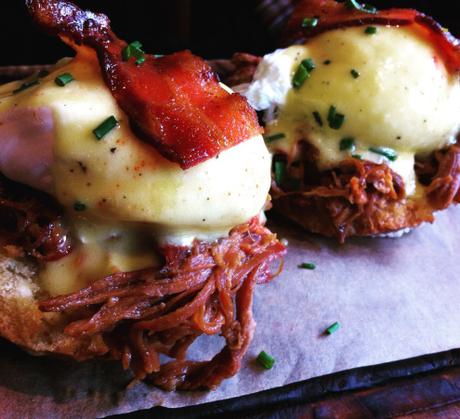 Alex's Pig & Biscuits were just as incredible if not more so. The pulled pork so tender, the poached eggs runny, the yolk oozing out onto the pork. The Crispy bacon which was presented on top adding a difference in texture and an extra meaty touch. Alex sure wasn't disappointed he hadn't chosen the american style breakfast!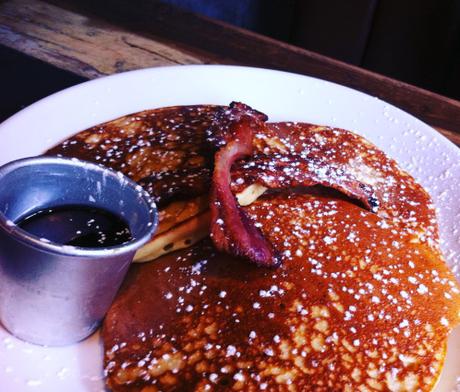 The side of pancakes were so soft and spongy, some the best american pancakes I've had. Teamed with the crispy bacon, the small stack would have been enough for one person by itself so it's not surprising we didn't eat even half. Luckily we managed to take them home.
I was seriously eyeing up the milkshakes, the chocolate and peanut butter one sounds SO good and everyone always has so much to say about them, but I was so full from eating I couldn't possibly even try to contemplate it. I'm definitely going to have to go back for one of those!
Service was friendly and pretty efficient. Although it's annoying they don't take bookings at the Camden branch before 4pm on Sundays, I guess you kind of understand as it's in London – so many places don't take bookings at all evenings and weekends!
I also spotted Monday's are rib days – yeah you heard right! One of Alex's favorite things so we'll definitely have to return for that too – ribs and milkshake.
Do you have any favorite London brunch spots I should add to my list?
Chloe xx