I have another BRTC product from my November BNT Beauty Box and this time it's an eye cream. I have been using eye creams on and off seeing that I don't really get results from them even if I stick with it for months.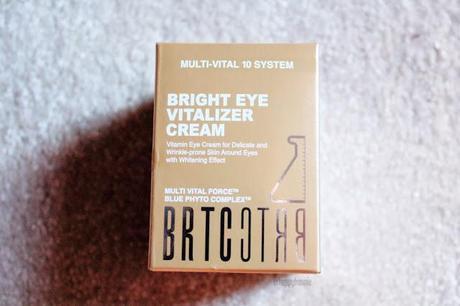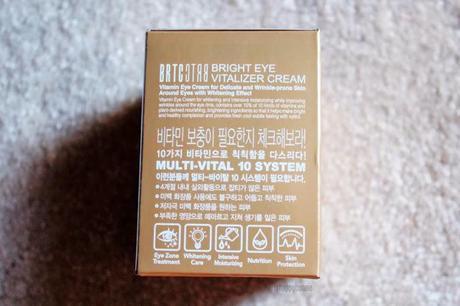 The BRTC Bright Eye Vitalizer Eye Cream is a vitamin eye cream for delicate and wrinkle prone skin around the eyes with whitening effect. The Multi Vital 10 System includes over 10% of 10 kinds of vitamins and plant derived nourishing and brightening ingredients. This product also contains Blue Phyto Complex a proprietary ingredient containing ECOCERT-certified lavender water; it alleviates skin stress, prevents skin dryness and itchiness, and soften rough scaly skin for the health of your skin. The Blue Phyto Complex was also present in the BRTC Jasmine 3D Whipping Essence which I have reviewed before.
This product is cool in it's own way because this is the first time I encountered an eye cream that is on a stick form. Usually eye creams are lotion-like and comes in a small jar but this one looks like a glue stick. The product is light pink in color and has a subtle citrus scent to it.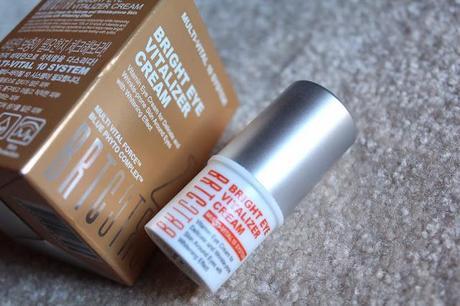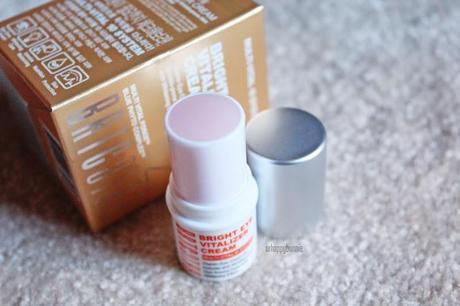 The good thing about this product being on a stick form is that is it so easy to sue and mess-free. All you have to so is glide it on the eye area: under the eye and on the lids). At first I was worried that this product, it being on a stick will drag across my skin (dragging gives premature wrinkles), but this glides on the skin easily and smoothly. It also has a slight cooling effect on the skin which is great to reduce tiredness and puffiness around the eyes. 
With all that being said, I don't think this product works that well though. I guess I just don't see the effect that it claims it does. My eye area doesn't feel moisturized at all, it actually feels drier when I wake up in the morning. As for brightening, there wasn't any significant changes on my under eye area where brightening concerns. Maybe I need more time using this product to actually see the brightening effect. I actually started using this product way before I tested out the Verikos Collagen Tightening Cream but one use of the collagen cream gave me a brighter under eye area than weeks of using this eye cream. 
This product personally is a dud for me. It didn't live up to my expectation of it. I'd still go on and use this product until it's gone and I'll give an update if ever results would show up. Eye creams in particular are just not my thing and there isn't any product yet that would make me want to invest in it.
*This product was sent to me for review but as always, my reviews are honest and based on my own opinions and experience.
Visit BNTNews for the latest Korean news and trends Official Page Tumblr YouTube Facebook Twitter: @officialbntnews