BRTC products is probably one of the brands that I've often reviewed for BNTNews International. There has been one or two misses but generally I quite like their items especially from the Jasmine 3D (Whipping Essence & Moist Pact) line. 
Here I am today with yet another BRTC skin care product and this time it's from their Aqua Rush System - The Aqua Rush Cream. 
The Aqua Rush System is geared towards achieving 4 things: intensive moisturizing, skin protection, nutrition and calming dry and sensitive skin. Each system that BRTC produces has one proprietary ingredient and for the Aqua Rush System, it is the Marine Rx Force. This marine RX Force is an ingredient that revitalizes and comforts stressed, tired skin while adding a dewy glow for a healthy look. 
The Aqua Rush Cream is a Moisture-locking Water Pumping Mineral Cream for Dry Skin. It is infused with mineral-rich, deep sea water which releases moisture as you rub, immediately relieving dryness and restoring skin's glow while creating a barrier on the surface to prevent moisture loss and facilitating the absorption of nutrients for long lasting softness and comfort.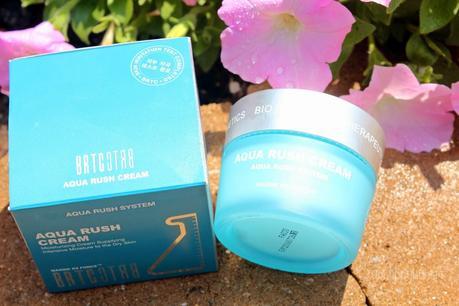 As always, BRTC packaging always is very "clinical but pretty," with the packaging always color coded for its particular system. The box packaging in it's teal color with BRTC logo which is a flask, it seems very clinical. The actual product is housed in a frosted blue jar with a silver lid and contains 60ml of product.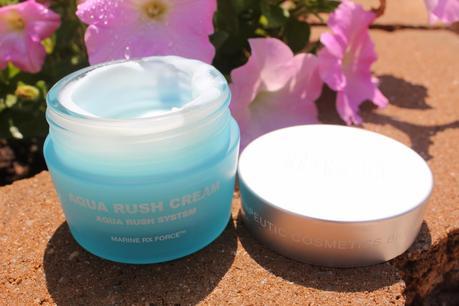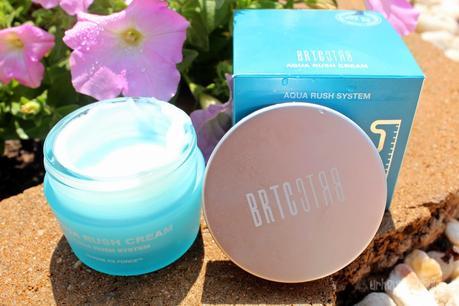 The cream is lightly scented - fresh and watery. I love these kind of scents the most and I'm reminded by the products I've reviewed in the past which smells similarly like the Sorabee Balancing Aqua Cream and the Nature Republic Super Aqua Max Watery Cream.
The actual cream is quite thick in my opinion and does give an intense moisturizing effect to the skin. Though I have a normally dry skin, my skin type has changed to that of a combination skin now that it's the summer season so this is not a product that I would use nightly as of now. For the summer, I prefer lighter moisturizers for both morning and night so that my skin would not be oily. Although this cream is really a good one, I can't appreciate it now because my skin is not in its usual dry state. I firmly believe that this would be one of my holy grail products come fall and winter but for the summer, it is a no go for me. 
If you have extremely dry skin, I would highly recommend this product since it is made especially for that. For this season, I would only probably use this product if I ever have a sunburnt face. Just put this cream in the fridge and apply it onto your hot and dry face an I'm sure it will give you a soothing effect. Lately, I have been in the habit of putting my skin care products in the fridge for an extra cooling effect since it has been so hot and humid, so I suggest you pop your creams, mists and sheet masks in the fridge for a about 15 mins before use. 
Still giving this product 5/5 even if it is not great for my skin for this season. It is truly one intensely hydrating cream for dry skin so I'm saving this one for the colder months to come. :)
*This product was sent to me for review but as always, my reviews are honest and based on my own opinions and experience. Visit BNTNews for the latest Korean news and trends Official Page Tumblr YouTube FacebookTwitter: @officialbntnews