Bronzed look is always the way to go for the summer and with a tan, it looks absolutely gorgeous because you look like you're naturally glowing. Summer is not too far away and because it's my favorite season, I'm bringing you a look that slowly transitions from spring into summer - bronzed eyes and naturally countoured and flushed cheeks.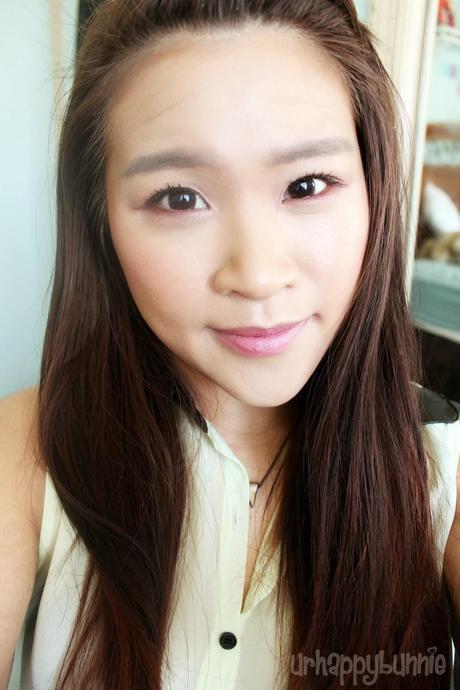 Face/Cheeks/Lips: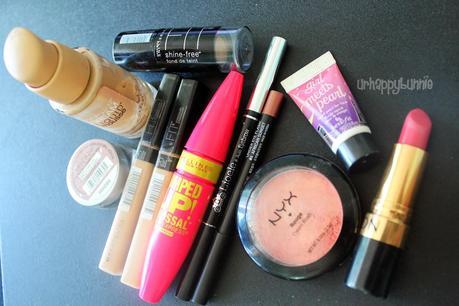 For me, summer is the best time to bust out cream and liquid products so I'm doing highlighting, countouring and blush using such. 
Maybelline Dream Liquid Mousse Foundation - This is a great foundation since it is light and creamy and sinks into the skin pretty well. Apply a light layer on the face to just even out the skin tone
Maybelline Fit Me Shine Free Stick Foundation in 330 Toffee Caramel - This is great for contouring since it blends out nicely and gives such a natural look without being overdone. Apply this on the areas you want to slim down like, like the hollows of the cheeks, temples, jaw, and the sides of the nose. Blend out with fingers or with a synthetic brush.
Maybelline Fit Me Liquid Concealer in 25 Medium - This shade is the best match to my skin so I'm using this to cover up dark under eye circles. It neutralizes the area and erases the darkness under the eyes. Apply it around the nose and blemishes to cover up redness and imperfections. 
Maybelline Fit Me Liquid Concealer in 20 Sand - This is a shade lighter than 25 Medium and is great for highlighting. I applied it over 25 Medium under the eyes, drawing an inverted triangle and blending it out for a naturally brighter under eye. I also applied this on the bridge of the nose, forehead and chin.
NYX Cream Blush in Tickled - Tickled is peachy pink shade with a subtle gold sheen. Apply it on the apples of the cheeks to emphasize full cheeks thus making you look more youthful.
Benefit Girl Meets Pearl Highlighter - Another liquid product which gives a golden pink glow. Adding this on top of the blush, bridge of the nose, Cupid's bow, forehead and chin. Basically the areas that you applied the lighter concealer earlier on. These are also the areas where the light naturally hits and this will enhance your features and give you such a healthy, natural, glowing appearance.
Revlon Super Lustrous Lipstick in Temptress - A soft rosy pink lips will give more of a spring feeling more than a summery look. If you want a total summer look, switch the lip color to a coral, peach or orange. 
Brows: 
Lioele Auto Eyebrow in 01 Natural Brown
- My brows are slightly off color since I lightened my hair and I'm still trying to figure out which product would match. Anyway, fill in your brows. Don't forget that the brows frame the face and a fuller looking brows make you look more youthful than thinner brows.
Eyes:
The eyes are very easy to do since I only used one eyeshadow for this look.
L'Oreal Infallible Eyeshadow in Amber Rush - Take an copper/bronze shadow and apply it all over the lids, making sure that all harsh lines are blended out
3CE Under Eye Flash in African Sunset - Take any copper/bronze eyeliner (best if it's waterproof) and line the lower lash line, extending it a little bit at the outer corner and connecting it to the upper lash line. If the liner you're using is waterproof, you may also apply this right on the water line.
Maybelline Pumped Up Colossal Mascara Waterproof - Curl the lashes and apply mascara
Red Cherry 747S Falsies - I applied my favorite pair of lashes but this optional.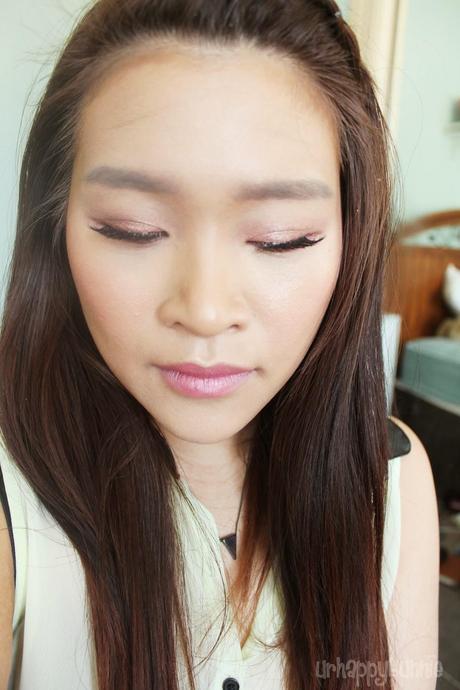 Ooops. I just realized the glue on the falsies hasn't completely dried when I took the photo.