Yes, I know there's a sizeable outbreak of the neon trend which has already infected a TON of blogs.  I don't think I'd readily rock a neon eyeshadow if I could help it, only if there were a theme going and if there was a prize in store so on a normal day I guess not.  BUT I have something else up my sleeve, para lang makikisama.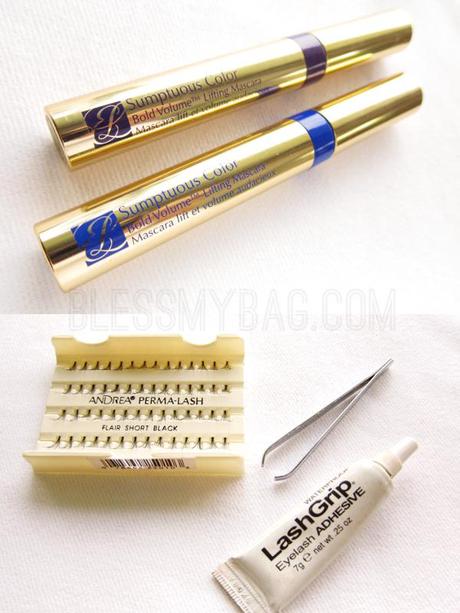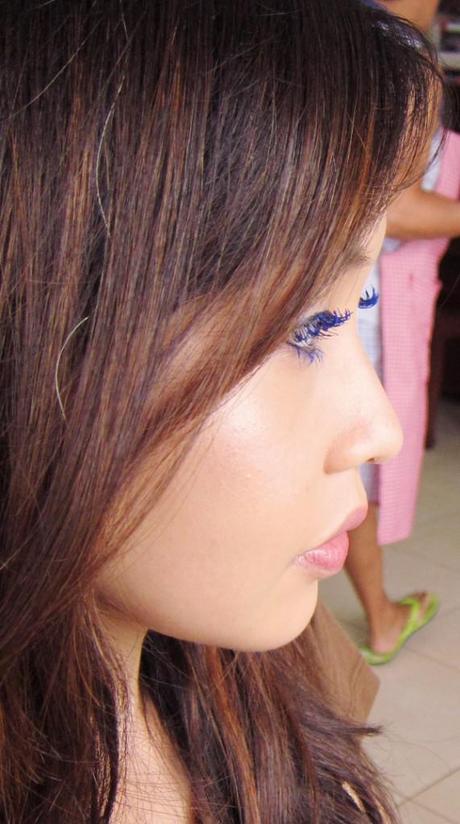 THE LOOK (Reviewed Items in Bold): Estee Lauder Sumptuous Color Mascara in Sapphire, MUD Cream Foundation in YG2, Benefit Watts Up Highlighter, Revlon Lip Butter in Peach Parfait, 1-Day Tattoo Real Lasting Eyeliner, Permalash Andrea Individual lash clusters (Flair Short Black).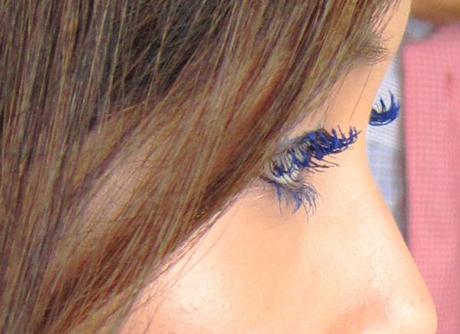 I kind of did like a minor tutorial on how I achieved the full on lashes.  The clumpy finish of the mascara I purposely exaggerated because the look is all about tons of color with a bit of grunge inspired imperfect texture.  I layered lashing after lashing of mascara till the lash curl would hold up as if it were coated with old hairspray.  So the operative words for this look are CURL and COLOR.  Read more to get to the full post on how I used individual lashes with the bright Sapphire Estee Lauder mascara.
So, I began the look with fake lashes.  Individual clusters by Andrea Permalash, Mom got these for me in Beauty Bar.  I used Lash Grip adhesive that came with an older set of lashes from my Tita.  This purposely dries a dark gray which is fine because I'll use eyeliner afterwards.  I put a drop on the back of my hand, which is enough for all the lashes I plan to use on one eye.  I wait about 2 minutes for the glue to get a bit more sticky before I begin putting on the lashes.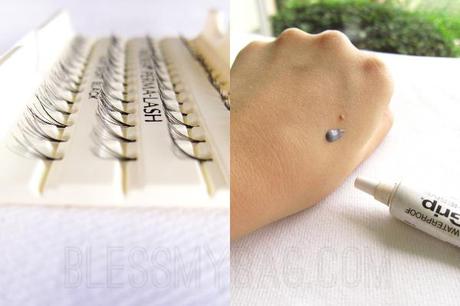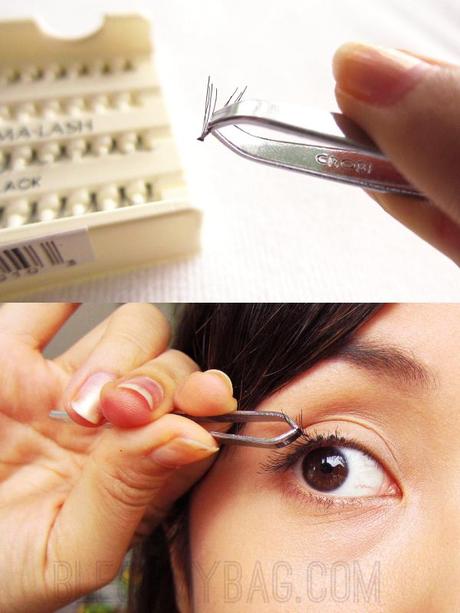 Here I am adding the last one I think or deciding whether I should still add one more (there are already 6 applied in this last photo).  This is when I applied the first one, you can see the dot of gray glue still freshly applied.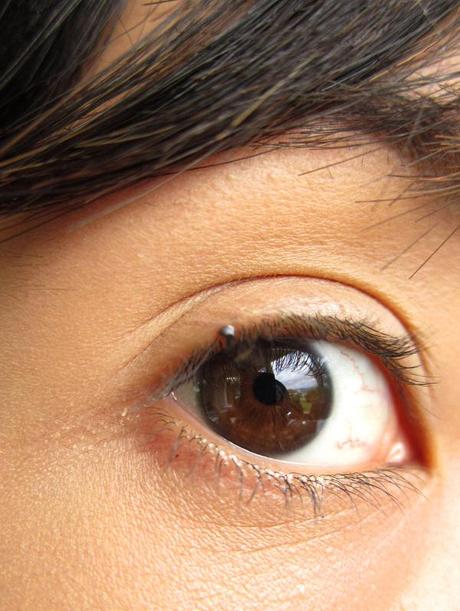 Individual lashes are often applied by professionals for more natural looks, although in my case this was my first time to try applying them and in spite of the longer time taken, I enjoyed it so much adding them one by one in the exact spots where I wanted them.  I inserted them more starting from the center towards the outer half of my lashline.  Here now, you can still see where I attached them but other than those dark spots the lashes look more natural than comical plastic strip lashes do.  After the glue was completely dry for both eyes I took a small amount of my MUD cream foundation onto a small concealer brush and used it as a concealer, brushing it over the part of my eye where the lids meet the lashes to conceal the dark glue spots.  If you use Duo lash glue or a clear lash glue you may not have to do this.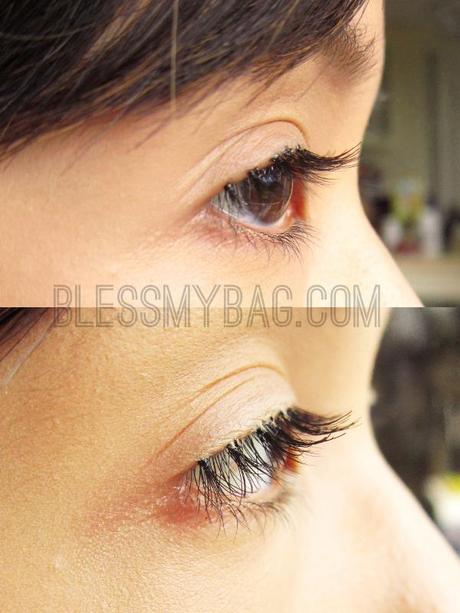 There are better brands of strip lashes which are made of sterilized human hair like Ardell or Modlash, which I will quickly recommend for brides.  For individuals these are fine.  This Andrea set cost Php225 from Beauty Bar.  Compared to fake strip lashes, in which you apply glue to the center and both ends then have to wrestle aligning them, these are lighter and you add them only where needed so there are certain liberties you can take with these.  There's more room for more specific art direction so to speak.  After applying concealer, and being absolutely sure the lash glue had completely set, I curled my real lashes together with the false ones, gently, slowly, because synthetic individuals curl and bend  instantly and don't bend back, even with just a bit of pressure from a lash curler they curl up, unlike real lashes that uncurl slightly and balance out.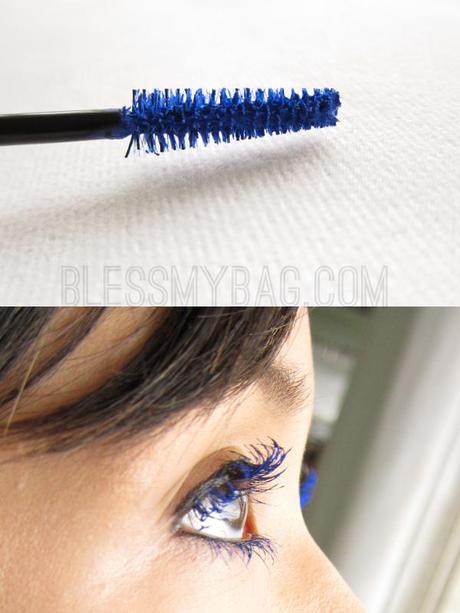 Then I applied black liquid liner very thinly, and imperfectly to camouflage the ugly parts where the lashes meet the lids even more, then I put on LOTS, AND LOTS of the Estee Lauder Sumptuous Color mascara in the color Sapphire making sure I wiggled the mascara wand from the roots of my real lashes upward into the fake lashes, then I did some vertical mascara application at the tops and above my lashes to make them completely blue and slightly crusty.
This is about 3 full coats of mascara that I'm wearing, to the point that it gets a bit clumpy but the color really pops.  The formula itself isn't clumpy on normal lashes alone but it will add volume.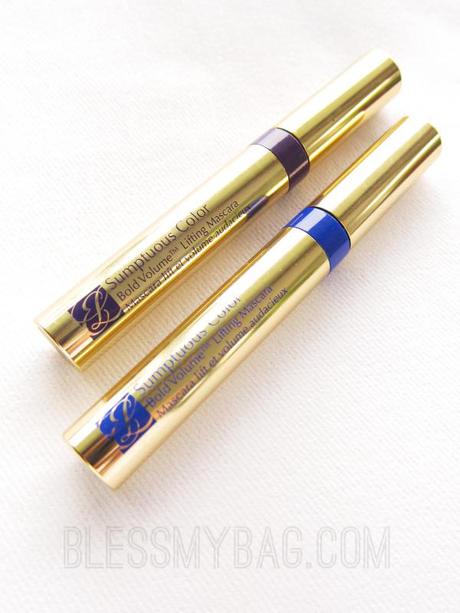 I paid US$22.09 on StrawberryNET in TOTAL during this sale last September for both these shades Amethyst and Sapphire that's like Php1009.00 for both.  Amethyst isn't as bright as Sapphire is but it's a very pretty subdued purple which is more wearable but still pretty noticeable.  I absolutely heart these.