All photo copyright belongs to Blessmybag.com, shot w/ a Samsung Galaxy S3 mobile phone
It's not everyday that I get to do makeup for a friend, one of my best and happiest friends from Fine Arts in fact.  Marielle Nadal or "Yelle" as we fondly call her (current crafty head of CraftMNL), uniquely planned out a two-day wedding with her husband, Alexander "Lex" Reyes.  Both are extremely well read and soundly creative, passionately prayerful, faithful, bound by wanderlust, and deeply sentimental.  They see the good and potential in nearly every person or situation and work relentlessly with the best of their talents to make the world a better, happier place.  They quite often burn the candle at both ends to get the job done perfectly so you can just imagine the beautiful outcome of their union. Yelle was one of the original founders of graphic advocacy hub Ideals PH, (Plus 63 Design Co) and when she met Lex, an Atenean project spearhead sort and graphic designer, he was involved in educational outreach camps for children.  The first actual day of their marriage was an intimate one in a church with the official Catholic rites and minimal trimming…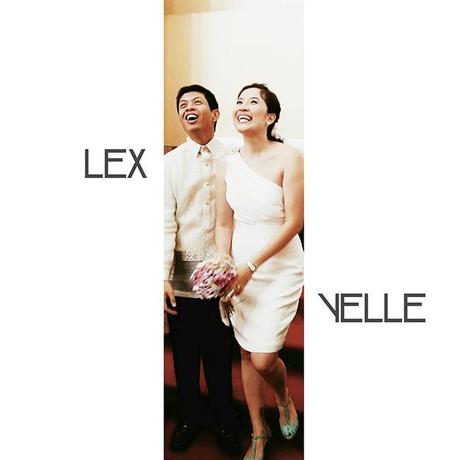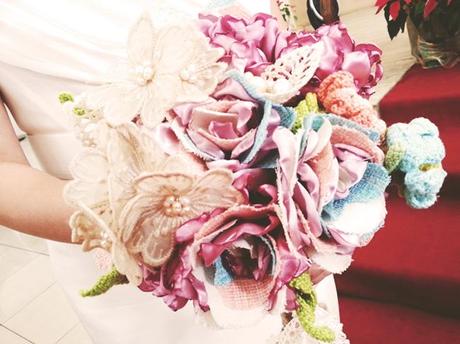 Yelle's crafted bouquet made of cuttings of tweed and woven fabric, crocheted leaves and petals, some pre-made embroidered flowers and twine wrapped stems.  Made by the bride herself for both blessed days.

…and the second was an outdoor renewal of vows where they could invite friends and extended family.  I was completely touched to be handpicked by Yelle as bridesmaid and makeup artist to her personally so I thought I'd share with you glimpses of my fun-filled duo of wedding days.  Read more (Click "more") to see more photos and even a before and after of the bride.

My photos are more focused on the second day celebration of their marriage.  Being both a bridesmaid and the bride's makeup artist for both days landed me a bed in the Presidential suite at Le Blanc, Antipolo on the evening of Jan 10th after their official rites (a huge modern house turned into a bed and breakfast) , a place which is more commonly in the area known as the Sumulong "White House"…you can choose to rent a number of room or book the entire place.  For the entourage this was homebase…the renewal of rites wedding celebration itself was 5-8 mins away at lovely Pinto Gallery.  In that bedroom with the bride's 2 sisters and brother-in-laws, we physically prepared, tagged and tied  220 souvenirs Yelle wasn't able to finish earlier.  They were jars of coffee beans and Tablea cacao tablets.  Teamwork made it relatively quick.  We used twine and different colors of washi tape while Yelle herself used a typewriter to type out the tags for us (because her printer at home had conked out).  I cut 200+ pieces of washi tape, one couple measured and cut 200+ pieces of twine, and the other couple pre-tied the jars.  We were the most willing and in-the-zone assembly line of the evening so laughs were abundant and in the end we all tagged and tied in unison with the sound of Yelle's typewriter filling the room.  The rest of the assembly team retired at about half-past 12MN when the groom himself came in to relieve his bride of her typing duties (so that she could move on to hand-painting the cake toppers).  So hubby Lex typed the remaining tags and bridesmaid me continued on 'til about 1:15am, prep time was to begin the next day at 9am.  So we got just enough sleep on top of getting it all done.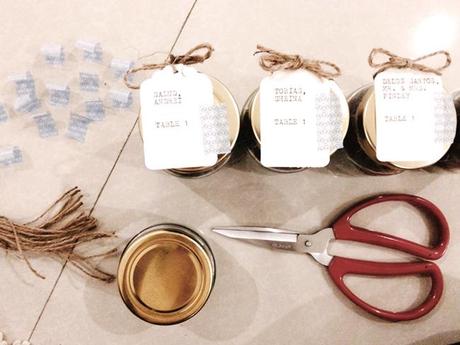 The day of January 11th began funnily enough when I woke up at 7:00 am semi-disoriented  to everything white at Le Blanc.  I hit snooze and woke up again at 7:55am, breakfast was at 8am, everything just seemed to be in perfect rhythm. The Presidential suite is literally like only 30 steps from the ground floor lobby reception.  I woke up slightly disoriented about location but I appreciated what surrounded me.  Behold my used bed.  I seriously believe for messy people white is the way to go with home trappings…isn't that the most pristine messed up bed you've ever seen?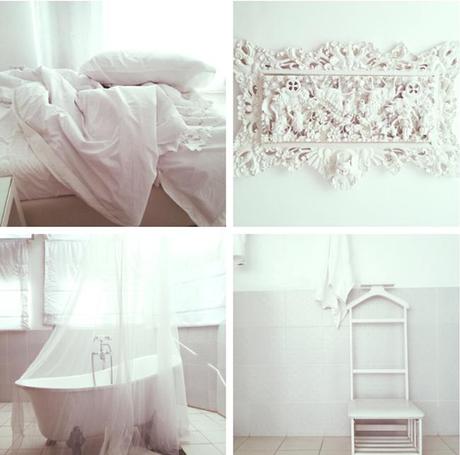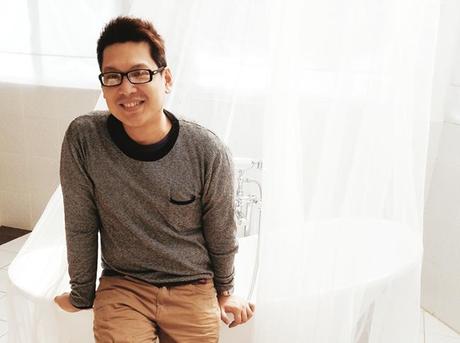 HAIRSTYLIST EddieMar Cabiltes aka @pinoyhairaffair on Instagram and tumblr, a freelance L'Oreal senior professional also known for servicing Leighton Meester, Ian Somerhalder, and Zac Efron when Penshoppe brought them in for ads.  I've been working with him most of the time for over 2 years now.
My partner hairstylist for the day, EddieMar arrived at about 915am and he went to work straightaway on Yelle's hair.  After a few minutes of inspecting her handmade bouquet, noting her love for crochet, and admiring her love-showered crafts for the wedding, he had a general idea of how to update Yelle's hair from the day before.  The look on the first day was more loose but for Jan. 11th this is what he came up with.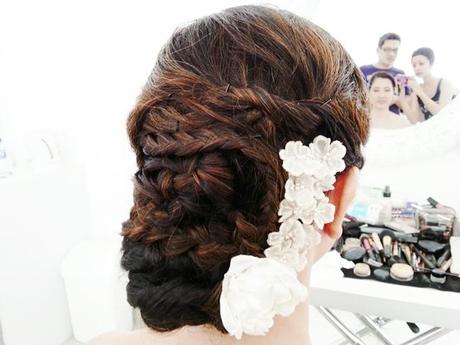 EddieMar's use of braids, pleats, and twisting gave a handcrafted feel to Yelle's hair.  He inserted a clip-on hair extension beneath her real hair to give added mass to the braided bun.  For certain though you can hardly tell it's actually there.  Alternating with Eddie Mar I got to work on Yelle's makeup.  We forgot to shoot a "before" photo of Yelle so I just took one of the photos from her bridal shower to show how I freshened her up for her big day.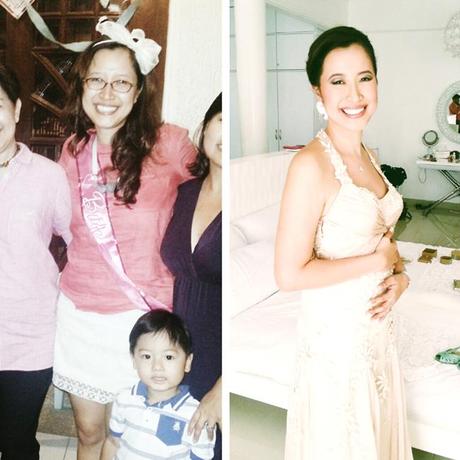 I won't go into too much detail about the makeup except that since Yelle has "tsinita" eyes soI had to use incredibly thick but evenly applied winged Bobbie Brown gel liner to wake her up a bit, I also did cut-crease eyeshadow and used Smashbox's Always Sharp flesh-colored eyeliner in Bare on her lower water line (this was her favorite step in the look). For brows I extended, shaped and intensified hers using my K-Palette Brow Pen 01.  I slightly applied mascara only to the tips of her lash extensions, Majolica Majorca.  I used Ellana Mineral powder foundation as a "powder" concealer under her eyes and around her nose.  The blush she has on is a Shiseido Luminizing one.  The lip color is a custom combination, eyeshadow is also a combination.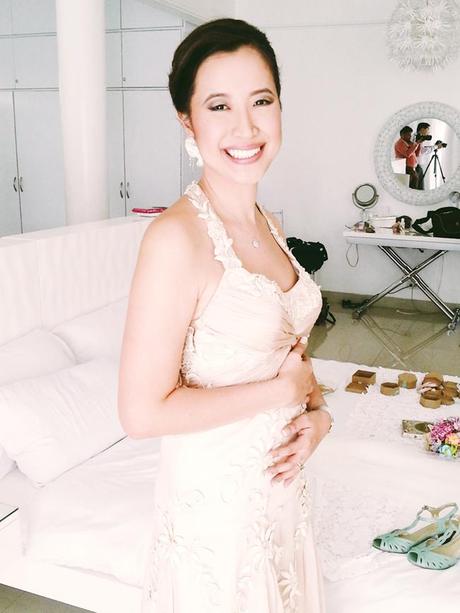 Yelle took my advice and had her Glam lash extensions done with a 50% off promo at Stylash in Landmark, Makati to lessen our rush on the big day since I was also a bridesmaid (I have the same lash extensions on now).  In case you were wondering what I used as Yelle's main base (in conjunction with contouring products)…this may come as a shock to you.  The day before I had used Make Up For Ever HD on Yelle, but for the next day but my ever faithful drugstore 2-way powder totally topped the charts yesterday.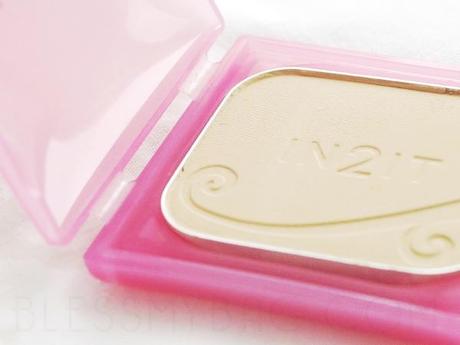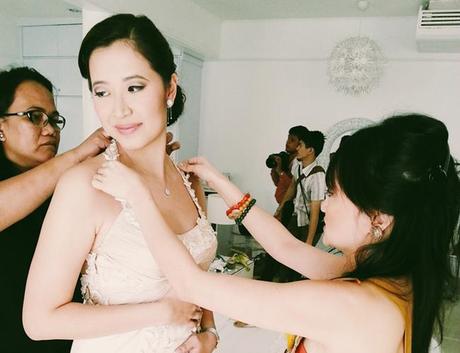 DRESS DESIGNER and music performer Kate Torralba salvaged some of the embroidery/brocade flowers from the wedding dress of Yelle's mother and combined them beautifully with new gown design for Yelle.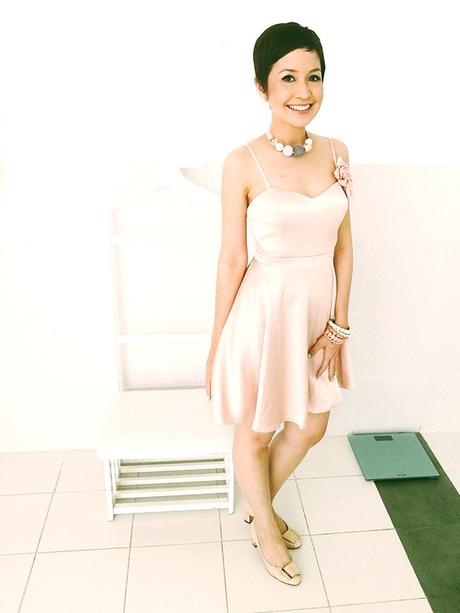 My OOTD – Forever21 altered at the waist only.  Then I found Forever21 flower hairclips near the checkout counter, grabbed those and stuck them on the dress.  It worked. Shoes: Salvatore Ferragamo, HK. Wrist party: Bows & Bands, Kamiseta, Necklace (given by bride): Nike Nadal, earrings: true South Sea pearls.
Like any couple Lex and Yelle were on a budget, they decided to go with properly coordinated RTW pieces for the entourages so they scheduled shopping trips with each of us to make sure each outfit properly suited the budget and color them.  Their wedding was planned on a muted pastel theme and I found this vintage rose hued  dress with Lex (Yelle was stuck in the salon) at Forever 21 and it cost about Php1300 if my memory serves me right, it was already on the sale rack.  There's a sheer strip back detail I forgot to take a picture of that makes this dress more special.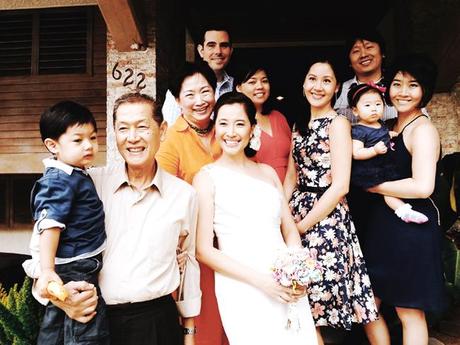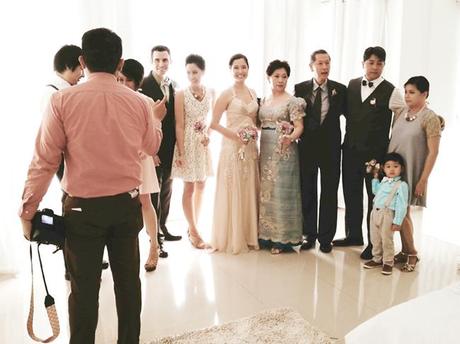 In the end it doesn't really matter whether you have one wedding or two.  What matters is you do every single task big or small with love and wholeheartedly.  That's primarilywhat I could see taking place right before my very eyes in so many situations these past two days.  At one point just after the renewal of vows I was frantically trying to remove Yelle's veil from her hair so she could run with Lex into a shower of petals from the wedding party.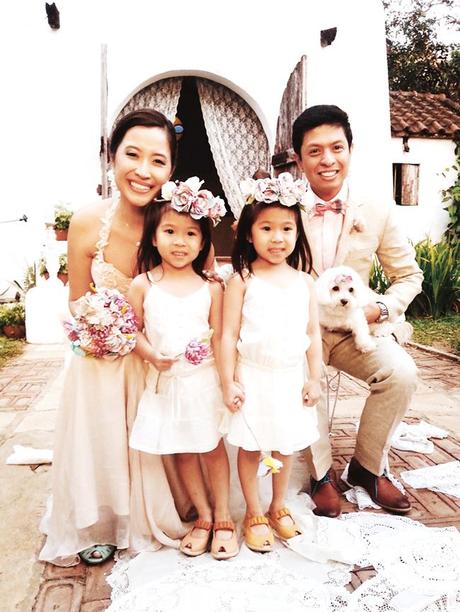 January 11 with family friends, Alex and Max, as flower girls, and designer Kate Torralba's dearest dog, Daisy. Location for renewal of rites: PINTO GALLERY, Antipolo
I sat her down and tried to find every pin with some difficulty…seeing my dilemma Lex, Yelle's brand new "and-that's-not-all-wait-there's-more" husband began carefully removing the veil pins alongside me with dearest dexterity "Should I remove this one?  How bout this one? Need help getting that one?".  There are small things that are the indicators of indescribably huge things that matter and that moment summed all of it up for me as Yelle's friend.  Mabuhay si Lex at si Yelle…mahal na mahal ko kayo.