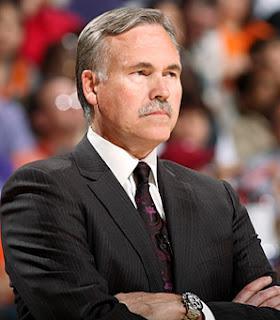 Photo: US Presswire
- Troy Ballard
The New York Knicks are in the midst of a mid-season collapse, where the team can't seem to find any stability, and to compound the matter -- head coach Mike D'Antoni has suddenly re-signed from his position.
Yahoo! Sports was the first to break that
D'Antoni has resigned from his head coaching position with the Knicks
, all while New York is riding a six-game losing streak.
The Knicks (18-24) have been incredibly inconsistent this season, and despite the star power of Carmelo Anthony, Amare Stoudemire, and the the surprising rise of Jeremy Lin, New York can't seem to win. As of right now, the Knicks are one game out of the playoffs, with the Milwaukee Bucks holding the eighth seed.
There were rumors circulating that D'Antoni may be fired by the Knicks organization regardless of the result of this season, and he must have felt the heat and decided to bail himself.
The sudden resignation of D'Antoni can essentially sum-up the Knicks issues. The expectations going into this season were incredibly high, and obviously, the team is no where close to meeting those goals.
New York was a mess with D'Antoni, we can't even imagine how the team is going to look without him.
Be sure to follow Beard and Stache on Twitter @BeardAndStache, and also Troy @TroyBallards, Like our Facebook page HERE!