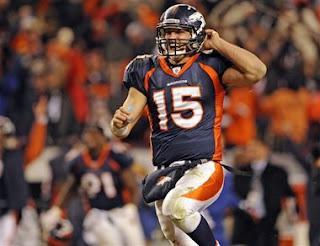 Photo: AP Images - Aaron Ontiveroz
- Troy Ballard 
Tebowmania was great in Denver while it lasted.
However, with the Broncos signing of the biggest free agent on the market, Peyton Manning, Tim Tebow is on the outside looking in.
Despite an amazing late season run where Tebow and Denver knocked off the Pittsburgh Steelers in the playoffs, John Elway and the Broncos front office still made a play for Manning.
And they landed him.
With Manning officially a Bronco,
Tebow has been placed on the trading block
. His value is in question, but there will no doubt be interest from teams all around the NFL.
Here's our breakdown of the top three landing spots for Tebow:
Honorable Mention - New England Patriots 
There's a big connection between Tebow and new-old offensive coordinator Josh McDaniels, and Bill Belichick reportedly totally digs the kid -- but I don't see it happening. Tom Brady is a one-man show, and the Pats' are still grooming Ryan Mallett.
It'd be interesting to see, but it's not going to materialize. 
#3. Dallas Cowboys
I know, I know. Tebow in Dallas? It's hard to imagine.
But at the same time, it makes perfect sense. Tony Romo has been
just
skating by the past few seasons, and the Cowboys have been flirting with picking up someone to turn the heat up on him. The team signed Kyle Orton, but he's nothing more than a solid back-up. Romo's job is still totally safe.
Tebow would not only turn the heat up on Romo, but he would also be a perfect fit in unique formations off the bench. Dallas could use some creativity in an otherwise bland offense, and the fans would love him.
Don't forget -- anything is possible when Jerry Jones is at the steering wheel.
#2. Miami Dolphins 
At first, Miami seemed like a hot destination for Manning, but that plan, much like many others for Miami, was dashed and ended in disappointment. For a while there was still hope for Matt Flynn, and the connections on the team were already established, but he bailed to Seattle.
In desperation, the Dolphins signed David Garrard.
Obviously, Miami still has a massive need at quarterback. Along with a huge position need, the offense in South Beach desperately needs a playmaker not named Reggie Bush. Tebow, luckily, could fill both voids.
This is a natural fit, and the Broncos can count on getting a few calls from Miami.
#1. Jacksonville Jaguars 
This is essentially a forgone conclusion. Jags' fans can essentially bank on the fact that Tebow is going to be in Jacksonville in 2012. It's like something out of a feel-good movie. It's just too good to be true.
The Jaguars need star power more desperately than any team in the NFL -- Tebow's a star. Jacksonville needs a spark on offense -- Tebow's a spark. The Jags' need a leader -- Tebow's a leader. The organization needs someone to sell seats -- Tebow's from Jacksonville.
Really, at this point, there is almost no chance that the Jaguars don't acquire Tebow. He's the perfect fit to the organization, and the team will have no problem overpaying for him, either.
Count it -- Tebow will be a Jaguar.
Be sure to follow Beard and Stache on Twitter @BeardAndStache, and also Troy @TroyBallards, Like our Facebook page HERE!