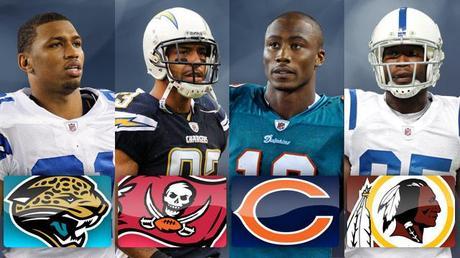 Photo: thepigskinreport.com
- Adam Parker
Now that the smoke is beginning to clear around Manning mania, it's probably a good a time as any to look at the state of the entire league with one week of free agency now in the books. Who are the free-agency "winners" so far and who's completely whiffed?
It's pretty obvious where to start. The obvious "loser" candidates are the Tennessee Titans and San Francisco 49ers, who didn't receive a rose from the NFL's most eligible free agent bachelor in Peyton Manning on Monday. However, does drawing the short straw on the Manning lottery really spell doom for either of these squads?
Hardly.
Sources confirmed to ESPN.com Senior NFL Writer John Clayton that the 49ers, after missing out on Peyton palooza, came to an agreement on a three-year deal to keep quarterback Alex Smith in San Francisco.
The Associated Press, citing an unnamed source, reported Wednesday that Smith's contract will pay him $8 million per season with $16.5 million guaranteed. Overall, Smith's new deal could pay the former Utah Utes star as much as $33 million if he reaches all of the incentives in the contract.
Inking the recently un-retired Randy Moss to a one-year, incentive laden deal and acquiring Mario Manningham to shore up their lackluster receiving corps were both smart moves. The same can be said for re-signing veteran cornerback Carlos Rogers, who had the most productive year of his career last season with the 49ers.
Despite not landing Manning, they should still be in position to dominate the NFC West and be a consistent threat in the playoffs for the foreseeable future.
As for the Titans, losing out on Manning hurts them at quarterback, but not as much as it did in other areas. For example, because they put all the eggs in the Manning basket, they lost out on premiere pass rushers Mario Williams (Bills) and John Abraham (Falcons).
They did still land Kamerion Wimbley, but he's a far cry from who the Titans could have landed if they had just stood pat with Matt Hasselbeck and last year's first-round pick Jake Locker who are still under contract. Landing All-Pro veteran guard Steve Hutchinson should also help running back Chris Johnson to return to being 'CJ2K'.
However, the loss of Cortland Finnegan to the Rams and Jason Jones to the Seahawks won't help their depth issues on the defensive side of the ball at all.
The winners include
:
Denver Broncos:
Signing Peyton Manning improves your franchise tenfold. John Elway the executive has brought the Broncos back to where they were when he was a player -- to the forefront of the AFC. Manning should help improve this team in all facets of the game.
The defense, built around pass rushers Elvis Dumervil and Von Miller, are built to play from ahead, something they should be doing more often with Manning under center. Young receivers Demaryius Thomas and Eric Decker should also benefit greatly from Manning's presence while Manning will be better off with an effective running game flanking him - something he was sorely missing in his final years in Indy.
Add in the fact that Manning's presence could lead to Denver possibly adding veteran former Colts Jeff Saturday and Dallas Clark into the mix and the Broncos will have the stability they'll want around Manning by turning Mile High into Colts Central.
Tampa Bay Buccaneers:
Tampa Bay had a boatload of cash to spend this offseason, and boy did they spend it. They finally got the playmaking wide receiver in Vincent Jackson that they've needed for, well, forever. They also swiped Pro Bowl guard Carl Nicks away from the division rival Saints. Landing cornerback Eric Wright to add depth to an aging and depleted secondary can't be forgotten either.
Kansas City Chiefs:
They let cornerback Brandon Carr walk because they didn't need to pay his high price tag after bringing in former Raiders corner Stanford Routt. Because the team didn't designate Carr as their franchise player, former Patriots executive Scott Pioli then kept Bowe on the team by slapping the franchise tag on him.
But Pioli didn't stop there. He also added running back Peyton Hillis, tight end Kevin Boss, quarterback Brady Quinn and right tackle Eric Winston. All those acquisitions add up to a pretty productive offseason in Kansas City.
As for the losers
:
Miami Dolphins:
To say the Dolphins are a hot mess would probably be the biggest understatement of the offseason. They lost out on Manning. They lost out on Matt Flynn after he flirted with them before joining Pete Carroll in Seattle. They also traded their best offensive weapon in Brandon Marshall away for two third-round picks and a bag of magic beans.
Now, the 'Phins faithful are looking at either David Garrard or Matt Moore as their starting quarterback for 2012 unless the team reaches for someone like Ryan Tannehill in the draft, which wouldn't be a smart move at all. But with the state Miami is in, it wouldn't surprise me one bit to see them continue shooting themselves in the foot.
But it's not all gloom and doom. The club did bring back nose tackle Paul Soliai. Anyone want to break open the bubbly?
Yeah. Didn't think so.
Arizona Cardinals:
If losing out on Manning and then having to grudgingly pay Kevin Kolb his $7 million roster bonus wasn't bad enough, one has to wonder where Kolb's confidence level is at this point. The Cards' initially traded for and then paid him like he was
their guy
.
Fast forward to now and Kolb was sidelined with injuries for most of the season while he watched backup John Skelton win games down the stretch last season. Then his bosses made a pitch for Peyton.
It's clear that Arizona doesn't have faith in Kolb and lacks the patience to see if he can become the quarterback they already believed he was when they traded for him.
My guess? The lack of confidence in their quarterback derails the Cardinals' playoff hopes for at least the next two or three seasons. Needless to say, I wouldn't want to be Larry Fitzgerald right now.
Cleveland Browns:
Team President Mike Holmgren threw everything and the kitchen sink at the Rams to try to land their No. 2 overall pick in the upcoming draft, and in turn, draft their hopeful franchise quarterback.
Nevertheless, they failed to do so and also lost key offensive cog Peyton Hillis to the Chiefs and safety Mike Adams to Denver via free agency. The defense is still decent after the team re-upped linebacker D'Qwell Jackson's contract and made subtle roster additions of Frostee Rucker and Juqua Parker to the defensive-line rotation.
But one thing's for sure. If they don't get Colt McCoy some help on offense -- something that he so desperately needs -- this team is bound to sink back to bottom-dweller status.
Be sure to follow Beard And Stache on Twitter 
@BeardAndStache
, 
and also Adam 
@Adam_Parker43
, Like our Facebook page 
HERE
!