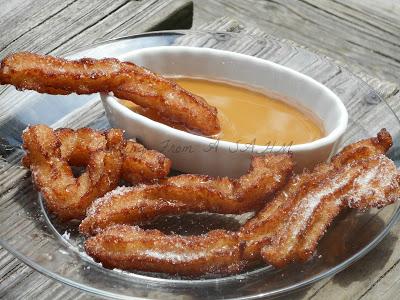 So I have never had Churros, I have seen them but never had them. I got to thinking...Hmm how hard can it be? So I looked it up! It seemed pretty easy! So today I created a Maple brown sugar Churro, tossed in sugar and served with warm maple syrup! You'll just want to keep eating them. You just need a pastry bag.
Maple Brown Sugar Churro
1 C Water
2 1/2 T Sugar
1/2 Tsp Salt
2 T Oil
2 T Maple Syrup
(You can use fake)
1 C Flour
1 T Brown Sugar
Oil for deep frying
Also needed is a pastry bag, icing bag or just a baggy works
Topping: 
1/2 Cup of Sugar to toss them in
IN a sauce pan put your water, T of sugar, salt and oil. Heat till boiling. Take off heat.  Add in your maple syrup. Stir. Then add flour and brown sugar and mix till it forms a ball. Put in a pastry bag and set aside. Heat up your oil till its really hot about 350. You want them to fry and rise to the top as soon as it hits the oil. Take your pastry bag and make strips. Use a sharp knife to cut off the end. Deep fry till golden brown. Toss in sugar. Warm Maple Syrup to dip them in. Yes that's it. Its super easy! .