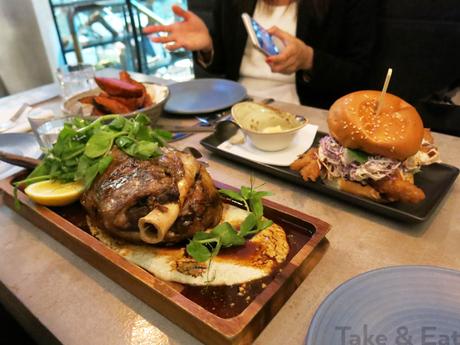 What do three good friends do for an overdue catch up? We FEAST!! It has been a long time since I caught up with my two good friend L & C, it took us a very long time to decide when to meet up so of course we had to choose a fancy place to dine at (but somewhere that didn't make our wallets cry :P). I've heard a lot about Bowery Lane and I've seen it splashed all over social media platforms like Instagram, judging from the menu (found on Zomato) and the photos on Instagram it seemed like the best place to go to grab good food that is reasonably priced.
We arrived at Bowery Lane on Wednesday night around 7pm and it was already buzzing with people. We were lucky enough to get a comfortable booth seat, that allowed us to talk as loudly as possible and take a million pictures of our food without being judged :P The menu has way too many options but we finally set on ordering the Slow Cooked Lamb Shoulder- $55 (under the 'Share' category), Tempura Soft Shell Crab Burger- $24 ('Mains') and Hand-cut Sweet Potato Chips- $12 ('Snacks). Of course, we had to order dessert too- Jar of Nutella Cheesecake- $14 and the Coconut & Lime- $15. 
Let the feast begin!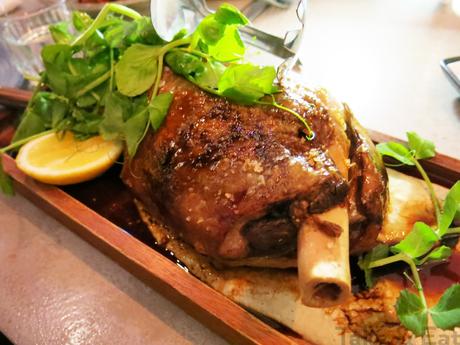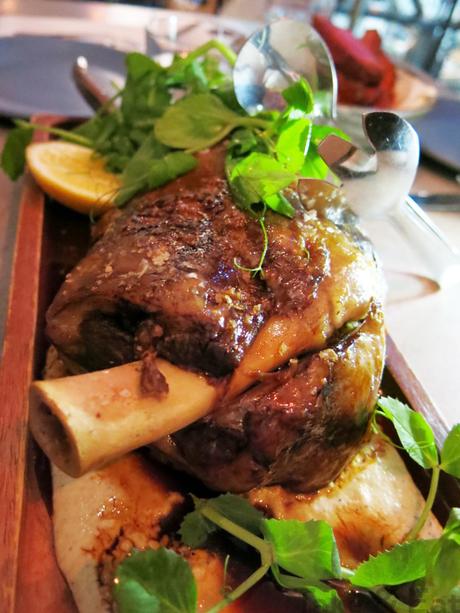 Slow cooked lamb shoulder | Smoked eggplant, lemon garlic dressing, watercress | $58

Even though we knew the Slow Cooked Lamb Shoulder was under the 'Share' part of the menu, we didn't expect it to be that big!! This lamb shoulder can definitely more than 5+ people. The lamb meat was extremely tender and fell off the bone instantly. It was a little bit too salty on some parts but when dipped in the lemon garlic dressing the saltiness was less overpowering. For the amount/ size of the lamb shoulder I think it was worth the $55 and if you're going with a group of girls I would recommend that you order this if you have more than just 3 people :P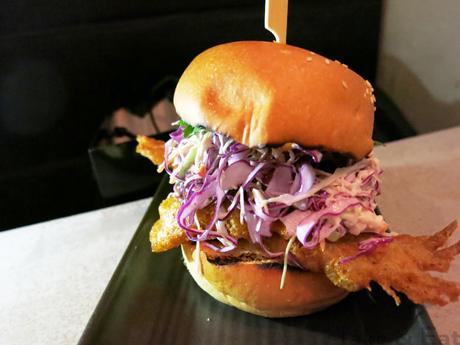 Tempura soft shell crab burger | Asian slaw, miso mayonnaise | $24

The Tempura Soft Shell Crab Burger was the one dish that caught my eye when looking at the menu before we arrived. I also saw a lot of pictures of it on Instagram! This was my favorite dish of the night. There was a generous amount of soft shell crab and it was soft in the center and crunchy on the outside. There was no oily taste which is a major thumbs up in my books (I've eaten some soft shell crab that is just trenched in oil...). The Tempura Soft Shell Crab Burger is also served with a miso mayonnaise which can be added to the burger if you need more sauce. The size of the burger is quite large that we were able to share it among us three.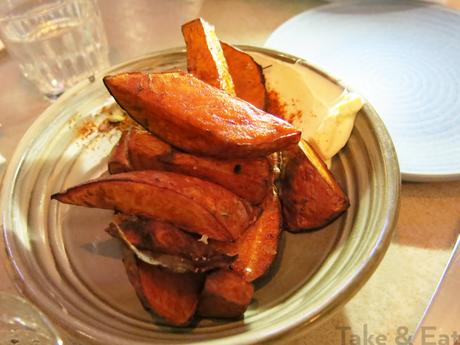 Hand- cut sweet potato chips | Whipped labneh pumpkin seeds | $12

The hand- cut sweet potato chips was on the hard side, it was quite under cooked so it wasn't as soft and fluffy like traditional chips. Nonetheless, eaten with everything else it was a nice compliment/ side dish to the main dishes.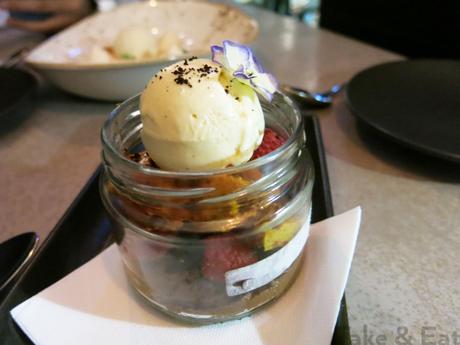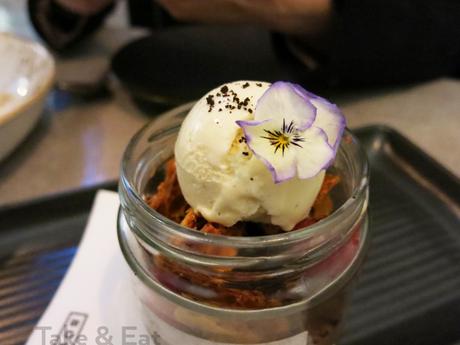 Jar of Nutella Cheesecake | Vanilla bean ice cream, chocolate crumbs, raspberries | $14

Now to the best part- DESSERT!! My friends and I had one criteria when ordering the dessert, that is has to be "Instagrammable" and I think we chose the right desserts.. just look at them, it's so photogenic! :P The Jar of Nutella Cheesecake was a mix of creamy, crunchy, sweet and sour, it's a dessert that just has multiple elements in it making it a perfect dessert to end a heavy meal. Each scoop into the Jar of Nutella Cheesecake is a surprise has as you delve deeper into it you discover different elements.. maybe they should call is the Surprise Jar of Nutella Chessecake. I definitely recommend that you order this one.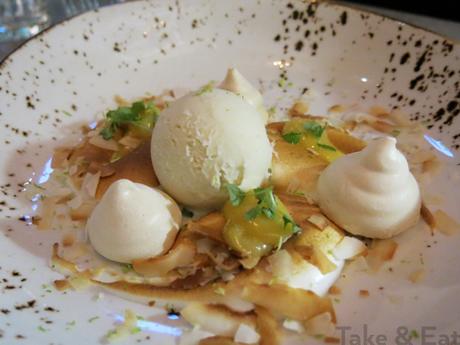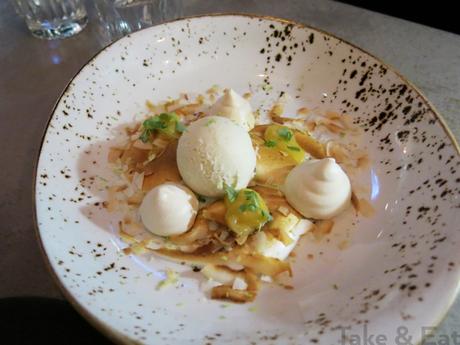 Coconut & Lime | Meringue, coconut ice cream, lime curd & toasted coconut | $15

The Coconut & Lime dessert was very refreshing and light, compared to the Jar of Nutella Cheesecake. There was perfect balance between the acidity of the lime and the creaminess of the coconut. I can't really decide which dessert I like better because they were both unique but if you just wanted a light dessert to end a heavy meal I would recommend the Coconut & Lime dessert, but why not just get both? :P
Overall, I really enjoyed the dining experience at Bowery Lane, from the friendly and efficient service to the delicious food this is definitely a go-to place for me now! Bowery Lane is also open from breakfast, lunch and dinner, and they also do takeaway- winning!
Happy eating x