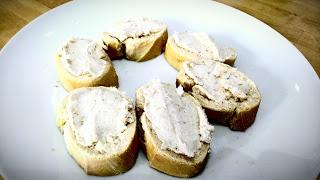 Ingredients
1 can cannellini beans, Boursin.



Serves:

 5 

Preparation:

 10 minutes
Following on from my cannellini bean pate, this variation uses garlic and herb Boursin to flavor the bean paste. It takes 10 minutes to make and is utterly moreish. Best served with crunchy bread.
1) Drain the can of beans and simmer in hot salted water for 5 minutes.
2) Pulse in the blender, adding the Boursin after about 30 seconds.
3)
Either serve immediately if you prefer this as a more spreadable mousse, or press into a suitable container and chill in the fridge to firm up and form pate consistency.