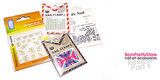 Hey lovelies!
I'm back from a long break from blogging with a continuation of a series of Born Pretty Store product review. If you're interested, Part I can be found here. 
For the uninitiated, Born Pretty Store is based in Hong Kong and been in operation since 2010. The online retailer has grown from stocking nail art accessories to in-house polishes, accessories, jewellery, cosmetics, beauty tools and even cell phone accessories. They ship internationally, for free! You can refer to this link more information. 
In this installation, we take a closer look at a 3D Nail Seal in Gold Blooming Flowers.
These are nail seals (or stickers), not water decals. The gold outlines are embossed. They are self-adhesive, and are ready to go on your dry, polished nails for that little feminine swag on your fingertips. This set comes in a single sheet per pack, and retails for USD2.22. You get around 25 small pieces of seals per sheet in this design. There are 3 design options to choose from 
this listing
.
For my base, I used 2 coats of the following polishes, and waited for at least 15 minutes for them to dry completely, as a precautionary measure:
♥ OPI Viking In A Vinter Vonderland (near-black deep purple crème)
♥ piCture pOlish Unicorn (shimmery aqua crelly with pink and silver glitter)
Using 4 different floral motif from this nail seal set, I carefully placed them on the nails with a pair of sharp-end tweezers to achieved the finished look below. The nails are finished with a coat of Essence Gel-Look top coat to seal the design.
As you can see, parts of the motif are opaque white, and some are transparent. Love this combination!
The seals are easy to use, and pretty fuss-free. They adhered well, and did not pull or leave residue when I had to peel off a couple to adjust the placements. 
if these aren't your style, you'll be spoilt for choice by the plethora of nail-related accessories and embellishments on Born Pretty Store. Furthermore, you're entitled to 10% off with the code QXF31.
For latest updates, follow Born Pretty Store via the following platforms:
♥ Facebook
♥ Twitter
♥ Instagram
♥ YouTube

Till the next installment, cheerio!

To Leave a Comment: I've noted that OnSugar's Comment feature has caused a few readers frustration by not accepting their input. While OnSugar works on rectifying it, I did a trial and error and found that comments don't get red-taped if you enter your information in the "Name" field without any space, ie. "ALacqueredAffair" instead of "A Lacquered Affair". I hope this works. As much as I want to, OnSugar doesn't allow the disabling of Captcha.

Disclaimer: Products were sent for review. However, all opinions expressed are my own, and will always be.