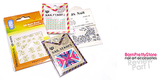 Warm summer greetings, lovelies!
Well, technically, Singapore doesn't have the four seasons, but the it sure feels like it with scorching temperatures and sun. Weather aside, today's post is part 1 of 2 reviews of Born Pretty Store nail art accessories that were sent for review. The introduction photo above gives an overview of the goodies I picked out from their online store. I've been a satisfied customer before, so I was excited to be approached.
A little about Born Pretty Store...
Based in Hong Kong since 2010, the online retailer has grown from stocking nail art accessories to in-house polishes, accessories, cosmetics, beauty tools and even cell phone accessories. They also have a ship-out facility in Singapore (shipping would be speedy, yay!) and worldwide shipping is free! More about them here.
Strange thing though; the package took about a month to arrive even though it supposed shipped from Singapore (my home country). When I received the packaged, there were stickers suggesting it had gone through Malaysia customs *raises an eyebrow*. But everything was intact. Previously, it took about 7 - 10 days for my order to arrive. Everything came with a retail packaging.
On to the items for this review...
3mm Mini Round Patterned Metallic Studs
These are round studs with argyle-esque holographic pattern on top. The holo effect drew me. There are 3 design options in this listing in their store. The other holo pattern had a strobe-like effect. A pack of around 100pcs now retails for USD1.99 (including free worldwide shipping).
A close-up of the studs:
Upclose, the edges do not have a clean cut, but it's barely visible from a normal distance. The underside is slightly concave, hence it needs a generous amount of adhesive to hold it down effectively.
On the nails:
The studs were stuck down on 1 thick coat of Cult Nails Wicked Fast top coat, and 2 coats of Estessimo TiNS 025 The Saturn. I did not topcoat the studs as I dread the wrinkly look around the studs when the topcoat dries. I would recommend using nail art glue (I don't have one *gasp*) to stick these studs on the nails as the concavity doesn't give much surface contact with the nails.
I went with a black base to give a stark contrast to the studs, and with holographic glitter to complement the holoness of the studs. Plus, I was also hoping to create a celestial look.
The last item in this part of the review is...
Gold Blooming Flowers 3D Nail Art Sticker
These floral nail aeal or stickers (not water decals) come in a single sheet per pack, and retails for USD2.22. You get around 25 small pieces of sticker per sheet (for this design at least). There are 3 design options you can choose from this listing.
On the nails:
The gold outlines and opaque white petals are lined over a thin clear film and are self-adhesive. The material is reasonably soft that you could press them onto the curves of your nails. I used tweezers to peel the stickers off the back and position them on the nails. Here, the stickers are layered over a holo gradient of Pretty Jelly Psithurisma (yellow-green) and Lilypad Lacquer Oh So Fly (cornflower blue, a BeautySoFly store exclusive), and finished Wicked Fast topcoat over them.
Close-up:

The holo metal studs added give a soft ethereal touch. And I find that they complement the cornflower blue of Oh So Fly quite nicely.
Close-up of the holo metal studs over Lilypad Lacquer Oh So Fly:
Final Thoughts
The quality and presentation of these 2 nail art accessories are really good. Their customer service has been responsive and friendly too. We even started a small conversation about Hong Kong (my favorite city to visit annually). Price-wise, I would think it's decent considering free worldwide shipping is thrown in, especially for those not residing in Asia. The stickers are a tad pricey, but only because we're geographically closer and have access to them at similar or slightly lower price here in Singapore.
My favorite is the holo metal studs. I see them being versatile for numerous nail designs.
There are a ton of nail art accessories and tools available on Born Pretty, and to get the best out of it, blog readers could use the code below at checkout to get 10% off!
That concludes the first part of the Born Pretty review. Stay tune for the next one!
♥ ♥ ♥ ♥ ♥
To Leave a Comment: I've noted that OnSugar's Comment feature has caused a few readers frustration by not accepting their input. While OnSugar works on rectifying it, I did a trial and error and found that comments don't get red-taped if you enter your information in the "Name" field without any space, ie. "ALacqueredAffair" instead of "A Lacquered Affair". I hope this works. As much as I want to, OnSugar doesn't allow the disabling of Captcha.
Disclaimer: The products were sent for review. However, all opinions expressed are my own, and will always be.