Popped into boots on my way home from work today for some shaving gel…£23 later I am now the proud owner of two hair ties, a ring, 2 lipsticks some eyeliner, and NO shaving gel – will have to get the boyfriend to pick some up from Tesco Express when he gets home because I'm feeling lazy. Boots is officially dangerous for the bank balance.
So here's my loot in all its glory: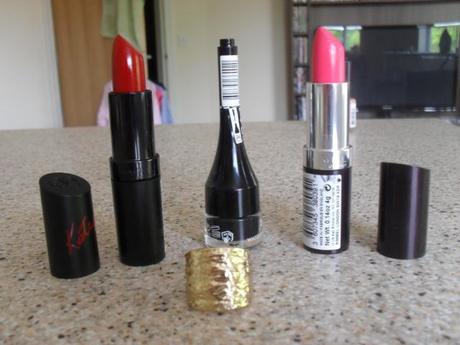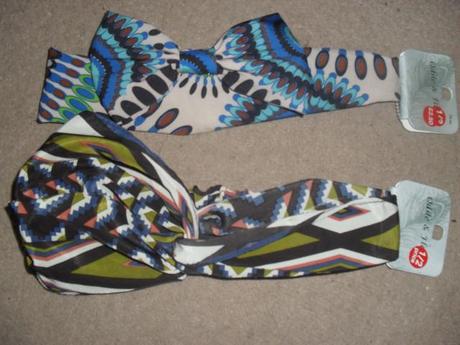 After literally just days ago declaring that I don't really wear lip color I have since talked relentlessly about my quest for the perfect red lippie. I'm starting my search with this one, Rimmel Lasting Finish By Kate in 01 shade – a complete steal at £3.99, and if Kate (Moss) can pull it off, whyc an't I?!. I decided to go cheap and cheerful since this, like so many of my beauty decisions, is probably just a fad. Case and point being I also purchased a bright pink one (Rimmel Lasting Finish 'Indulgence' shade 004). I then decided I wanted to try a new eyeliner – just like that, a total whim – so went for this one (Rimmel Waterproof Gel Eyeliner Black shade 001). I'll report back on what it's like soon. All in all, the motto is you can never really go wrong with Rimmel – especially when you want to step out of your beauty comfort zone as it is such good value.
I also discovered today that Boots isn't only for make-up and toiletries (no, no!) they also stock a host of other gems including these two hair bands (perfect for disguising bad hair days). As you can see I couldn't pick between the two nearly identical pieces so, rather than torture myself with the almost impossible decision, bought both. I also got this beautiful ring as I'm trying to expand my ring collection – see how I justified it there?!
Today really turned out to be a feast of treats, since my River Island package was waiting on my doorstep when I got home as well! I absolutely love every single piece in it (would I expect any less from my fave store). You can take a look at my previous post here for more details, and watch out for future outfits!
But that's it now, I'm officially declaring a shopping ban for the foreseeable future to allow my bank balance time to heal (thank God for payday on Friday). It makes me sad just thinking about all the things I won't be able to buy, but I've got a hectic couple of months both in and out of work so I'm sure I'll find plenty of other ways to occupy myself. And all this business gives me plenty of opportunities to wear all of my new purchases. Yay! x