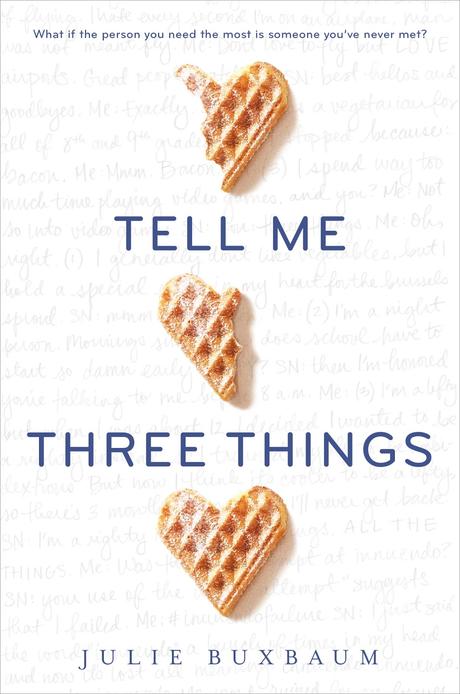 PUBLICATION DATE. April 5, 2016
SYNOPSIS. Everything about Jessie is wrong. At least, that's what it feels like during her first week of junior year at her new ultra-intimidating prep school in Los Angeles. Just when she's thinking about hightailing it back to Chicago, she gets an email from a person calling themselves Somebody/Nobody (SN for short), offering to help her navigate the wilds of Wood Valley High School. Is it an elaborate hoax? Or can she rely on SN for some much-needed help?




It's been barely two years since her mother's death, and because her father eloped with a woman he met online, Jessie has been forced to move across the country to live with her stepmonster and her pretentious teenage son.




In a leap of faith-or an act of complete desperation-Jessie begins to rely on SN, and SN quickly becomes her lifeline and closest ally. Jessie can't help wanting to meet SN in person. But are some mysteries better left unsolved?




Julie Buxbaum mixes comedy and tragedy, love and loss, pain and elation, in her debut YA novel filled with characters who will come to feel like friends.
I approached this book blindfolded, with zero expectations at all. I read this book for the sake of reading (and for the heart-shaped waffles on the cover) but I didn't know that I would swallow this book whole-pardon the pun-in one sitting. Now, I feel lost. Terribly lost on this book hangover I'm still reeling in. Terribly lost at words. Oh man, where and how do I even begin? But honest to goodness, I'd never exchange this feeling for another. THOUGHTS. Tell Me Three Things is a mouthful of waffles, the delicious and warm kind, topped with fresh berries-lots and lots of berries-and drizzled with honey.
To begin with, Tell Me Three Things is a multilayered story. I am greatly impressed with Buxbaum's writer skills. She's able to contain several elements and subplots into the story without overwhelming one another. There's a mystery added into the plot that didn't overarch the other elements. Although the mystery was not mind-blowing or surprising to be exact-I had a few whodunits and already had an idea on the onset of the novel-it was gripping enough to keep me turning the pages. And, although the author deliberately prolonged the conundrum it didn't feel dragging at all. There's also romance, though which have taken the most part in the story, like the others, worked very well with the other elements. It's undeniably exuberant and tangible enough that will leave readers with long-lasting feeling of kilig -yes, even boys do feel kilig IRL. I'd also like to stress the underlying message about internet trust in the book. It's hard to trust anyone anymore over the internet. Anything and everything can be easily manipulated especially if someone is not in the right state of mind. Buxbaum fiddled with grief and internet trust which was done honest-to-goodness. I hand it over to Buxbaum for writing a believable apropos of what's happening today.
The novel wouldn't be quite perfect as it is if not for the pitch-perfect voice of Jessie Holmes, the lead star of Tell Me Three Things. Her voice seemed to sing and soar as I was tout de suite pulled into her world. Jessie Holmes has one of the most endearing and genuine teenage voices I've ever read. She's unpretentious, raw, honest, fallible, and resilient, a real person with real issues. Her humor is wry and rings true to the heart. This girl, Jessie Holmes, she gets me. She resonated to me and for sure will resonate to all readers, teens and adults alike. Buxbaum perfectly captured her character and her beautiful, funny, and at times painful narrative of adolescence, loss, and love.
There is so much honesty in this novel that is also evident in other characters in the story who are equally adorable and well-developed. There's the cliché set of friends but remarkably so whom you'd wish to be squad with; dysfunctional blended families; a sardonic stepbrother who you can't decide to love or hate but love still; charming and unpredictable suitors; and the enigmatic tongue-in-cheek virtual guardian. Buxbaum crafted lifelike characters with diverse and complicated personalities that added more life and color to the story.
Tell Me Three Things is a familiar world. It delves into serious issues which everyone can relate to: grief, blended families, hish school, bullying. But it doesn't let us wallow in sadness or drama. The author injects humor that is spot-on and genuine, that carries the story to a whole new experience. Unlike other books that tackle the same hard issues, it doesn't read as heavy and dark. It's comfortable to lose yourself into the story because it makes you feel light and unladen in the inside.
With an absorbing kilig-to-the-bones mystery romance, unabashed portrayal of teenage and family issues, unforgettable and charming band of characters who matters, humor-filled dialogues, Tell Me Three Things is set to win many readers' hearts in a whim. Fans of Jennifer E. Smith and Rainbow Rowell will love this book.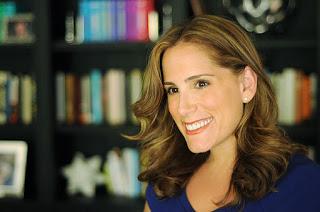 ABOUT THE AUTHOR. Julie Buxbaum is the author of the critically acclaimed THE OPPOSITE OF LOVE and AFTER YOU, and her work has been translated into twenty-five languages. TELL ME THREE THINGS is her first young adult novel. Her writing has appeared in various publications, including The New York Times. She is a former lawyer and graduate of Harvard Law School and lives in Los Angeles with her husband, two young children, and an immortal goldfish.