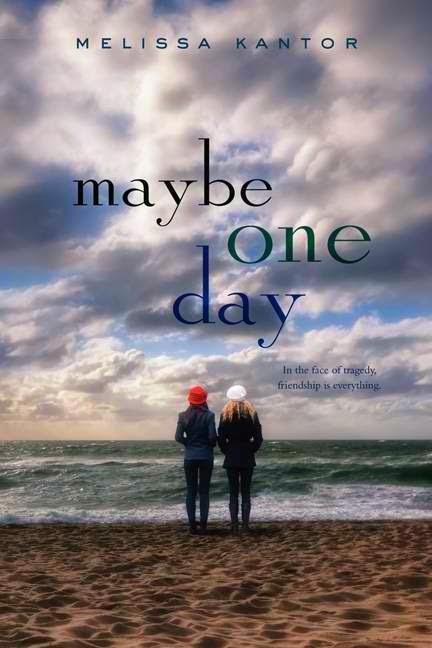 RELEASE DATE. February 14, 2014
PUBLISHER. HarperTeen
PAGES. 384
FORMAT. Advance Reading Copy
AGE GROUP. Young Adult
GENRE/S. Contemporary
ACQUISITION. Publisher
PURCHASE. AMAZON | THE BOOK DEPOSITORY
SYNOPSIS. Critically acclaimed author Melissa Kantor masterfully captures the joy of friendship, the agony of loss, and the unique experience of being a teenager in this poignant new novel about a girl grappling with her best friend's life-threatening illness.

Zoe and her best friend, Olivia, have always had big plans for the future, none of which included Olivia getting sick. Still, Zoe is determined to put on a brave face and be positive for her friend.

Even when she isn't sure what to say.

Even when Olivia misses months of school.

Even when Zoe starts falling for Calvin, Olivia's crush.

The one thing that keeps Zoe moving forward is knowing that Olivia will beat this, and everything will go back to the way it was before. It has to. Because the alternative is too terrifying for her to even imagine.

In this incandescent page-turner, which follows in the tradition of The Fault in Our Stars, Melissa Kantor artfully explores the idea that the worst thing to happen to you might not be something that is actually happening to you. Raw, irreverent, and honest, Zoe's unforgettable voice and story will stay with readers long after the last page is turned.
A copy of this book was provided by the publisher for review purposes.
THOUGHTS. It's nearly impossible and nearly hopeless to write the proper words after reading a good book, that your mind becomes . . . unstable and incoherent, almost to the point of leaving you . . . clinically dead. But experiencing Maybe One Day is worth the momentary emotional instability and mental incoherency.
Following a similar path to John Green's The Fault In Our Stars, Maybe One Day is another dramatic prose about dealing with cancer. Somehow, it isn't centered on a love story but built on a foundation of friendship. It's refreshing to see another side of the story and learn how other people deal with the ordeals of cancer. As expected, Maybe One Day is a tough book to read—a challenge even. You don't know how many times I had to stop reading the book due to the intensity of emotions reflected by this book. The story is too engaging and too honest, almost powerful enough to make you believe in the story's—and characters'—existence. Kantor can turn a heavy subject matter into something remarkably readable allowing readers, both who have and haven't encountered such ordeals, to easily establish a relationship with the story and form a bond with its characters.
It's impossible to tear away from a book especially when it features some of the best characters you've seen in such a long time. Zoe and Olivia are the characters that brought in a gamut of emotions in me. Their story isn't your average story of friendship, sharing secrets, exchanging clothes, or fighting over boys. Actually, it's indescribable. At its simplest, omit your own knowledge about the word perfect because perfect would be the only word to describe their friendship, in a sense that amidst the terminal illness that had struck in between them and how it change them and their lives, they remain intact. It's both awe-inspiring and a struggle to see how they brave and battle the inevitable together. There isn't a page that doesn't radiate the love they have with each other. Zoe and Olivia want to teach us that there is a greater force other than the powerful force of fate and that is the immense power of friendship and love.
As we journey along with Zoe and Olivia, we also get to know other significant characters along the way, characters that didn't only strengthened the arc of the story but provided other faces in the battle. Their authenticity as characters, their relationships, their reactions, their simple actions, their sincere words, meliorates the entirety of the story but didn't overpower the core strength of the story. You could only wish for Kantor to write more scenes with these characters (I might be talking about Zoe and Calvin). Despite how minor their scenes were, in some ways, they made an immense impact not only to the lives of Zoe and Olivia but to me as well. Oh, if only I can leap inside the story to rip them out from these pages of heartbreaking sadness.
The reasons I read books in the contemporary genre are the simple reality, the profound depth and the stellar emotions that they emit—making you think of the story almost nonfictional. In reading Maybe One Day, I found myself treated to a tragic story but it should be emphasized that this is also a story of hope; hope that kept me riffling through the pages. I've never read previous works by Kantor but I suppose Maybe One Day would be Kantor's greatest work yet.
With boldness and rawness, Melissa Kantor's set-up is a beautiful and unforgettable masterpiece, another important story that tackles on almost every aspect of adolescence in the face of a powerful ordeal. But for the most part, it is the outstanding portrayal of the immense power of true friendship amidst the far-reaching impact of cancer that sets this book apart. I couldn't stressed more how profound my love for this book and sometimes I think there should be more. To those having second thoughts, you need only to be brave to experience this powerful story.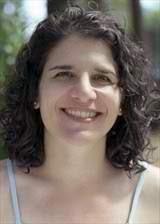 WEBSITE | TWITTER | GOODREADS
ABOUT THE AUTHOR. Melissa Kantor is the author of CONFESSIONS OF A NOT IT GIRL, an ALA Booklist Best Romance Novel for Youth in 2004; IF I HAVE A WICKED STEPMOTHER, WHERE'S MY PRINCE?, a YALSA Teens Top Ten Pick in 2006; THE BREAKUP BIBLE, an ALA Best Books for Young Adults nominee in 2007; and GIRLFRIEND MATERIAL. She is a teacher in Brooklyn, New York, where she lives with her family.
Maybe One Day is now available in National Book Store and Powerbooks. Shop online and buy eBooks at nationalbookstore.com. Follow National Book Store on Facebook, Twitter and Instagram (@nbsalert) for updates on the latest events, promos and contests.