Located in the corner of the Northern Quarter just opposite the main car park on John Street you will find a quiet chocolate boutique specialising in all chocolate treats from real cocoa chocolate bars to real hot chocolate.
Renowned for being 'the most glorious hot chocolate in Manchester' I decided to pop in one rainy afternoon. The boutique is small compared to your everyday Starbucks, with just around 4 tables a small chocolate bar/cake spread and a counter/kitchen but it was actually quite cosy with the smell of real chocolate floating around and warming me up.
There's a small selection of cakes on offer as well as coffee and around a handful of special hot chocolates all in different flavours.
Pictured below:
Orange Hot Chocolate with real orange zest which was refreshing and deep in cocoa and orange flavour, no need for milk or sugar. 
Cinnamon and Chilli Hot Chocolate - wasn't too heavy in chilli spice but had a nice chai spice to it which was warming  and very unusual.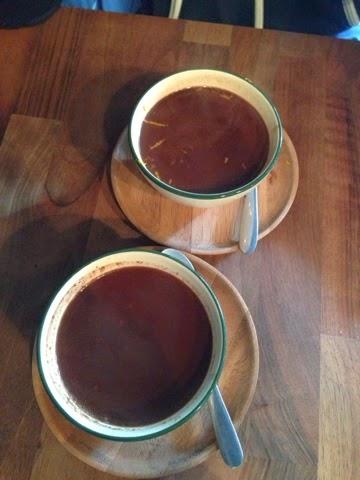 So something for the road? It had to be done! I just couldn't resist trying one of these salted caramel truffles!!! 
With a thin layer of dark and milk chocolate dusted in cocoa powder, these definitely looked spot on! After cracking open the layer of chocolate, salted caramel goodness just came flowing out and it was gooey, salty, creamy and more so orgasmic.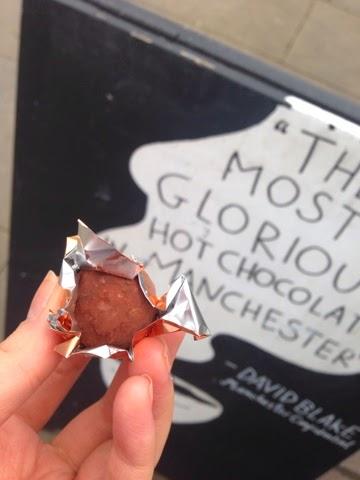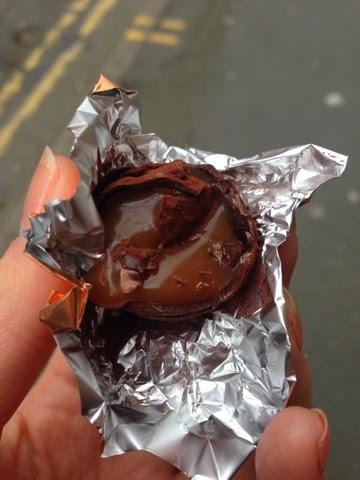 Price - standard coffee shop price but the chocolate surroundings is worth going for. 
Hope you enjoyed my chocolaty post :) 
C x