Okay, it's time to present some luxury holiday items.  I've never made a Bobbi Brown purchase for myself in my life, yup, that's the truth.  That changed last week when Rustan's invited me to the relaunch of their beauty department in Makati.  I never purposely avoided the brand, there was no particular reason I didn't buy Bobbi Brown, I just always seemed to have something else on hand and the "stripe-y" design of their famous shimmer bricks didn't appeal to me back then.  Mom got me the duo pack of their gel eyeliners from an airline duty-free and that's all I had until this year when the brand contacted me and now I get to try random bits of their stuff to review, this glam one though is an actual purchase

.  One factor in the past may have been the price, Bobbi Brown have come a long way and are now undoubtedly one of the world's most luxe cosmetic brands.  I'll admit, I can't afford their stuff on a regular basis.  However know this, from product to packaging they don't tend to disappoint.  When I first set my eyes on this beautiful, GORGEOUS holiday 2013 offering, the Nude Glow Shimmer brick highlighter, even if I knew it was overpriced compared to abroad I still caved and what closed the sale was when I  tried it on for the first time.  Presenting the first half of my first Bobbi Brown purchases and also featuring the Soffia Opulence Soft Focus brush (premium grade goat hair, available this link, PUREBEAUTY & Sofa Retail Lab, Powerplant) which I used for soft sweeping application today, super soft bristles.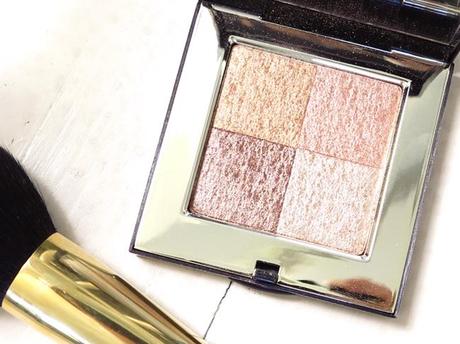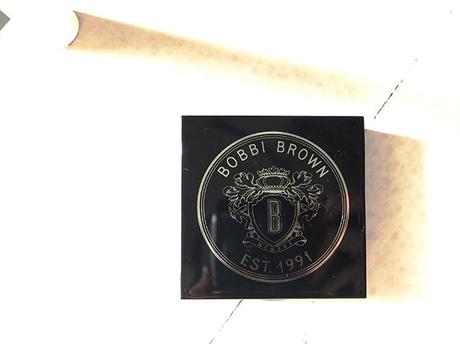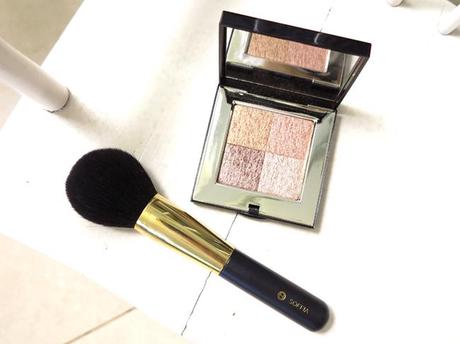 "Give the gift of "glow" with this limited-edition Shimmer Brick – sure to make faces light up instantly. A shimmering quartet of pearlescent colors highlight the skin for lit-from-within luminescence (think of it as candlelight in a compact). Each shade also doubles up as an eye shadow." Php2,900.00, from Bobbi Brown counters and boutiques (Rustan's The Beauty Source, SM Megamall)

Unlike its striped older sisters the Bobbi Brown Nude Glow Shimmer Brick is a quad, hence, YES, yes…you're catching on quick, yup it's also an eyeshadow palette, not just an all over glow giver so the high limited ed. price point (Php2900 yowch) has multiple value behind it.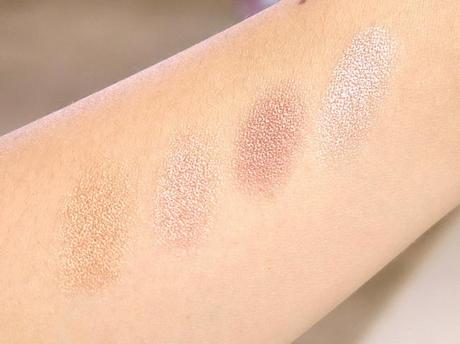 You could say it isn't miles away from MAC's mineralize range (they wouldn't mind, sister companies).  With this what stood out completely for me was you could "GET THAT GLOW" without looking frosty,  as someone who put up her review on the Bobbi Brown site said.  I feel this is a smoother, luxuriously packaged, soft version of MAC's Soft & Gentle MSF which is either not available or often sold out.  Read more to see this highlighter applied on me and see how it also looks applied as eyeshadow

.
In Bobbi Brown Rustan's Makati I finished off my makeup look and topped off the high points of my face with its toasty warm, celestial glow, you get a healthy amount of soft shimmer not glitter on your face.  This,  is so, so nice (especially in the evening), providing subtle but obvious impact (JLo Glow in a compact) and it's just different from any other powder highlighters I've tested.  My application of the Nude Glow Shimmer Brick sparked a happy reaction among the Bobbi Brown team at the Rustan's beauty relaunch.  All it took was 3 gentle sweeps across one side of my face and it elicited a sudden unashamed swoon from me.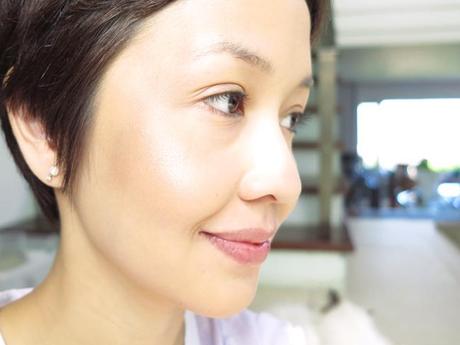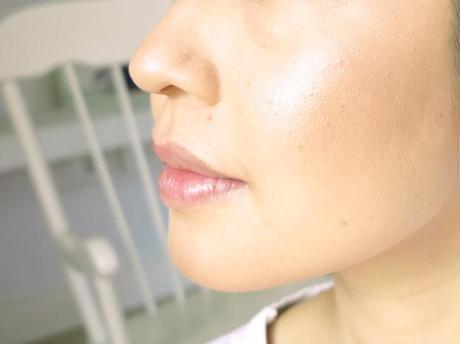 My base beneath is Happy Skin's SS Creme (silicone free) foundation in 01 Soft beige lightly set with MUJI translucent setting powder, I then strategically topped it off with the Nude Glow Shimmer brick.  In the first 2 photos I only had Nude Glow Shimmer Brick applied  across my cheekbones, in this photo I've swept it across my forehead, across the bridge of my nose and chin, and I added a little more on the side of my face.

The BB sales team were genuinely impressed (and of course thrilled), they're well aware of their great products but sometimes seeing it just "melt" or merge perfectly onto someone's face can reawaken interest (you know for real when you move away from the tester and one of them begins to swatch it).  It's obviously a powder highlighter, their version of something like Dior's best selling Amber Diamond highlighter.  Based on what i've seen online this suits warm skintones but is a tad neutral and can work well enough for cool skintones as well.  It seems to sweep on a more refined sheen, shimmer is obvious but the shades make the powder blend in so well.  In fact when I first put it on (it's more subtle over full makeup) I was surprised because it is obviously a powder product but from arm's length with light application it looked like I had used a cream or liquid highlighter beneath my makeup.  Oh, yes, I'm not done, I did mention these were also eyeshadows didn't eye…er I?  By the order seen in the compact…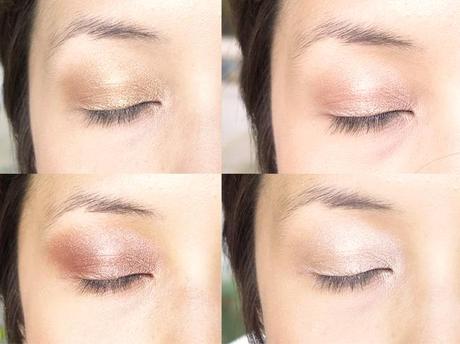 Really, need I say more? The rosy upper right shade is similar to MAC All that Glitters, the deep lilac taupe in the lower left is like a blushing version of NARS Kalahari and obviously can work as a standalone eyeshadow with no other shade to help it on.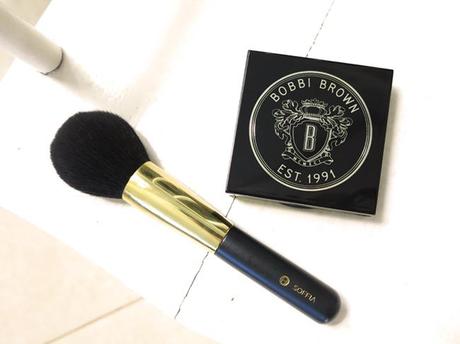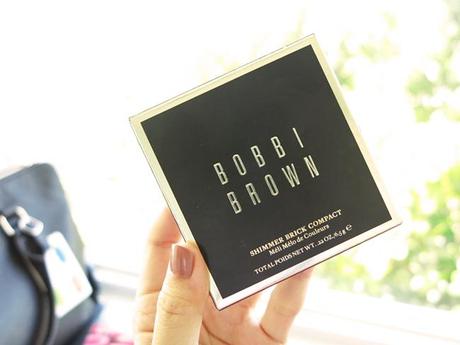 If you really can't afford it locally, ask someone to pick it up in the U.S. or via Duty Free for you.  The limited edition Bobbi Brown Nude Glow Shimmer Brick is such a lovely product, it evokes sophisticated glamour and I love that it's a multi-tasker (highlighter + eyeshadow).  It is pricy but that doesn't stop me from making the recommendation, it's that good, I've never met a powder highlighter quite like it.