I love my new neighborhood. I love it so much and for so many reasons, including the fact that there are so MANY excellent restaurants within minutes of walking out our front door. I'm not even kidding. And one of these restaurants, Bluegrass Tavern, happens to be the closest at just 2 blocks away. And I'm in love with it. Yes. I am.
The first time I saw Bluegrass Tavern was way back in December or January whenever we were beginning our house-hunting journey here in Baltimore, and I thought it looked really cool. I loved the logo design and the beautiful brick exterior, nestled in the residential area of Federal Hill. I never ever would have guessed then that we'd later be living just down the street a few months later.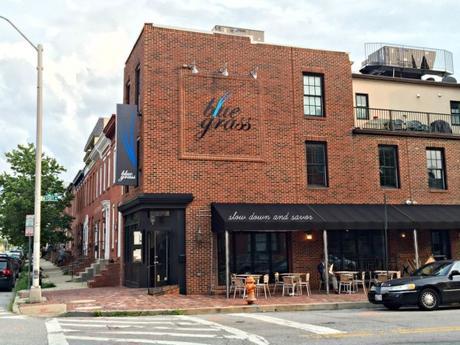 The first time I'd experienced their food was actually second hand, as my husband had moved up here to Baltimore a few weeks ahead of me, and quickly found that Bluegrass is pretty much THE place for happy hour, charcuterie, delicious dinners and drinks. I was so jealous every single time he'd send me his mouth-watering photos, just wishing I could be there with him, sampling the meats and cheeses and enjoying the meal along side him.
So when I arrived nearly 3 weeks ago, Michael promised me that our first meal out would be from none other than Bluegrass.
After my mom, who accompanied me on my 3-day road trip from Austin to Baltimore, Jack and I got settled in, we headed out for a much-needed relaxing meal at Bluegrass. We were greeted at the hostess stand, which is actually half a tree stump, and were promptly seated. They were great about having Baby Jack there, and were more than happy to accommodate us.
We placed our drink orders, and decided to start with a charcuterie board. You can either choose 3 or 5 items from a list of house-cured meats and local cheeses. We went with 3 meats and two cheeses, and it was presented with house-mustard and house-pickled vegetables. Delicious. Seriously. The sopressata was my personal favorite, followed by the chunky and beautiful bacon jam and then those cheeses! Seriously, the charcuterie board at Bluegrass is top notch.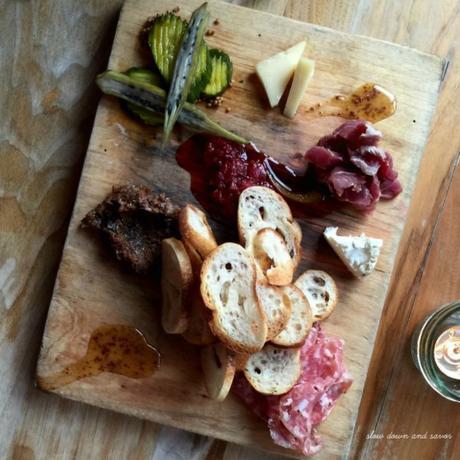 For our meals, Michael went with their famed Hot Fried Chicken, ($16), from the Comfort Food section. A southern classic, smoked fried chicken is tossed in a house-made extra spicy sauce, served with homemade ranch over fries. My mom opted for their catch of the day, an Asian take on salmon, and then I went with, of course, the pasta, the Vegetable Pappardelle Picatta, ($15) pappardelle pasta, mushrooms, artichoke hearts, sundried tomato, Kalamata olives, spinach, caper lemon butter.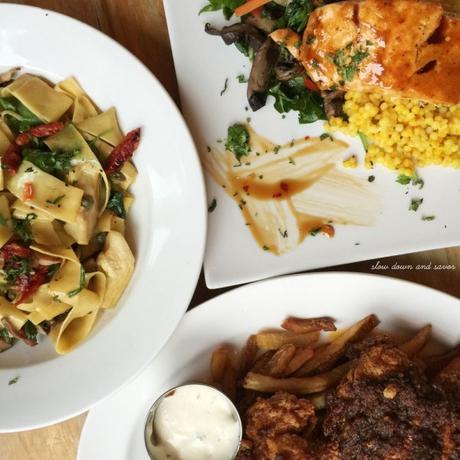 The food came out relatively quickly, but who really cared? We weren't there for a quick fix, and plus, we were having SUCH a good time talking and just being together in their small, rustic and comfortable dining area. The food was exceptional, and way beyond my expectations. The pasta was perfectly cooked, and perfectly balanced. My mom's salmon was pretty jaw-droppingly good. Like a huge flavor bomb went off in my mouth when she let me take a bite. Michael's chicken was a huge hit with him. What a wonderful meal. When the place is great, the atmosphere is relaxed, the service is extraordinary, and the food is spectacular, you've got yourself a serious winner.
The next time we went to Bluegrass, it was just the two of us, since my mom was still in town and offered to watch Jack while we enjoyed a night out on the town. We started our date off with happy hour, and once again, that place was the perfect choice.
When you sit out on the patio or in the bar area, you can enjoy happy hour specials from 5-8 p.m., like $2 domestics, $3 imports, $4 select drafts, $7 house cocktails, $2 off of small plates! Plus, there's a charcuterie special, where you can pick 4 items for $10.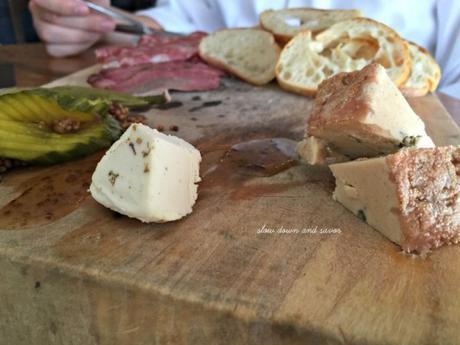 So we went with some drinks, the charcuterie special, and their Brussels sprouts. Oh my gosh, you guys. I thought I'd had good sprouts. I thought I'd had GREAT sprouts. But my goodness gracious sakes alive. These sprouts were beautiful. They were flash fried, simply and lightly dressed, and then topped with gorgeous radish slices. They were scrumptious and paired with the charcuterie, and before we knew it, we were off to an excellent date.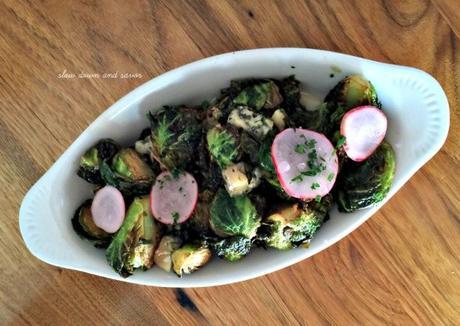 The last time we went to Bluegrass, we brought the baby, sat out on the patio, and soaked up the sun.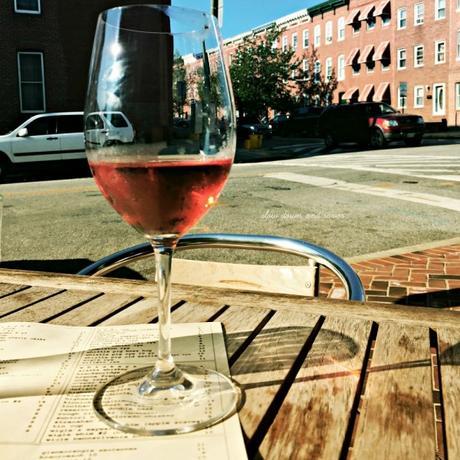 To start, we decided the Creole Crab and Artichoke dip ($12) sounded good, and guess what? It was. It was REALLY good.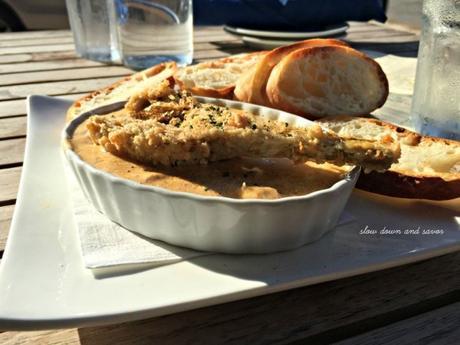 The artichoke heart was crispy-fried and the creamy goodness below was bursting with deep Louisiana flavor. We ate it slowly and deliberately, enjoying every bite.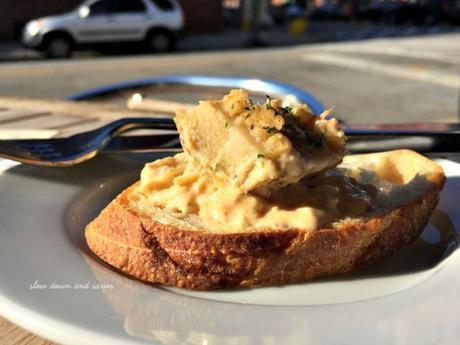 The fresh catch of the day was a seared ahi tuna on a bed of sautéed veggies, so that's what I chose for my main course, and Michael went with the Cox Farms Dry Aged Burger, ($14) with applewood smoked cheddar, grilled red onion, spicy mayo, house cured bacon, lettuce, tomato and slaw, and apparently it was voted "best in Baltimore."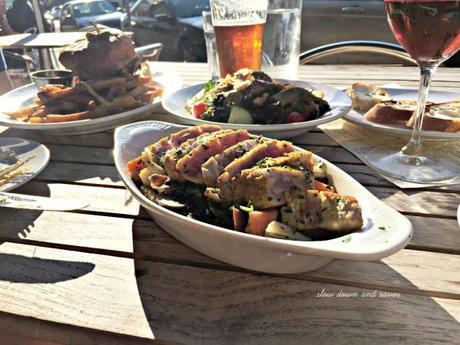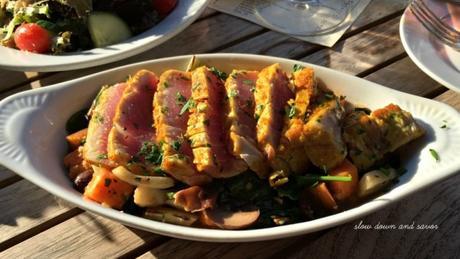 I don't know when it received the accolades, or by whom, but that's pretty sweet to see an award winning burger on the menu. And apparently it was as good as it says. Michael loved it to the last bite. That tuna was also perfectly cooked and sensational. Everything was wonderful, as we've come to expect from Bluegrass.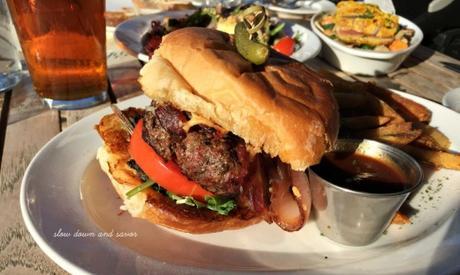 I'm so happy that there's a place like this, a place with exceptional everything, just steps away from our home. It's comforting, relaxing, delicious and fun. Thank you, Bluegrass, for working hard, putting out great food and providing 21230 with a place to call a home away from home. Until next time!
Bluegrass Tavern
1500 S. Hanover St, Baltimore MD 21230
410-244-5101
HOURS:
Closed Monday
Tuesday to Thursday 5:00pm to 10:00pm
Friday: 5:00pm to 11:00pm
Saturday: 11:00am to 11:00pm (Brunch 'til 4)
Sunday: 10:00am to 9:00pm (Brunch 'til 4)