Yeah another event post! This time, the event I attend is a shopping event: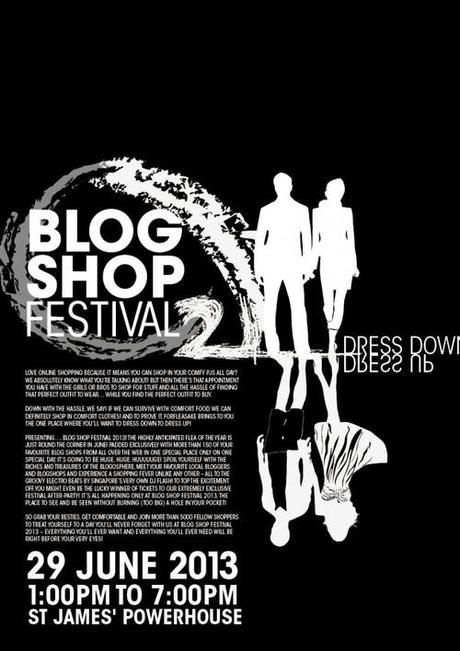 Picture taken from: http://www.forfleasake.com/blogshop-festival-2013/
Organized by For Flea Sake, it's Blogshop Festival 2!
What is it? Well, long story short, it's pretty much a huge flea event held at St James Powerhouse on 29 June from 1pm to 7pm (Hooray for no draggiest of the post!) 
I missed the first Blogshop Festival last year so I pretty ecstatic to attend this year's event! With that said, I managed to win myself a pair of VIP passes from RugsandRacks and I dragged my friend along to the event!
Since the event was located at St James Power House (Vivo), We had to travel from one end of Singapore to another! With that being said, we obviously reached the event late and we saw a Zig Zag line outside the Powerhouse. At this time, I was really glad that I've won a pair of VIP passes so that I don't need to queue under the humid atmosphere.
We got up the VIP queue and we were handed this after they confirmed that I was a VIP: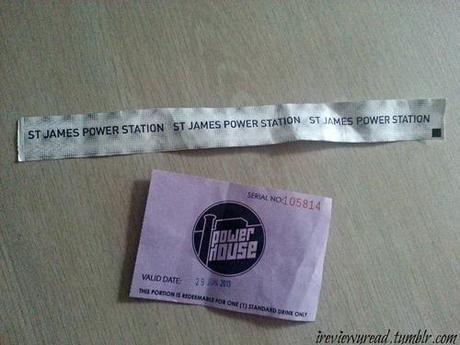 Re-entry strap and a drink coupon (OK I may have totally forgotten all about the drink coupon in my shopping mode [Psst. from what I heard the drinks are all soft drinks no fancy drinks] )
So we got in and there's this medium sized area packed with people in which we can shop at. The place is not as dark or loud and squeezy as the other shopping events I've attended but there are lots of people taking helium balloon and before I know it, my friend was attacked in the head by the helium balloons (Oddly enough I didn't get hit)
Anyways, while the Attack of the Helium Balloon was going on around my friend, I manage to spot an area with a great view of the place and here's the picture!:

What I can see in these 2 photos:
Disco Ball
People
Balloons
Light
Clothes
I got down from the slightly elevated space and I realized there was a small backroom with more vendors located at the back!
and so we shop…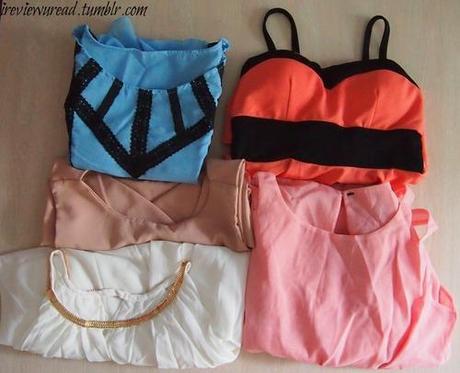 At the end of the day here are my loots from the BSF 2 and I only spent $35!
Great loots from this pile: The pink dress is $2.50!, The blue shirt is Free!
~~~
As mentioned, I have my fair share of attending big flea events like this (Eg. CHICKISSLOVE) so I'm here to advice on what to expect and give tips to those who want to attend future flea events in clubs:
If you know you are definitely going for the event, find ways to win VIP passes [Bloggers who are promoting the events and blog shops who announced that they will have a booth there will have giveaways for these VIP passes]. One of their perks will definitely be jumping the queue outside the club and trust me, with the hot and humid Singapore weather like this, you'll be glad you have VIP passes (especially if you know there will be locally famous bloggers and blogshops there)
There's always goodie bags for these events and for those who only want the good stuff, you can always check the main sponsor of the event's site to see what's in the goodie bag before you go an hour early to queue for it (you'll be shocked by how ON are teenagers nowadays)
Forget about having personal space

Events like thiswill definitely be squeezy so try not to wear things which will hook only racks or other people's bags. (That happened to me once ==)
Under the club light: This shade of pink is nice!
Under sunlight / normal light: WHY MY DRESS COLOUR BECAME NUDE?
Name Cards, vouchers, stickers and flyers
You'll be handed a lot of those when you pass by the booths and since you are in an enclosed squeesy place, you'll have no choice to take it and stuff it in your bag.
Take care of your belongings
Actually this applies to everyday practices. You should always keep a look out on your belonging to prevent any theft and such. Low crime doesn't mean No crime.
Low budget and Nice clothing (sizing)
This events are great for female who are looking for low budget and modern looking clothing. The clothes in these events are normally free size. Since, you can't really try these clothes, you'll just have to make do with the clothes and it's best if you know how to alter them to your likings.
~~~
I think that's about it! If you have any more advice to add or any questions on those advice you can always drop a comment in my newly added comment system below or email me by clicking THIS or leave a comment on my Facebook page HERE !