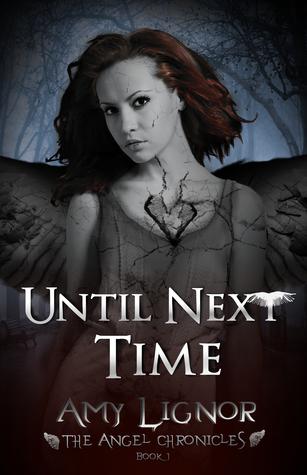 Until Next Time by Amy Lignor
Buy It For Kindle
How does a girl choose between the one who steals her heart and the one who owns her soul?
Matt and Emily were created for a specific job. Raised and trained as the ultimate angel/warrior team, they are sent down to save, defend, judge and forgive, depending on the 'life' they've been assigned. What they don't realize is that the power of human emotions, such as love, anger, passion and fear can take over even the best of souls, causing them to make mistakes and follow paths that lead to confusion and heartache.
When the reason for their training is finally revealed, the angel/warrior team find themselves thrust into a world they know nothing about. Matt takes over the life of Daniel, a young man with a great deal of baggage. Emily becomes Liz, a girl living in a remote village who relies on nothing more than her own strength to survive. A violent storm erupts one night, and framed in the window of Liz's establishment is a frightening face. Let in by the soul of a Good Samaritan, the two visitors bring with them a past full of secrets that could literally change an angel's path and a warrior's plans.
From murder to redemption, this angel/warrior team must find a way to keep the faith they have in each other in a world that's ripping them apart.
True Characters
One of the ideas that this fantastic site and its host gave to me for today was: What are my favorite characters to write? And when I looked back on everything I've been lucky enough to put together so far, I have to say my favorites are the really strong ones. Like my fav, Harry Potter, but minus the wand.  
When I researched my first book in New Mexico, The Heart of a Legend, about Billy the Kid and his love for Paulita Maxwell, what really blew me away was Ms. Maxwell. Paulita became a side note in history, but she was a strong woman living in the desert trying her best to put up with her overbearingly masculine family, while dealing with the fact that her sibling may just have set up Billy's demise because he didn't want the outlaw to marry his sister. What she left behind was a mystery. There's a picture of a young man who was said to have been the son of Paulita and Billy. When the legend blended with the evidence, I 'met' this woman who was stronger than the rest of the world around her, and kept her loyalty and love until the day she died.
When I began my adventure series (Tallent & Lowery, which is a blend of Indiana Jones and The DaVinci Code) a character entered my life by the name of Leah Tallent. Being the Head of Research at the New York Public Library, her favorite thing is to walk into work between Patience (a gift she wishes she had) and Fortitude (something she has a ton of). She's hard-headed, big-hearted and has more secrets than even she knows about. Her mind works like a card catalogue; she's able to sift through facts in seconds and find answers that others didn't even know about. When she's in any situation, like buried inside the haunted Winchester Mansion in California, or walking down the streets where Jack the Ripper once roamed, she's as calm as she could possibly be. Her backbone's made of steel, and the passion and protection she feels for the people she loves is truly incredible.
But women aren't the only characters I love to write. With Until Next Time comes a young man who has that same sort of strength. After all, Matt has to defend and protect, being the warrior side of the angel + warrior equation. When he's in the human realm he feels the same type of emotions we all do, but he must find a way to go through the love, anger, pain and heartache - while still keeping his faith in the partner he was born to walk beside. Emily's the angel, and when the two of these extremely cool characters come together their strength and loyalty are boundless, and offer the reader a great ride.
So my favorites are definitely the strong characters who have their flaws. When I write characters like these they can be from any genre. Whether historical, adventure, romance, or fantastical, they've ended up being an extremely awesome group to be around. And Im looking forward to adding new"characters"to the team.
Until Next Time, Everybody.Amy
About Amy:
Amy Lignor began her career at Grey House Publishing in northwest Connecticut where she was the Editor-in-Chief of numerous educational and business directories.
Now she is a published author of several works of fiction. The Billy the Kid historical The Heart of a Legend; the thriller, Mind Made; and the adventure novel, Tallent & Lowery 13.
She is also the owner of The Write Companion, a company that offers help and support to writers through a full range of editorial services from proofreading and copyediting to ghostwriting and research. As the daughter of a research librarian, she is also an active book reviewer.
Currently, she lives with her daughter, mother and a rambunctious German Shepherd named Reuben, in the beautiful state of New Mexico.
The Angel Chronicles web site:
http://www.the-angel-chronicles.com
Amy Lignor's Facebook:
https://www.facebook.com/alignor
Amy Lignor's Twitter:
https://twitter.com/HelloWritersAmy
Amy Lignor's Website:
http://www.thewritecompanion.com/
Amy Lignor's Blog:
http://hellowriters.wordpress.com/
Tribute Books website:
http://www.tribute-books.com
Tribute Books Facebook:
http://www.facebook.com/pages/Archbald-PA/Tribute-Books/171628704176
Tribute Books Twitter:
http://www.twitter.com/TributeBooks