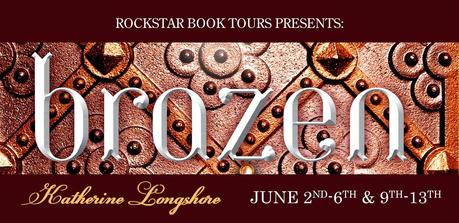 *My post was originally supposed to go up on June 2nd, but due to a family emergency I was unable to reach a computer until now. So sorry for the inconveniences this may have caused! *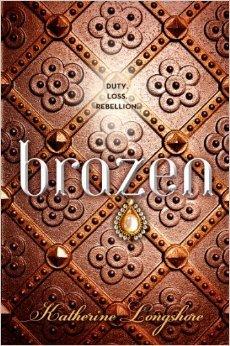 Brazen by Katherine Longshore
Expected Publication Date:
June 12th, 2014
Publisher:
Viking Juvenile
Page Count:
528 pages
Format:
ARC
Genre:
Historical fiction
Ages:
14+
Books Inc.
Mary Howard has always lived in the shadow of her powerful family. But when she's married off to Henry Fitzroy, King Henry VIII's illegitimate son, she rockets into the Tudor court's inner circle. Mary and "Fitz" join a tight clique of rebels who test the boundaries of court's strict rules with their games, dares, and flirtations. The more Mary gets to know Fitz, the harder she falls for him, but is forbidden from seeing him alone. The rules of court were made to be pushed…but pushing them too far means certain death. Is true love worth dying for?
About Katherine:
Katherine Longshore grew up on the northern California coast. At university, she created her own major in Cross-Cultural Studies and Communications, planning to travel and write. Forever. Four years, six continents and countless pairs of shoes later, she went to England for two weeks, stayed five years and discovered history. She now lives in California with her husband, two children and a sun-worshiping dog. Where you can find Ketherine 
 Website/Blog/Twitter/Facebook/Goodreads
I think everyone already knows how much I love Katy's books so when
Brazen
 showed up in my mail I seriously freaked out. Everyone at my work looked at me like I was crazy, and when it comes to Tudor fiction I usually am. Anyway, despite the fact that I knew how this book would end, I loved every minute of it and my heart melted into a million pieces.
Brazen
 is the kind of book that will keep you awake reading until it's done and have you talking and researching for months after. In fact, I immediately pulled out every nonfiction book I own about the Tudors and scoured their pages for more information. I'm hooked and deeply crushed that it's over.
Mary Howard, wed to Henry VIII's bastard son, Henry Fitzroy, at the young age of 14 has a sad story to tell. Her life was incredibly hard. As daughter to Thomas Howard, the man who put Anne Boleyn on the throne and a notoriously rough and power-hungry man, she was constantly manipulated to serve her family. Also forbidden to maintain a romantic relationship with her husband, Mary watched him from afar, unable to know him in any real context. Katherine Longshore brings the world of these characters to life, making them identifiable in ways that one can only relate to the relationship you have with a best friend. When Mary found love, I fell in love alongside her; when she cried, I cried with her; and when she laughed, I also found the situation funny.
Katherine Longshore's ability to educate and entertain is something I'll forever love about her.
Brazen
 is just another novel on a short list of books that capture my heart and my mind. If you're as big a fan of historical fiction as I am, then I highly recommend her books. I read all 500 pages in almost one sitting and I felt like no time had passed. Romance, frendship, and political intrigue all intertwine to create one of the best books I've ever read. Passing on
Brazen
 will be one of the biggest mistakes you make in reading this year. Read it. Now. 
Giveaway:
1 winner will receive all 3 books signed International.2 winners will receive signed copies of Brazen US Only.a Rafflecopter giveaway
Follow the rest of the tour:
Week One:
6/2/2014- The Anne Boleyn Files- 
Guest Post
6/3/2014- Romantic Reads and Such- 
Interview
6/4/2014- Page Turners- 
Review
6/5/2014- Magical Urban Fantasy Reads- 
Guest Post
6/6/2014 (Updated) - Literary Exploration - Review6/6/2014- Parajunkee's View- 
Interview
Week Two:
6/9/2014- Gone With The Words- 
Review
6/10/2014- Tales of the Ravenous Reader- 
Interview
6/11/2014- Bewitched Bookworms-
 Guest Post and
Review
6/12/2014- Two Chicks on Books- 
Guest Post
6/13/2014- Mundie Moms- 
Review
6/13/2014- Fiktshun- 
Interview