This morning, on my way into town on the bus, rather excited, my Mam calls me.
Me: Heya Ma
Mam: Are you still in bed??
Me: No Mam, I'm not in bed! I'm on my way to have brunch with Panti Bliss…
Mam: You are not!
Me: I am yeah (she can definitely see my smug face down the phone)
Mam: Well, are you meeting Rory or Panti?
Me: Panti.
Mam: Well, will you tell her I'm reading her book?  Oh, it's fabulous! Really well written, I was crying and everything…ah, he is just brilliant that Rory!
Me: Yeah, okay Ma…I have to go (for fear that she will not stop talking) Bye, I'll give you a ring after. Bye!
Mam: OK, bye!
Me: Bye, bye, bye
Mam: OK, bye, don't forget to tell Panti! Bye!
When I arrived, Panti was there in all her bliss, finishing up with press photos; a very playful Penny (her tiny dog) standing watch.  The intimate gathering of guests were ushered downstairs for some tea and juice served in champagne flutes(by shirtless waiters no less).  And then we, ladies and gents, brunched with The Queen Of Ireland! It was very much a relaxed affair, like visiting with your (very glamorous) aunty, for which I was thankful as I was so nervous meeting the QUEEN.  Panti managed to put us at ease with her presence, as we chatted all things, from Irish Christmas idiosyncrasies to mobile phone etiquette.  We all had so many questions about Panti's whirlwind of a year.  When we asked her about her recent appearance on stage with U2, "Nuts", she said, and that sort of sums up everything.
More chats and giggles were had, then a few more giggles after that.  Little Penny even joined us after the meal had ended.  She propped herself up on Panti's knee to clean up some crumbs…and sure then we all hopped on Panti's knee.  This was more exciting than the annual childhood photo taken with Santa.  Dreams really do come true!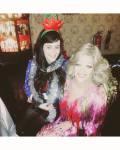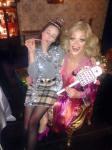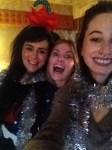 I made sure to tell Panti my Mam was reading her book (I'd have been in trouble otherwise), and Panti reached inside her Santa sack and gave us all a little gift; our very own The Queen Of Ireland DVD.  As promised, I returned the phone call to my Mam, and I'll spare you the lengthy conversation, but she screamed directly into the phone/my ear when I told her Panti gifted us her documentary.  She can't wait for me to visit home for Christmas now, and I'll have to think of something else to wrap for her under the tree because that DVD was top of the list!
Filmmaker Conor Horgan, who directed the documentary, was also among guests at the brunch. His film perfectly represents the complex and witty, accidental activist we've all seen on TV; the powerful speechwriter and orator who gave the noble call at The Abbey Theatre; the doting son from a small town in Mayo, and the warm person I met today.  It's a film that will open your eyes and heart to the long struggle of the LGBT community, fighting for equal rights in Ireland.
Have you seen it yet? It should be under every tree in the country this Christmas!  Sure look it, if Stephen Fry is a fan…