Yea, I like clothes but I can't really be a fashion poser unless I'm around friends or am really revved up.  In fact, my brother shot this photo just making sure I was centered and that makes it much less contrived, which I don't mind.  Note, I did not wear the leggings when I left home (leggings alone with a short top make me feel butt-naked), if I had gone out they would have been skinny jeans or jeggings, which is such a jemonic thing to call a pair of pants, can someone uncoin it please.  It's not the overall outfit I'm boasting, it's the top, and don't even ask about the feeling kabuki flip-flops, they're from a Filipino shoe kiosk at a gas station HAHA!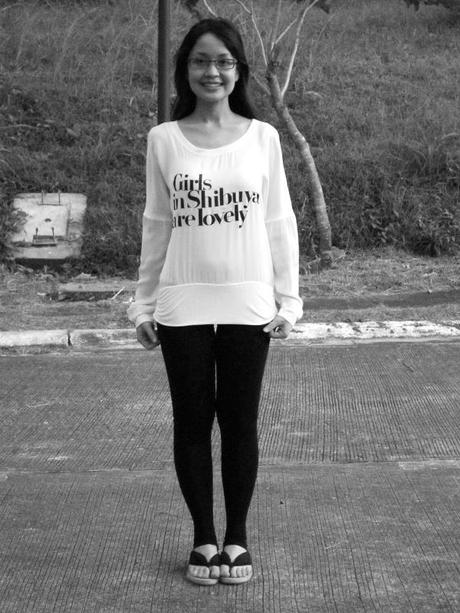 Today, I just really liked what I got awhile ago.  It's an elegant white pullover made of 2 fabrics which says "Girls in Shibuya are Lovely".  Shibuya is one of Japan's most acclaimed "style" cities near Harujuku, and is specifically famous as the home of Japan's "kogal" style subculture armed with cute schoolgirls in requisite uniform…ergo, short skirts and high, cascading socks.  Most of my clothes now are hand-me-downs (not kidding) but today I was happy I spotted this nice top at a HUMAN boutique.  It's quite pretty, not entirely made of cotton, and part of their Black HUMAN collection, now I want the black version, too.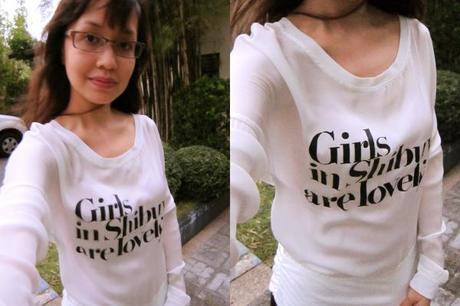 The front is I THINK silk polyester (sorry…not a fabric expert).  The shirt is split between stretch cotton and a silk-like fabric in front so it's kind of like half and half LOL which I find slightly strange but interesting and the gathered seam before the forearm is a subtle addition that makes it more feminine.   I don't know if you can see, the silk polyester is a bit sheer which for me makes it prettier.  If you strain your eyes hard enough my baby pink tank top underneath is slightly visible.  Here's a look at the split between the fabrics along the sleeve.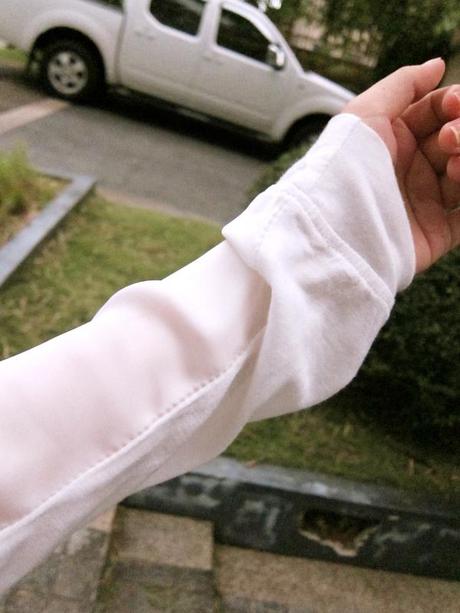 I bought this top from HUMAN for about Php459.00, not bad I say, not bad at all.  The current Black HUMAN collection is quite interesting.  If you're into contemporary laid back clothing the collection is worth having a look at.