Last week, here in Baltimore, it was all about the horses. As we geared up for the center jewel in the mighty crown of horse races, The Preakness Stakes, it seemed that everything became centered around these mighty creatures, even here in Federal Hill where we had a surprise visit from the massive and equally beautiful and impressive Budweiser Clydesdales. So cool!
Basically, here in Maryland, horses are kind of a big deal, as there are hundreds of horse farms, most notably, the famed and historic Sagamore Farm.
If you've been following along with me here at Slow Down and Savor, you will already know that last Tuesday, I was afforded the absolutely amazing opportunity to visit Sagamore Farm, thanks to the fantastic folks at America's Best Racing. If you DIDN'T know, now you do.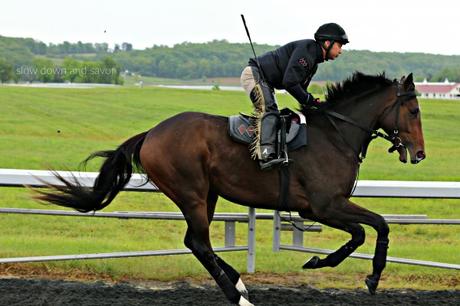 I used that trip out to the elegant and expansive farm to soak up all that I could in learning about race horses, the racing of horses, the care and keeping of horses, and the sheer athleticism these magnificent creatures possess.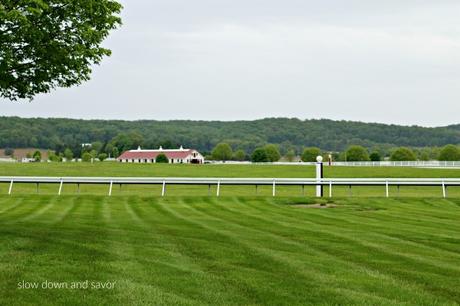 I learned the history of the commanding and impressive farm dating back to the 1920's, with names like Vanderbilt and Bromo Seltzer and now Kevin Plank and Under Armour all tied to it. I learned about Sagamore's famed Gray Ghost, Native Dancer, one of the most celebrated and accomplished Thoroughbred racehorses in history. I also met some amazing people, fellow bloggers, and photographers, and just simply had a fabulous time doing something completely out of my normal zone.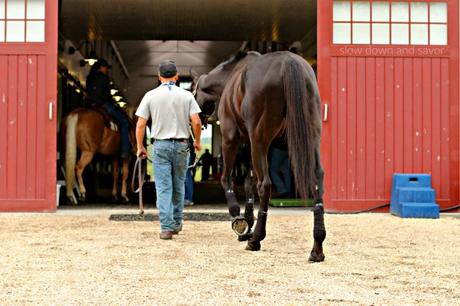 But the purpose of the trip out to Glyndon, MD wasn't just to see the pretty horses, it was to gear up for Preakness Stakes happening that weekend, last weekend, at Pimlico Race Course here in Baltimore, MD.
Due to Major's Saturday Little League game and overall scheduling, my husband and I opted to attend the Friday pre-races, also known as Black Eyed Susan Day, rather than going on Saturday to the jewel race itself, the Preakness Stakes. And I'm so glad we did, but more on that later.
Getting ready for the races was a lot of fun. I mean, think about when you are getting ready to go out to a fancy dinner, or a concert; getting ready is half the fun, am I right? I always thought so at least.
We decided to do Preakness on a budget, and found some amazing spring-inspired and Preakness-appropriate outfits at Marshall's. My vivid-baby blue Calvin Klein dress was so comfortable, and the solid, bold color really stood out.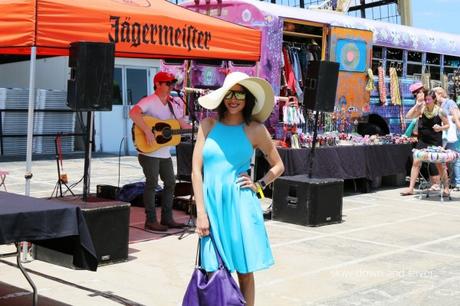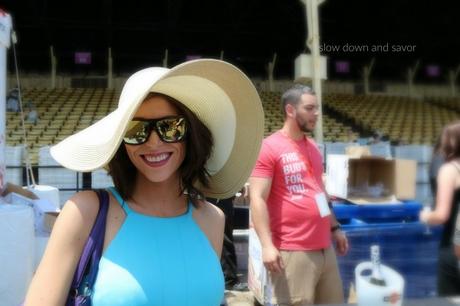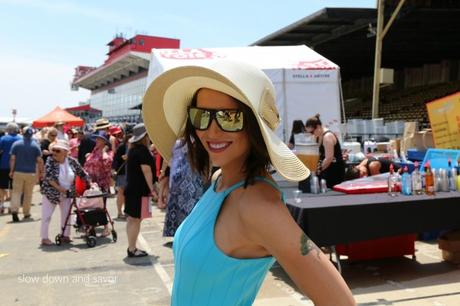 Michael's bright shirt and classic khakis with a blue blazer and blue boat shoes kept him comfortable in the warm, beautiful sunny day we had, and the best part? We didn't break the bank!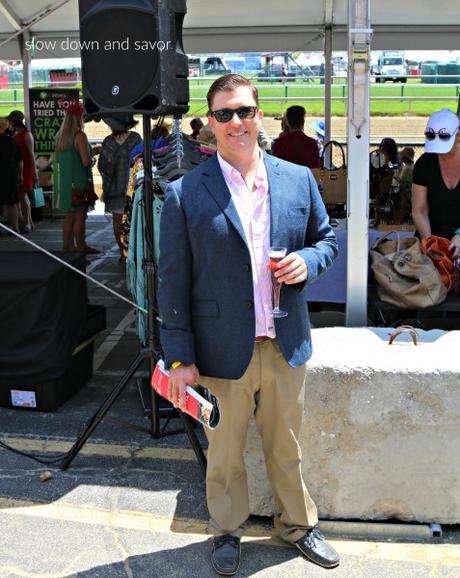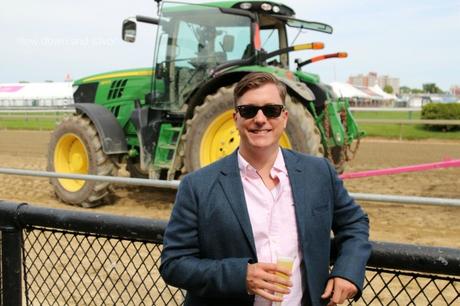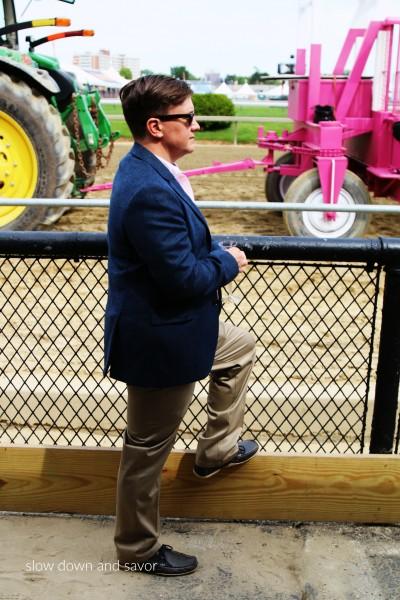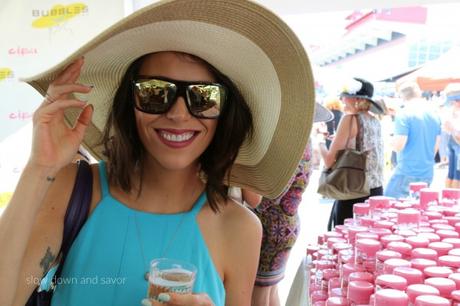 But back to the hat.The big, floppy hat was a fun and necessary touch for the races, because I don't know about you, but when I think of Preakness, Kentucky Derby or the Belmont, I think of beautiful spring fashions, bold colors, bright designs and big, floppy statement hats. But why a hat?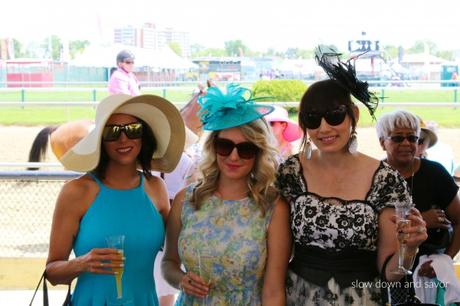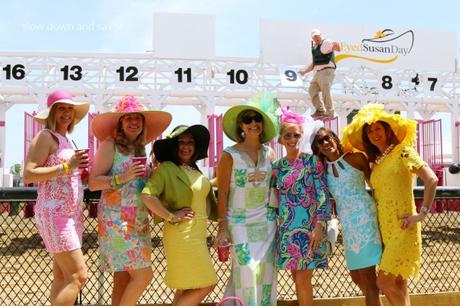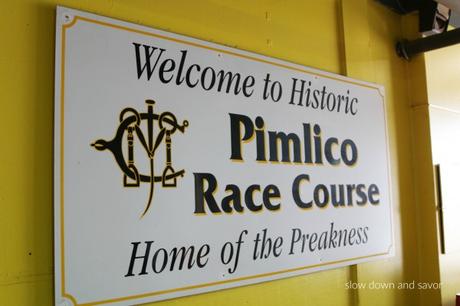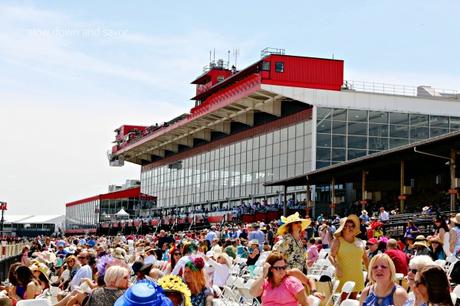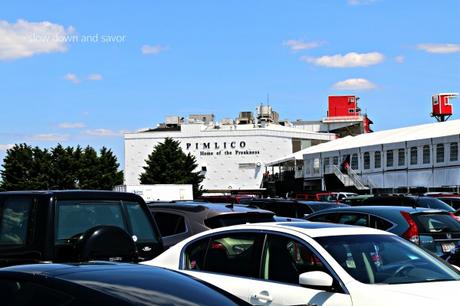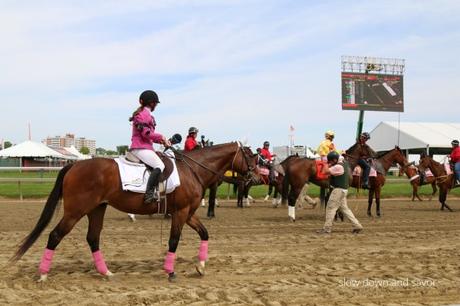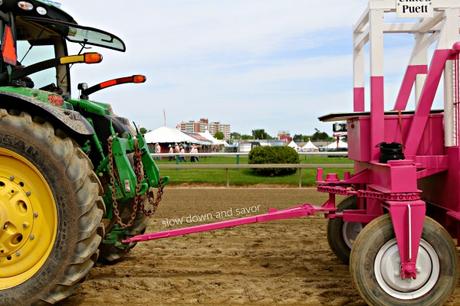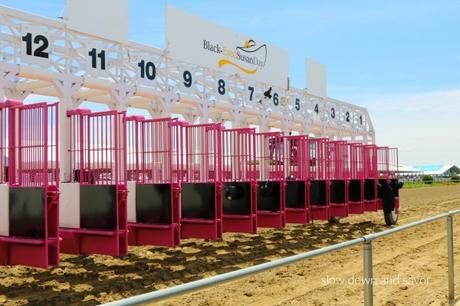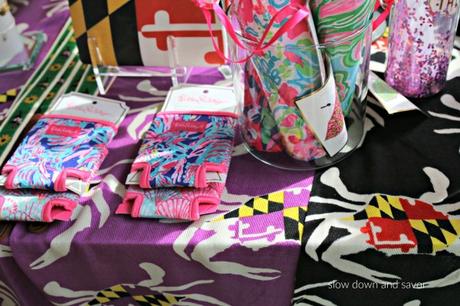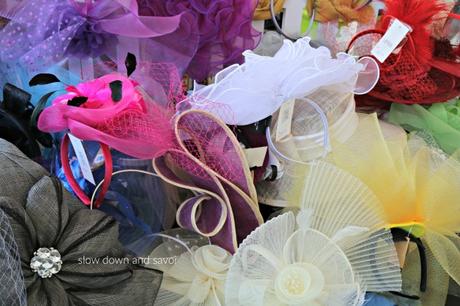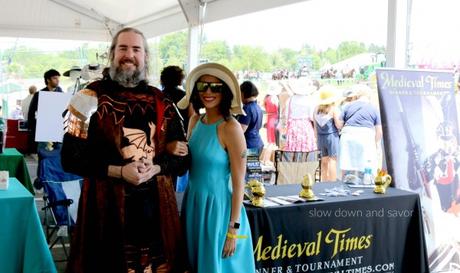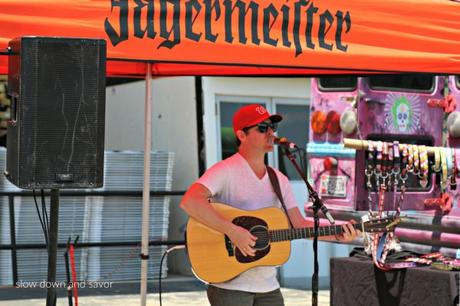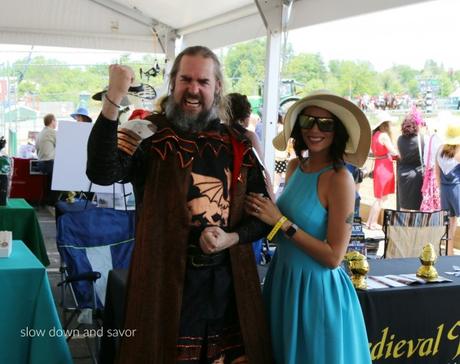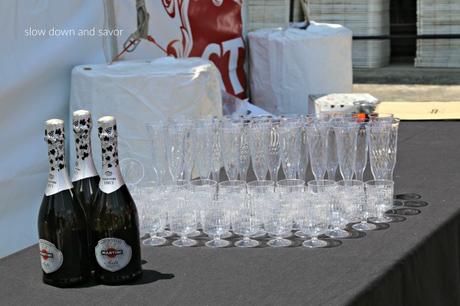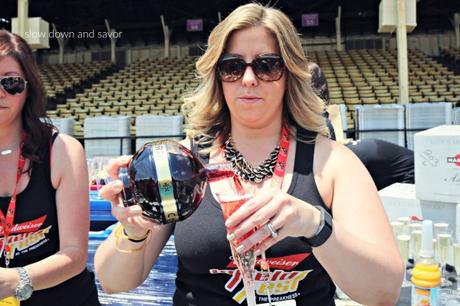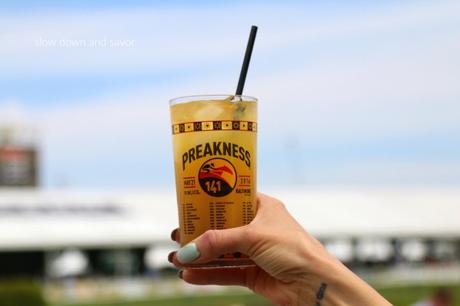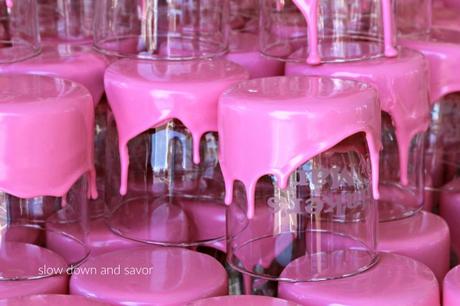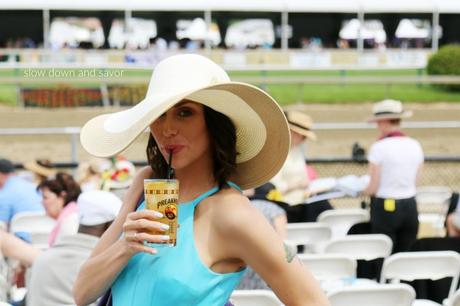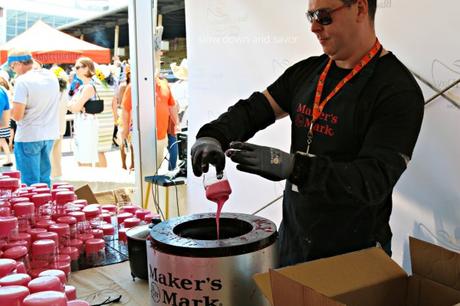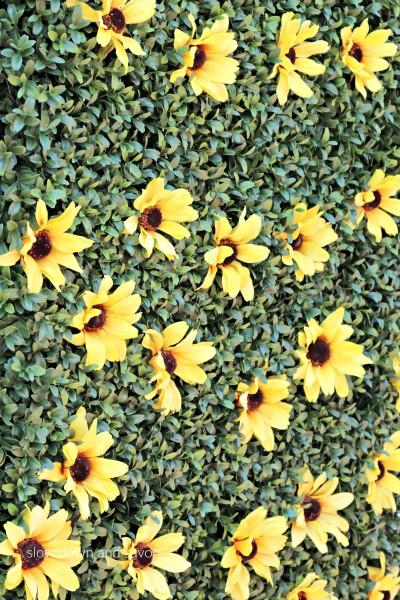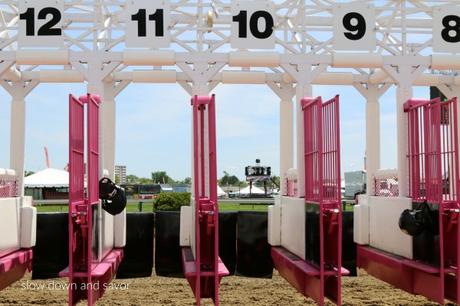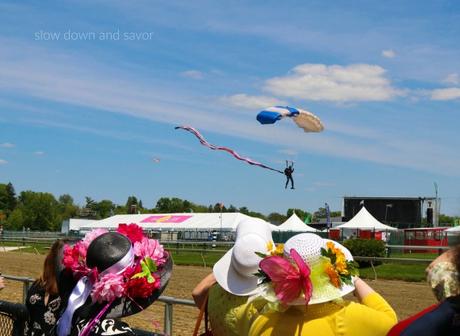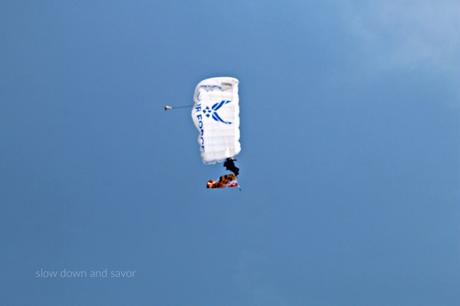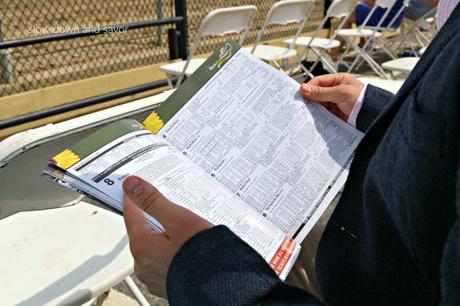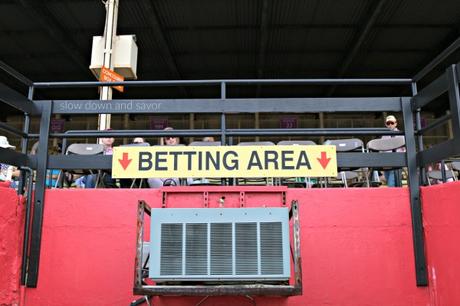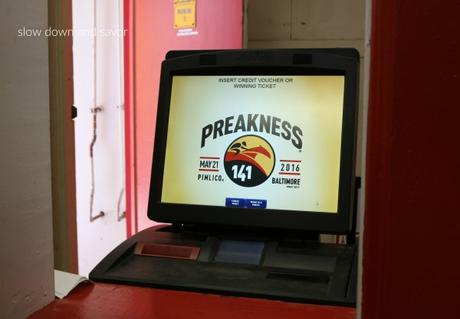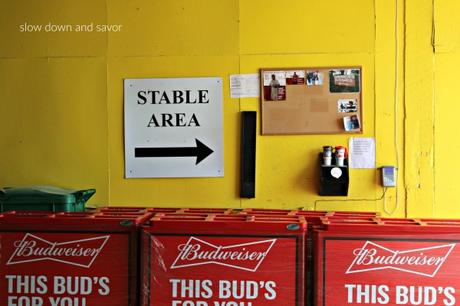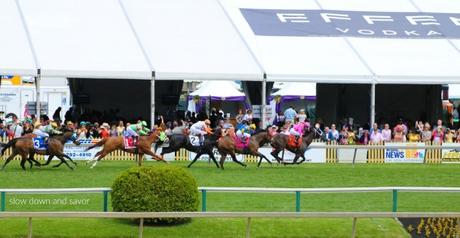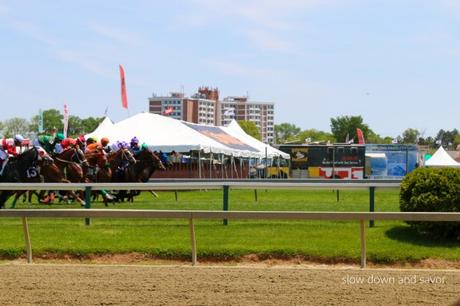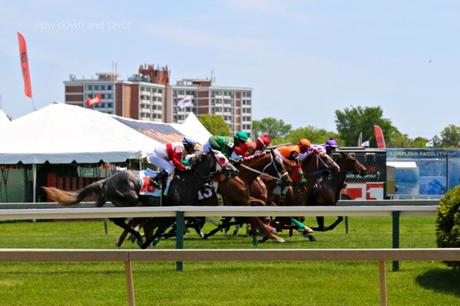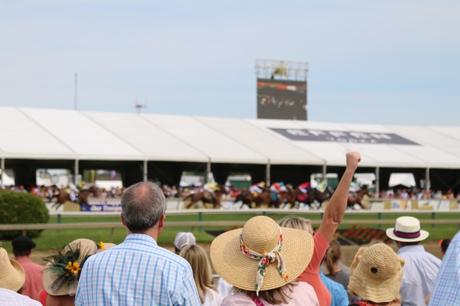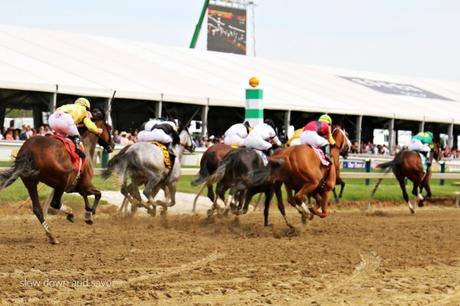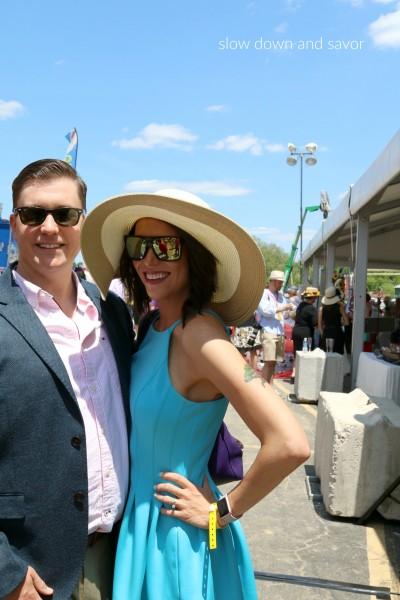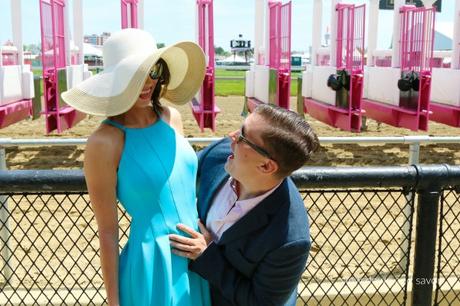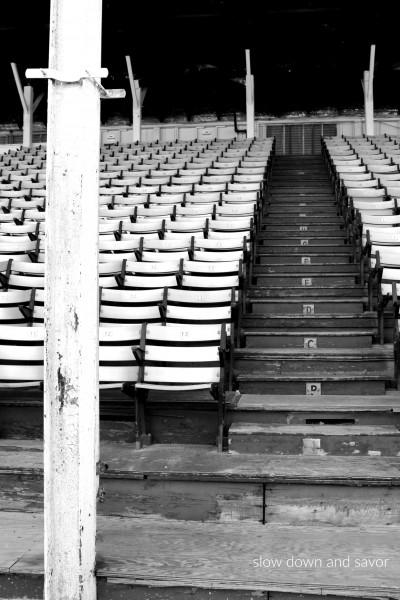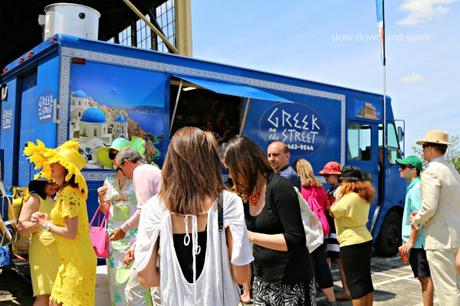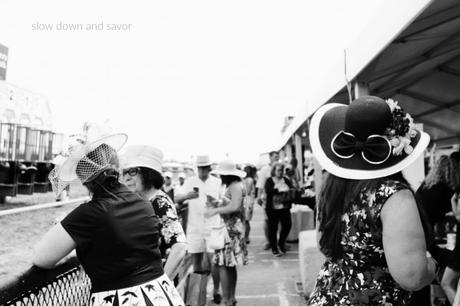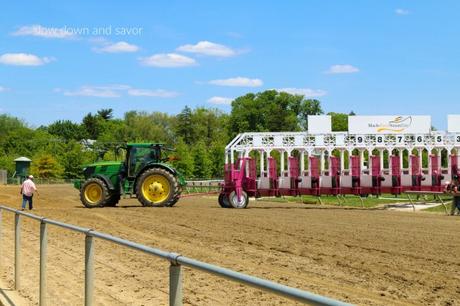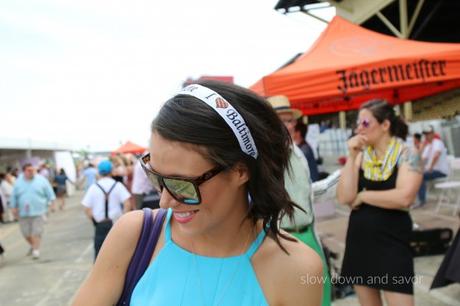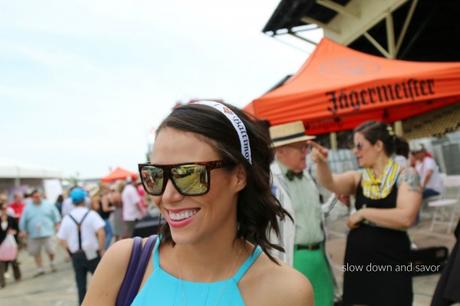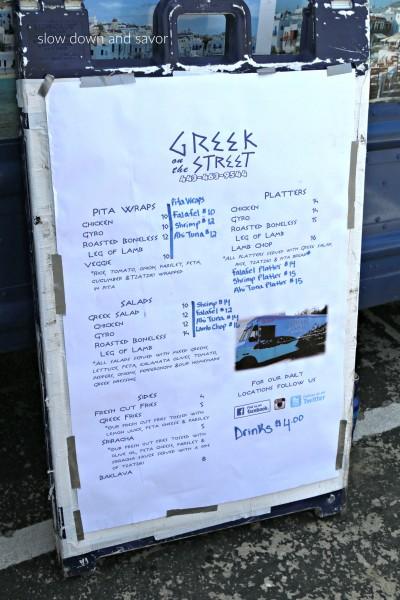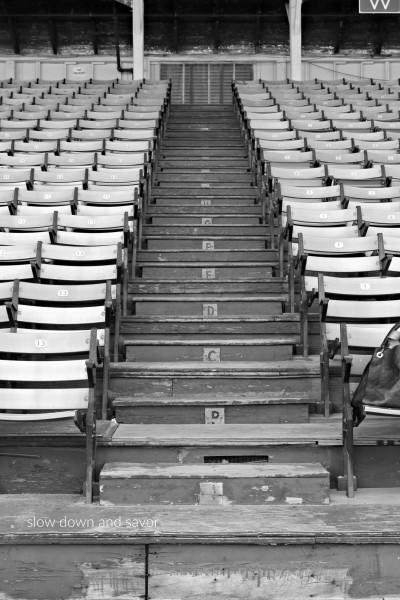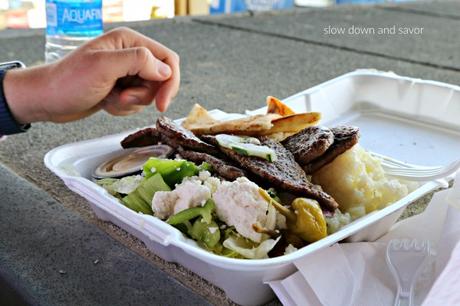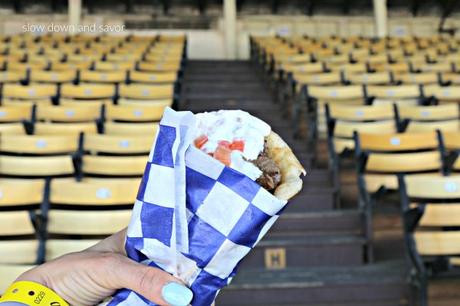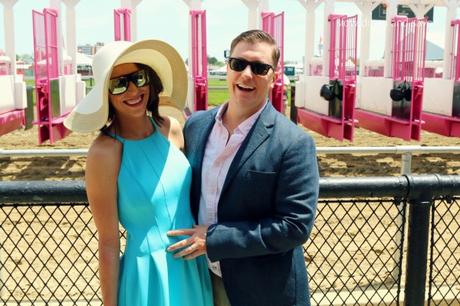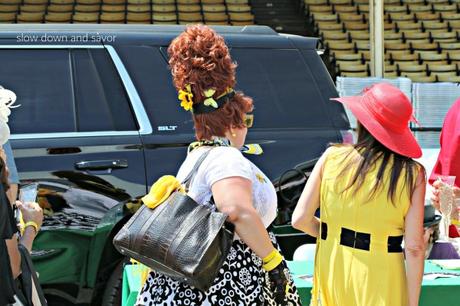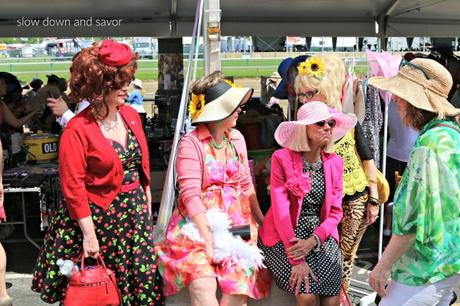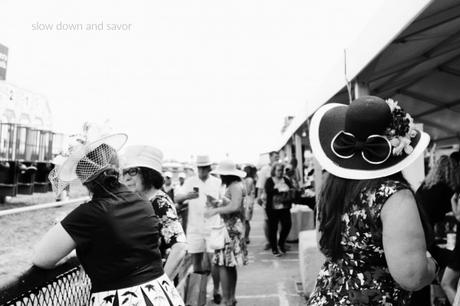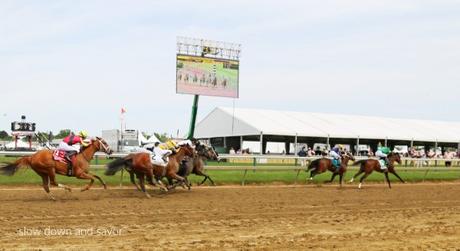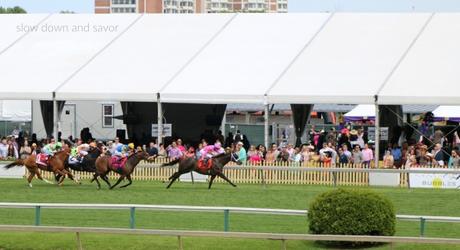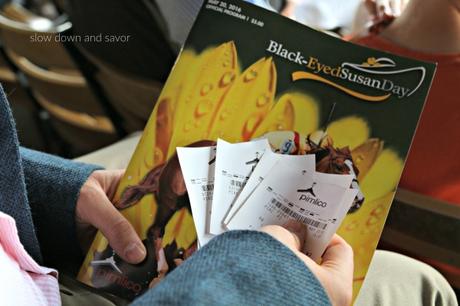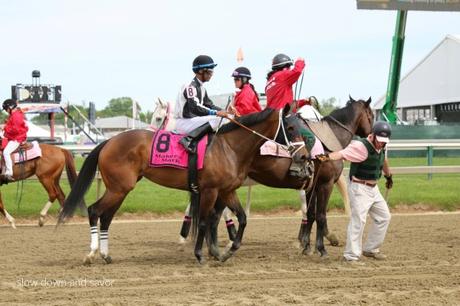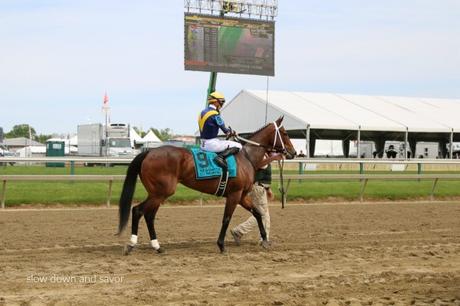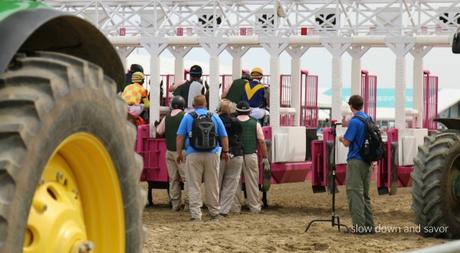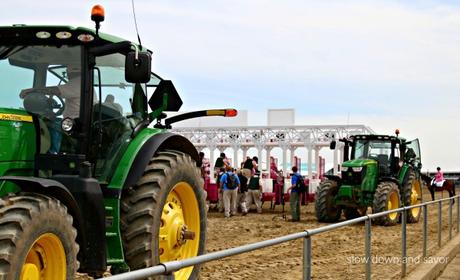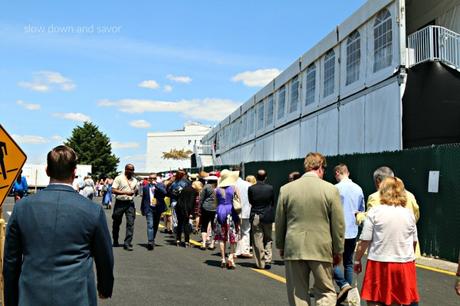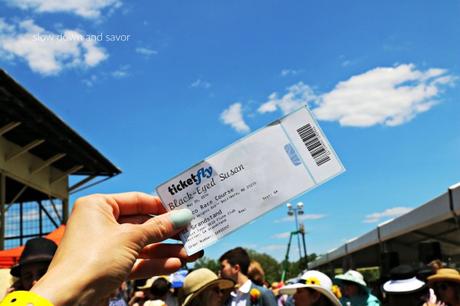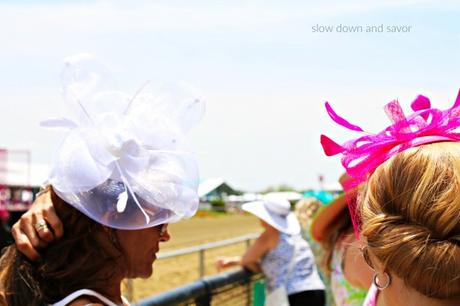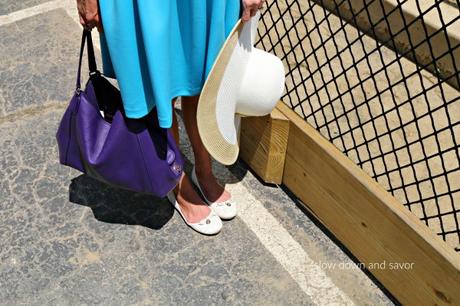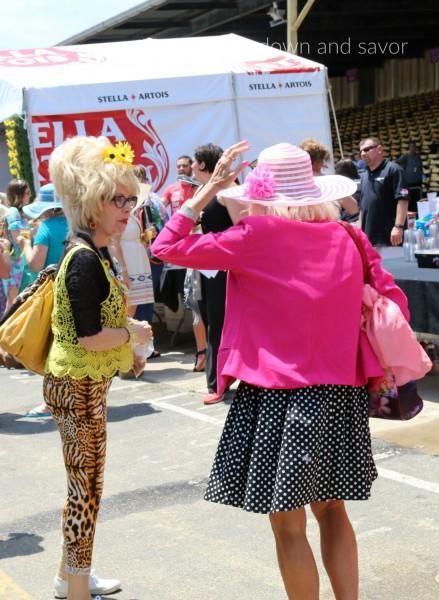 Back in 1873, 141 Preakness races ago, women would wear their best and finest to the races, and in those days, their best and finest included their best and finest statement hat. The tradition stuck throughout the years, and even though half way through the day I wanted to toss my hat into a fiery inferno, or maybe just under the pounding hooves of the racing horses, I stuck it out for tradition's sake. And also because it was super sunny, so it actually served a purpose.
Michael and I headed out, amped for what was ahead of us at Pimlico Race Course. Neither of us quite new what to expect, other than horses performing at their absolute peak for the greatest glory known to horses, fancy hats and well, honestly that's all we knew to expect.
The only horse races we'd ever attended were on the Fourth of July in Fredericksburg, TX on a dusty turf track. We drank some cold beers, placed some small bets, and watched the races. We had a blast, but it was certainly a small country town, and couldn't really compare to what we were about to witness.
I have to be honest here. I am SO glad to have had the VIP event at Sagamore to learn about the ins and outs of racing, because the day at the races wasn't totally about the races. It was a beautiful day, where the sun poured down on us as we walked around and enjoyed all of the vendors, ranging from fine jewelry, salons, Medieval Times, to Lilly Pulitzer and Makers Mark. I can't say I was alone in missing a race here or a finish line announcement there.
We took in the energy from the live music, and the excitement from all of the people with their amazing fashions. There clearly were no rules in fashion for that day, except to have fun!
Thanks to America's Best Racing, Michael and I were able to be part of the Flute Club, where we were able to enjoy bottomless and endless champagne, and mimosas.
We also decided to splurge and get a Black Eyed Susan, the official cocktail of Preakness Stakes. T he Black-Eyed Susan is to Preakness as mint julep is to Kentucky Derby.
It's delicious, refreshing, and something I know I'll be happy to enjoy even now that Preakness week is over. It's made with 1 1/2 ounce of vodka, 1 ounce of bourbon, 2 ounces of orange juice, 2 ounces of sour mix, and finished with an orange slice and cherry on top for garnish. So good. I actually think it's become one of my absolute favorite cocktails of life.
I bet you're sitting there at this point wondering, "What's up with all the Black Eyed Susan stuff?" Well, short answer: The Black Eyed Susan is a beautiful yellow flower with a black center, and happens to be the Maryland state flower. It's not only pretty, and resembles the Maryland state flag, but it's also source of pride for Marylanders.
After exploring the race course and all that there was to offer, Michael and I noticed there were people descending from the sky! How cool! PARACHUTERS!
After all of the excitement, we decided to get down to business, and actually grab a seat, place some bets and watch these race horses do what they do best: Go fast.
We won a whopping $14, cheered on our picks, and I was suddenly transported back to that small country town affair. It was so much fun!
The 45.56 seconds of actual horse racing was highlighted by the many-day celebration of all that leads up to the Black Eyed Susan Day.
There was so much celebration! Our whole historic city turned out in all its finery, the restaurants and food trucks came out prove Baltimore to be foodie heaven, and the Black Eyed Susan was Baltimore's and Pimlico's centerpiece pre-party to the shiny center jewel that is Preakness.
The races at Pimlico for Black Eyed Susan Day were a fabulous backdrop to a stage full of colorful outfits, interesting people and what ended up one of my favorite days ever. And to have been able to experience this happening in it's full 360 degrees was incredible.
I'm so glad to have been able to experience and enjoy the beautiful experience that was Black Eyed Susan day, and my heart goes out to the jockeys and owners of the two horses that suffered on the track the next afternoon during the Preakness Stakes, as the rain poured down and the mud took over the track. My heart broke at the news, especially since I got to know what these horses are like.
Both the horses and jockeys are real athletes undergoing real pressures and real trials, and it's hard work. Congratulations to Exaggerator for taking home the center jewel and winning Preakness! What an exciting weekend! Until next time!