More abstract nails!!!
I also got the inspiration for the square design off of a pattern on Pinterest. Pinterest is such an awesome place to go if you're lacking nail inspiration, there are so many different and fun patterns on there it will destroy that road block and get you excited to do some nail art within 5 minutes I swear! 
I've been wanting to do this design for a while and I' so happy with the way that it came out! Tell me what you guys think!
I started off with a base of Wet n Wild Black Creme on my index and middle nails and China Glaze Pool Party (new version) on my ring and pinky nails. I created the square design with white acrylic paint and a thin, long bristled nail art brush. While those were drying I applied two layers of TLLB Glow-Stly on my ring and pinky nails and then two dots near my cuticle with Wet n Wild Black Creme. Finally I sealed all of my nails in with some Sech Vite and to add a little bit extra something I added a layer of NYC Matte Me Crazy on just my index and middle nails. And that was it!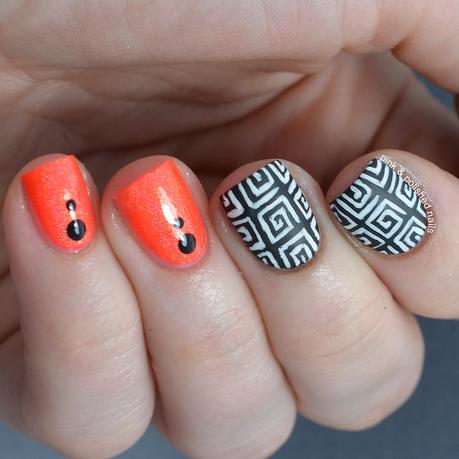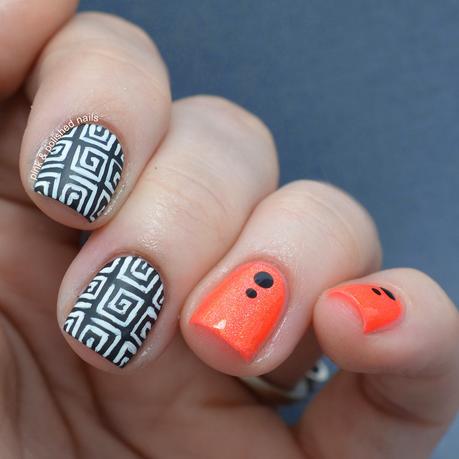 I love the contrast between the flat and dark square nails against the bright, holographic, and shiny neon nails. I feel like it gives so much visual interest and I honestly didn't want to take this design off like.... ever. LOL
What do you guys think?
Keep an eye out on my Instagram and YouTube Channel for tutorials on this look!
Thanks loves :)