Home > Bitcoin, Cryptocurrency, Stock Market > Bitcoin slump is perfectly normal!
Bitcoin slump is perfectly normal!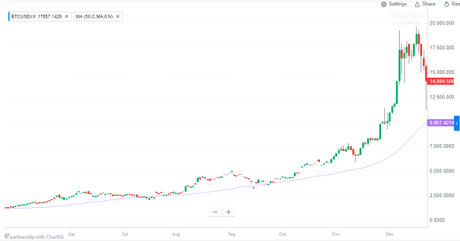 This week Bitcoin slumped around 45% (from a high around $20,000 to chart support at $11,000) and has bounced back to around $15,000 since yesterday afternoon. This isn't the crash I predicted a couple of weeks ago; it is just normal volatility. Looking at the chart above, you can see that the 50-day-moving-average (50dma - the purple line) has acted as a floor in recent times, and the fact that the price can dip 45% and still not hit this level just shows how overheated Bitcoin has become. As long as each low is higher than the previous one, the bull market is intact and we should see further progress after a period of consolidation from here (assuming that $11,000 proves to be the low for this dip). When the crash hits, the price will fall well below the 50dma and break the pattern of higher lows.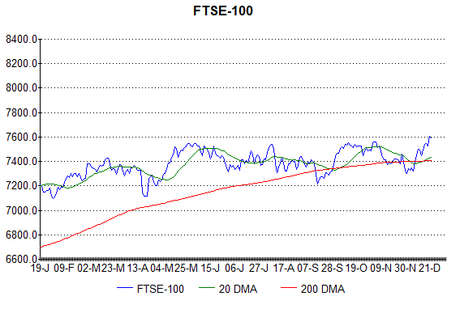 The FTSE-100 has made a new closing high this week, breaking the 7,600 point barrier for the first time. The Trump tax cuts signed off this week should boost the stock market, so I am hopeful the FTSE can continue its climb.