Home > Bitcoin, Stock Market > Bitcoin goes mainstream!
Bitcoin goes mainstream!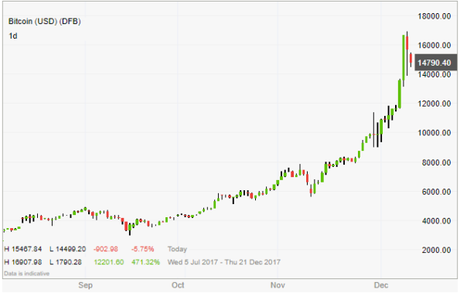 Since Bitcoin broke through the $10,000 level a few days ago, I've noticed a considerable amount of mainstream press coverage which, as a contrarian, makes me suspect we could be nearing a high. Another significant event is that two Chicago derivatives exchanges are soon to offer Bitcoin futures which could increase the volatility of the cryptocurrency. If its surge continues, I think we could see a crash fairly soon, meaning that anyone buying in now could get their fingers burnt. I doubt this will be the end for Bitcoin though; we saw an 80% slump after it hit $1,200 in late 2014 and it has recovered from that, although it did take over two years to regain its high. If you are looking for a long-term, buy and hold investment, I think Ether could be a much better bet. It is the native token of the Ethereum blockchain which is supported by many large US companies and is currently trading at around $500. It saw a fifty-fold increase earlier in the year and has been consolidating since then, but recently achieved new highs and could benefit from any weakness in Bitcoin.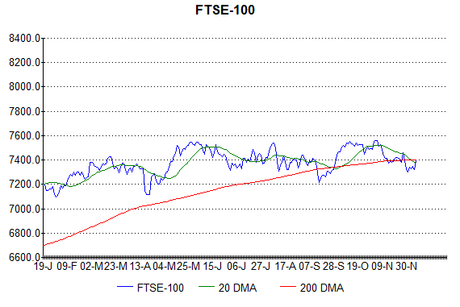 With regard to the FTSE, it did fall to 7,400 as I suggested, where it paused and bounced back to the 20-day moving average, but has since fallen again to 7,300. It is now rebounding; could the traditional Santa rally see the break-out I have been looking for?