Join Vintage Gwen and I 
for another Birchbox Beauty Bash!
Have a subscription to 
Birchbox
? We want to see what goodies you received this month! What did you think of them? Which are your favorite?
Birchbox Beauty Bash is not limited to just Birchbox subscribers! This monthly link up is open to all things beauty! Tips, tricks, DIY's, advice, reviews, you name it! 
ALSO, one of my wonderful readers, Amber contacted me about a contest she and her future husband are trying to win-a FREE wedding! I had have wedding issues, and truly know how important a wedding is to a girl. If you have a moment, PLEASE go vote for them. I would love nothing more than to see one of my readers blessed with this wonderful gift. 
Go HERE to vote!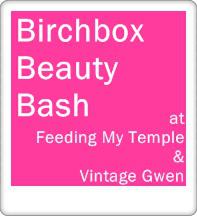 <center><a href="http://www.feedingmytemple.com/img border="0" src="http://i42.photobucket.com/albums/e334/allyelaine/beautybash.jpg"/></a></center>
Last month's most viewed link was from House On A Hill: February Birchbox!