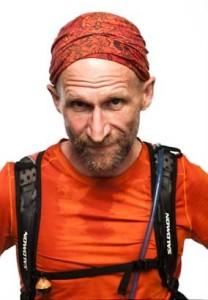 Tim Englund   Photo by Geoffreybakerphotography.com
Tim England won the Big Dog Backyard Ultra 2013 holding off Keith Knipling to complete 35 laps, 145.845 miles in 30:46:55.9 hours.
Last woman standing was Marcy Beard who completed 29 laps, 120.843 miles in 26:05:14.2 hours.
Congratulations to the winners and to the 37 starters who took part in this fascinating race.
Format
A single loop race will take place at every hour, on the hour.
Runners failing to complete the 4 mile trail loop within an hour will be timed out. ~
Runners failing to make the start in any hour will be eliminated.
The winner will be the last man (or woman) able to complete a loop within the time limit.
The finish is determined by the last person standing.
2012 Big Dog Backyard Ultra – "Death Match on the Big Trail" Andy Emerson
From Multidays.com, post Big Dog Backyard Ultra 2013 – Final Update