If you double this lip balm up upon application, it's almost as good as my favorite MUJI Lipstick, it's minty fresh and performs just like those new Burt's Bees tinted lip balms, but for only about Php150.00+ .  It isn't new, it's the size of a Chapstick and I yanked it from the counter by the cashier at Healthy Options at High Street in Fort and quickly paid for it.  It's so bereft of hype but I use it too much to not say anything so it deserves to be here.  It's very basic yet works so well for me and yes it's 70% organic.  This is the makeup tidbit for girls who are afraid of makeup but want something that shows a difference nonetheless.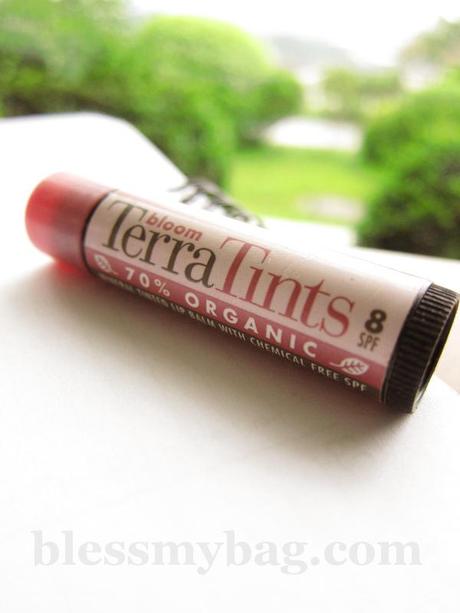 See? Quite Chapsticky but way better.  The photo of my lips didn't quite do it justice, the Muji Rose Pink lipstick photo is closer to what it's like, but this really packs punch of sheerer definitive color.  I got the pinkest one, there was a peachy golden caramel shade beside it on the counter but I reached for this.  I thought I saw 3 shades in total.  By the way, this isn't my natural lipcolor you're seeing, the balm isn't that sheer, with like 2 to 3 swipes I'd say it covers your lips with like 80% opacity or color payoff.  It reminds me of Clinique's "Almost Lipstick" which was given to me by an aunt in my teens.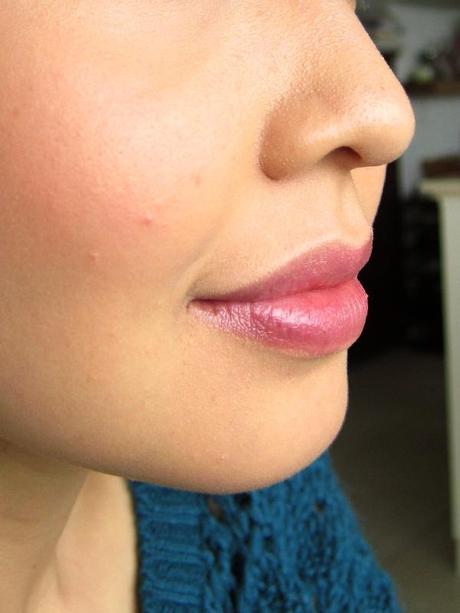 I couldn't find the shade name on the tube, it's an earthy rosy plum with a pearlescent finish or, you know, a pearly luster that isn't frosty.  Mine looks gross already because it's well loved, I think I'm halfway down the tube already.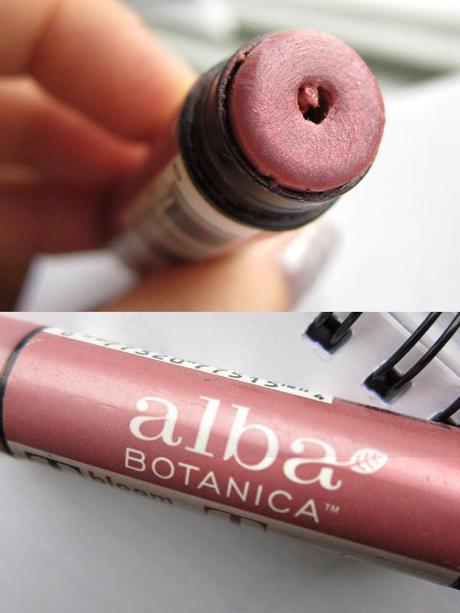 I also apply Alba Botanica Terratints on about an hour before I plan to wear my favorite matte lipstick, Make Up For Ever Rouge Artist Mat 5, it's the perfect pink base prep under that and it makes my lips super soft.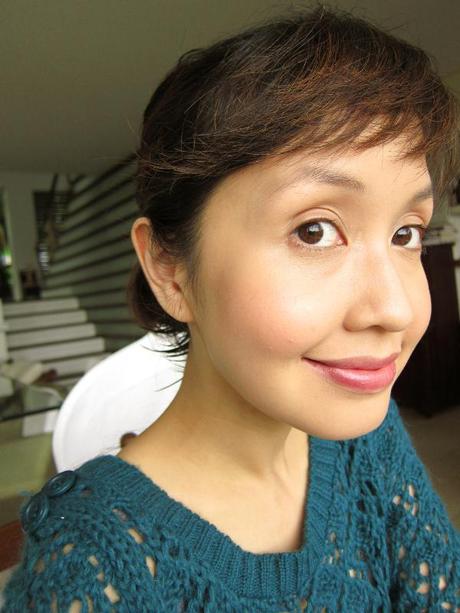 No, I didn't get a haircut, my hair's up ala Audrey in Roman Holiday.  Lip Balm = 70% ORGANIC, Knitted Turquoise wool top = 70% OFF (Php600.00 ProMod, Paragon Mall, Singapore).  If you're into having almost nothing on your face, this lip balm is for you.  Here are some places where Healthy Options branches are established in Metro Manila: Alabang Town Center, Bonifacio High Street, Festival Supermall, Greenbelt 5, Powerplant Mall, Rustan's Makati, Shangri-la Plaza, SM City North Edsa, SM Mall of Asia, SM Megamall, and Trinoma.   If you're in the U.S. this might be available in a place like Wholefoods that stocks Alba Botanica products.  I slide it into my pocket when we're in a rush.