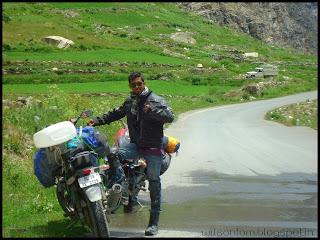 If you're anything like I am, you enjoy listening to some music when you take a ride of any distance, so a list of the best songs for a road trip is essential. What kind of songs does meet those criteria? Something it takes with an edge and some Songs with a context and the proper beat. While you're riding, you need music that drives you on and gets your heart pumping. My playlist needs to create a rebellious and thundering mood to get me in tune with the music and the machine, so with that in mind, I would love to create a playlist perfect for their fusion with a long ride.

But it's a common problem, that there are so many good songs out there that it's often difficult to winnow them down to a manageable list, at least a list short enough to fit on your MP3 player. The following mix tape is for all you motorcycle riders out there. I tried to gather some songs that speak to the emotions one feels traveling long distances on the road. Check some of my favorite Road trip song which I would always like to play on my go.
Best English Road Trip Songs

Sheryl Crow - Soak Up The Sun
"Soak Up the Sun" is a very populartitle song recorded by American artist Sheryl Crow. This song got released in March 2002. The song, has great feature with backing vocals by Liz Phair, peaked at number-one on the Billboard Adult Top 40 chart and hit number 5 on the Hot Adult Contemporary Tracks chart and #17 on the Hot 100 chart and It was covered by the Kidz Bop Kids in 2003.
Eagles - Take It Easy
"Take It Easy" is the title song written by Jackson Browne and Glenn Frey, and most famously recorded by the Eagles (with Frey singing lead vocals) and released on May 1, 1972. It peaked at #12 on the July 22, 1972 Billboard Hot 100 chart, spending 11 weeks on the chart that summer. According to Glenn Frey, the message of this song is, "You shouldn't get too big too fast."
Vanessa Carlton - A Thousand Miles
"A Thousand Miles", is an originally titled "Interlude", by American singer Vanessa Carlton and recorded for her 2002 debut album Be Not Nobody. It was co-produced and co-arranged by Carlton and Ron Fair, and was released as the album's first single in 2002. Her signature song, it became Carlton's breakthrough hit and one of the most popular songs of the year. To date, it remains Carlton's biggest hit in the United States, and her only single to reach the top ten of the Billboard Hot 100. This describes the feelings of anyone who has lost someone they really loved. Carlton sings about how she would do anything to be with that person, or even to just to see them. It is about a person who is in an untouchable world because of the pain they have from their loss.
Bob Seger - Roll Me Away
"Roll Me Away" is the title of a song written by American rock artist Bob Seger on the album The Distance by Bob Seger and the Silver Bullet Band. The song peaked at #27 on the Billboard Hot 100 chart. The song is featured on the Armageddon soundtrack. In addition, the song is played in its entirety in the final scene and closing credits of the 1985 film Mask starring Cher and Eric Stoltz. It was also the closing song from the 1984 film Reckless, as Aidan Quinn & Daryl Hannah drove off on Aidan's motorcycle. It was also used as Bob Seger's opening song on his Face The Promise tour in 2006-2007, his first tour in a decade.
Steppenwolf - Born To Be Wild
"Born to Be Wild" is a rock song written by Mars Bonfire. It is often used in popular culture to denote a biker appearance or attitude. It is sometimes described as the first heavy metal song, and the second verse lyric "heavy metal thunder" marks the first use of this term in rock music.
Best Hindi Road Trip Songs
Be a Rebel | Rang De Basanti
The soundtrack to the 2006 film Rang De Basanti was released by Sony BMG on 8 December 2005 and had its music composed by A. R. Rahman and lyrics in Hindi and English by Prasoon Joshi and rapper Blaaze. [2][3] The title track was used at a flash mob at Chhatrapati Shivaji Terminus in Mumbai on November 27, 2011 in honor of those who died in the 26/11 attack. The artist of this song was     Naresh Iyer, Mohammed Aslam, Blaaze.
Shaan - TANHA DIL
Shaan sang, composed the music and wrote the lyrics of his songs for his super hit albums Tanha Dil. This song is one of the most all time favorite song for many people.In 2000 he won the MTV Asia Music Award for best solo album for his album Tanha Dil.
Dil Chahta Hai (Reprise)
Dil Chahta Hai is the soundtrack album to the 2001 Hindi film Dil Chahta Hai, directed by Farhan Akhtar, starring Aamir Khan, Saif Ali Khan and Akshaye Khanna. Since its release, the music has received widespread critical acclaim and is considered a milestone in the history of Bollywood film music.[1] It was featured in the BBC Asian Network's Top 40 Soundtracks of All Time list and Planetbollywood's 100 Greatest Bollywood Soundtracks list.
Yuhi chala chal rahi - Swades
A beautiful Light-hearted traveling song starring Sharuck Khan, from the moview Swades. The song was directed by great musisian A.R. Rahman, and lyrics by Javed Aktar and was sung by Udit Narayan, Hariharan and Kailash Kher.
Ye Lakshya Hai Tera- Lakshya
The title track "Lakshya" is a techno-flavored patriotic song by Shankar, which is followed by "Kandhon Se Milte", another patriotic song with the vocals of Kunal Ganjawala and Vijay Prakash. "Kitni Baatein", a pathos song, is crooned by Hariharan and Sadhana Sargam. There are two instrumentals, "Victory" and "Separation". The trumpet portion from "Victory" has been used as the background music for their logo by Excel.

Even though road trips are normally thought of as summer adventures, there's something to be said for a fall getaway, highway style. The air is crisp, the breeze is brisk, and weekend-excursion options abound. Of course, no escape would be complete without a perfect playlist — every long or even short drive begs for you to turn up the bass and get your head bobbin, and definitely think that you all will like my collection of Song, which will rock you while your next road trip as even while creating this post my heart was pumping yours will also.