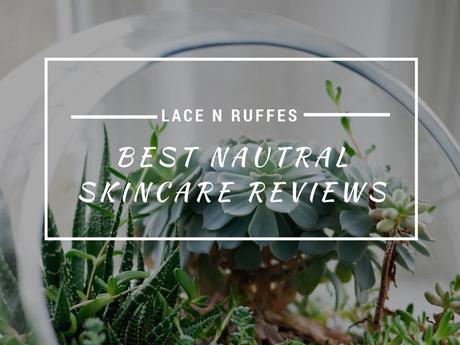 Who else's feeling overwhelmed with so many new skincare & beauty products that hit the shelves every day? Here at Lace n Ruffles, we understand working out what's fabulous and natural can be a long and expensive process, sometimes it's a hit and miss too. That's why we've done the ground work for you each month to introduce you to the best natural skincare products that you might not have discovered yet. Read on as this might help you switch to a greener beauty routine! (Psst.. don't miss out beauty giveaway in our previous reviews feature here.)
♥ human + kind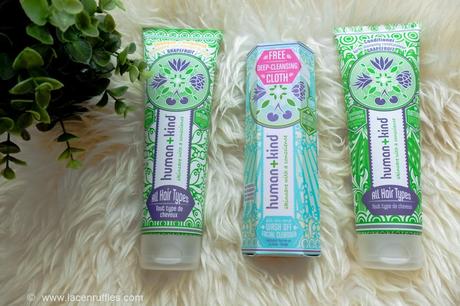 Product tested: 1. Wash Off Facial Cleanser 2. Grapefruit Shampoo + Body Wash 3. Grapefruit Conditioner
Why is it Green: No petrochemicals, colourants, parabens, addictive. Suitable for sensitive skin.
Verdict: The pack arrived in colourful green packaging with a Moroccan vibe - I was so keen to check out the products inside! First up for trial was their all-in-one face wash. It came with a deep-cleansing wash cloth that is machine washable and re-usable. It was as soft as a baby cloth and felt very luxurious on the skin! The wash is a cream based one but not too thick in consistency. Prior to using this, my sensitive skin was playing up with little irritated bumps on my jawline. After using this cleanser for a week, they've cleared noticeably and it felt extra gentle on my skin - what a lifesaver! It has the all-in-one power to tone my skin without leaving any oily residue. Its non-toxic formula with 98.5% natural ingredients is also another big reason to love.
'Why they didn't think of this sooner, seriously?'. That was me talking to myself when I got on my hands on their Grapefruit Shampoo + Body Wash. As I mentioned in my previous reviews, I think reducing the number of products you use regularly means minimising any potential harmful chemicals that you're exposed to on a daily basis. Plus, it contributes to a greener world if it means less packaging and less waste you produce. This product ticks the 'green' box. This hair and body wash has a clear, thin consistency and a pale apple green colour. It only has a very slight grapefruit scent that is invigorating. Add a splash of water and it lathers really well. I was as excited as a 3 year old and slapped the foams all over my hair and body - both my skin and hair felt ridiculously soft. Once I rinsed it off, it left my skin feeling clean and moisturised, but doesn't leave any sticky residue. My hair felt smooth too and not stripped of moisture. It's simply magical that it works wonder for both body and hair - kudos to human + kind! There's no lingering smell at all so I'd recommend it for anyone who doesn't like fragrant smell in their products.
I finished my wash with their Grapefruit Conditioner. It has a relatively thin consistency so I used a larger amount of product on my hair than usual. I was pleasantly surprised - I found it to have just the right amount of moisturising power that my fine hair can take without feeling too heavy. Upon blow drying, my hair was super soft, shiny and bouncy. Finding a suitable conditioner for my long, fine hair has been a challenging task. I think my hair likes this one and I'll definitely repurchase!
Also worth noting is that they have a comprehensive glossary list on their site to explain the natural ingredients in their products and their benefits - extra points earned for giving the peace of mind!
♥ Good Things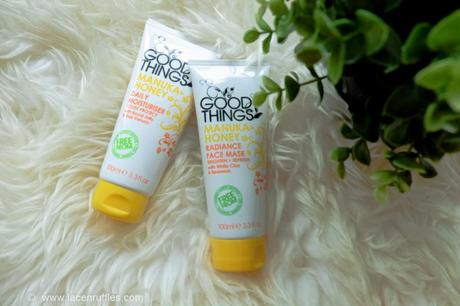 (Reviewed by Carolyn in our Beauty Trial Team; Carolyn also blogs over at http://whicheverway.com)
Product tested: Good Things Manuka Honey Radiance Face Mask
Why is it Green: A cute, green stamp is proudly displayed on the front of the tube, proclaiming that the Face Mask is free from parabens, mineral oils and sodium laureth sulphate. It's also marked as suitable for vegetarians, which means good things for our animal friends! In the ingredients list, you'll find Honey, Beeswax and Melon. One thing to note is that Parfum is also listed.
Verdict: The bright yellow packaging of the Good Things Manuka Honey Radiance Face Mask makes you feel as though you've got a little ray of sunshine, ready to pep up tired and neglected skin.
Applying the face mask was very simple, and as soon as I opened the tube, I was met with the distinct smell of what I can only describe as Play-Doh! The scent isn't overwhelming and I quite enjoyed it. My skin did tingle when I put the mask on, but this subsided as it began to harden.
Removing the face mask was equally simple (unlike some masks I've used, which have left me with red and angry skin). My skin still smelt of the fragrance and I was mostly struck with how SOFT my face felt.
Product tested: Good Things Manuka Honey Daily Moisturiser
Overall, I think this is a great little product to have for weekends when I want to pamper myself and give my skin some TLC.
Why is it Green: Just like its sister product, the Daily Moisturiser is clearly labelled as being free from sodium laureth sulphate, parabens and mineral oils. While there is no ingredients list, the product description mentions echinacea, bee venom (to boost collagen levels), beeswax, royal jelly, manuka, propolis and sunscreen.
Verdict: Topped with a yellow lid and displaying some very pretty flower detailing, the Good Things Manuka Honey Daily Moisturiser is simply but attractively packaged.
As someone on the other side of 25, I'm beginning to be more conscious of anti-aging efforts and was super happy to see that it contained sunscreen.
Applying the moisturiser, I was struck with its unique smell. It smelt like fruit yoghurt (I can't put my finger on it - peach? mango?), meaning my face was good enough to eat. In fact, I even got a compliment from the Mister!
The application felt light yet deeply moisturising, which is great for my combination skin. Thanks to this and the presence of sunscreen, I think the Daily Moisturiser will be ideal for everyday use. It's true to its name!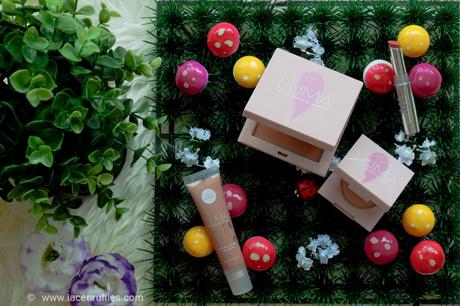 Product tested: 1. Illuminating Highlighter 2. Bronzer - Natural 3. Natural Shine Lip Gloss - Nude Shimmer 4. Sheer Lipstick - Terracotta
♥ LUMA by Jess Hart
Why is it Green: Free from mineral oils, sulphates and parabens. Not tested on animals.
Verdict: I used the bronzor and illuminator as a contour and highlight kit to sculpt my face. I'm a big fan of contouring for the camera as I have relatively flat facial features. However, I don't contour every day as I'm mindful of over-doing it and looking unnatural under sunlight. When it comes to contouring, wouldn't everyone agree there's a fine line between enhancing your features naturally and painting a 80s costume party face? It comes down partly to your skills and partly to the texture of contouring products used. That's why I thought I'd set up a challenge for myself using these LUMA goodies. With a kabuki brush I easily picked up an even layer of bronzor. Cheeks sucked in (best way to find the 'hollows'!), I worked my brush from the tops of the hallows inward and shaded along just beneath the sunken areas. I then used my fingers to blend the edges and the product blended seamlessly. Next, I blended two lines of bronzor, this time with my fingers, down the sides of the bridges of my nose. Viola - straight nose and instant cheekbones - seriously, who needs injections or surgeons? I was very impressed with how natural the bronzor looked and its non-streak formula. The shade is a warm caramely brown and it isn't too orange-like or shimmery either. It simply matches my skintone perfectly. It's very subtle for contouring for everyday look.
Next task was highlighting with the LUMA illuminator. I had my finger glided across it and it felt very silky and creamy. I then tapped my fingers on my cheekbones, brow bones, tip of my nose and the middle of my chin. It almost felt like it melted on my skin right away and blended in harmoniously giving a soft glow - LOVE! Rather than shimmery, I'd describe the texture as pearl-like with subtle shine and non-greasy. It's definitely not overdoing it and I'd wear it as part of my everyday makeup or for beach days.
The LUMA natural shine lip gloss is labelled as 99% natural that contains natural colours, no parabens and no mineral oils. It's vitamin enriched and contains castor seed oil - all sounds very nourishing and I couldn't wait to try it on! The texture was a bit runny that I ended up having too much products on my lips which was a bit disappointing. The plus side is that it isn't sticky at all and feels very luscious and nourishing for the pout. It's very high shine and gives that 'fresh honey on the lips' look - delicious! It smells pleasant and plant-like. As for the shade, it makes my lips look polished and sun-kissed. I think I've found my perfect nude!
Their Sheer Lipstick feels equally nourishing for my pout with its butter-like consistency that just glides on my lips. The terracotta shade gives my lips a subtle peachy hue. I'd call this one a tinted lip balm rather than a lipstick. I usually wear lipsticks with lip balm underneath for conditioning. With this one it's packed with enough moisturising power and I'd happily wear this on its own - winning! It's not entirely natural (88% natural as lablled) but I like how they're being transparent with how much natural ingredients it contains. The only thing that I dislike is its packaging which is way too flimsy, and the lipstick didn't even go back into its tube properly after first use. Overall, it's a lip shade that's perfect for everyday wear and will look good on anyone
So tell me fellow green beauty junkies, have you used any of these natural beauty products? What's currently in your green beauty cabinet? Do show and tell by tagging #Lacenruffles on your pics showcasing your current obsessions! Also be sure to subscribe to our mailing list to be in the loop when our next green beauty giveaway is out next month.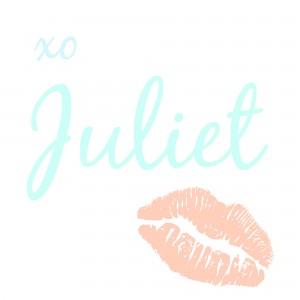 Disclaimer: Lace n Ruffles was gifted by some of the brands mentioned in the post while all opinions are genuinely our own. We can't guarantee that all products we recommend will suit you. We only use products we personally think are good having tried them on myself or by our beauty team while everyone's skin is different and it's possible to be allergic to anything. Wherever possible, test products out on yourself before purchasing. We always trial products such as moisturiser and serum for at least 7 days before reviewing, while some other products like face wash and makeup might only be trialed once.
Until next time, stay beautiful inside & out.