I have a confession to make. I love makeup, ok that is not a confession, but the confession is that eyebrows were the last thing I ever focused upon. To me they were not very important. I know I cant believe myself. But eyebrows are very very important, and now even if I am doing a quick 5 minutes makeup look I have to fill in my eyebrows. And for that I really do need an eyebrow pencil , they are the quickest way to get the eyebrows filled ad also the easiest way. Now in India there are various options available with respect to the availability of eyebrow pomades and pencils. So lets have a  look at some of the best eyebrow pencils in India.
Eyebrows frame the eyes and eventually the entire face so one should never neglect them. For a heavier application I sometimes prefer a pomade. And when I am in a jiffy sometimes I like to run by quick eyebrow powder and a wax crayon over it, but for the most part I love using an eyebrow pencil because you can really adjust the intensity depending upon the pressure you put on the pencil.
And if you are a makeup beginner and wondering how to fill in eyebrows this post might help you.
How to fill in your eyebrows. Its a pictorial and will help you to start your eyebrow makeup journey. It totally depends on you what kind of desried effect you want from your eyebrow, if you want your eyebrows to look natural try matching the  color to your hair color and fill in only the sparse areas and if you want a more fuller look, go in for a color one shade darker than your natural hair color and fill in the entire eyebrow, for a fuller looking brow. Whatever you desire dont skip this crucial step, I cringe seeing my old photos where I have a full face of makeup and the eyebrows are totally untouched.

How to fill eyebrows
There are other products you can use to fill in your eyebrows, eyebrow kit which comes with powder , an angled brush, a wax to set your eyebrow hair. Or you choose an eyebrow gel which is either clear or tinted,its basically like a mascara and you just run it through your eyebrows. Or you can use an eyebrow pomade, which has a tacky texture and more pigmentation and is more saturated , you need an angled eyebrow brush to fill in and shape your eyebrows using a pomade. Then there are pen style eyeliner kind of eyebrow products using whic you can draw thin hair like strokes for a more natural looking eyebrow. There are lot of options other than an eyebrow pencil you can use yo fill in your eyebrow but for today's post I am sharing best eyebrow pencils in India
So today I am listing down some of the best eyebrow pencils in India , so you can try them out for yourself.
NYX Auto Eyebrow Pencil. Price Rs. 475
Create flawless arches with this eyebrow pencil a blend of Vegetable Coconut and Soy Bean Oil that guarantees a fluid application and sensational color.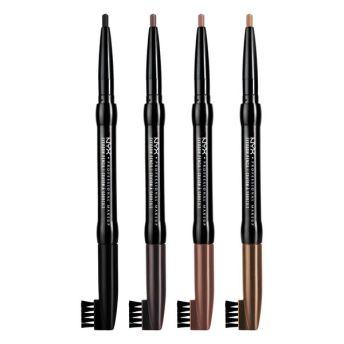 NYX Eyebrow Pencil
Includes built in brush to blend in color.
Fluid application.
Styles eyebrows to perfection.
You might have seen me use this several times in my videos, I love the color pay off and also the glide of this eyebrow pencil. Its pretty affordable too and it lasts a long time. This is one of my top most favorite eyebrow pencils and I always buy 2 together so that I dont run out of them. You can buy this from Nykaa.com
2. Etude House Drawing Eyebrow Pencil : Rs 500 This is a Korean brand and I love their products. I like their eyebrow pencils too. The shape is very slanted and it has a nice size spoolie at the other end , I dont like when the spoolie is a bit too big and then when I try to blend the eyebrow product goes everywhere on the forehead. That is why I love this pencil. Its a twist up pencil so you dont need to sharpen up.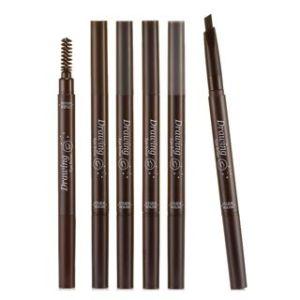 3. Innisfree Auto Eyebrow Pencil : Rs 400. This is a Korean brand and I love quiet many of their products. The auto eyebrow pencil is a wide, flat oval-shaped eyebrow pencil ideal for drawing wide lines when held flat and delicate lines at the tip of eyebrows when held straight. Its soft texture glides over without irritating the skin around the eyebrows. Pick from one of colors matching your hair color to create a more sophisticated and sharp image.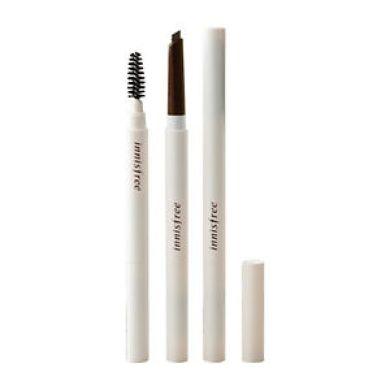 Innisfree eyebrow pencil
4. MUA eyebrow pencil : Rs 299 This pencil is ideal for you if you have dark eyebrow hair. Draw, define and shape your eye brows easily with the MUA Eyebrow pencil! The MUA Eyebrow Pencil helps to frame your face and achieve perfectly groomed eyebrows. One end has a brush to groom your brows and ensure that they are in place, whilst the pencil itself adds definition for the finishing touch to any make-up look.
5. Maybelline Brow Duo Shaper. Rs. 300. This is a 2 in 1 product with pencil at one end and powder on the other. Get naturally-defined, fuller eyebrows with Maybelline's Fashion Brow Duo Shaper, without threading, trimming or plucking your eyebrows! Our first ever 2-in-1 brow liner comes with a slim pencil tip to shape your brows and a powder tip for a soft finish. Pencil shapes, powder finishes, 2 steps to wow!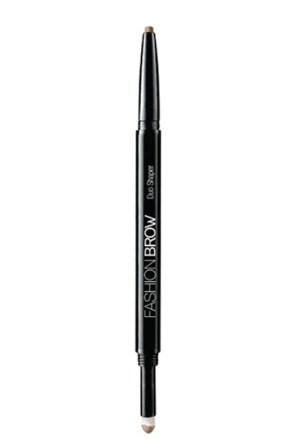 6. Maybelline Cream Brow Pencil : Rs 199. This is a simple pencil style eyebrow product that you need to sharpen. The brow pencil gives you the most natural looking, stunning brows ever! With the improved formula, you can now have lasting brows up to 12 hours. These Fill, shape and blend with complete heatproof, waterproof impact. The Creamy formulation ensures good pay-off.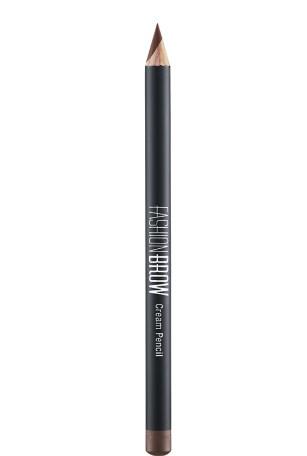 Maybelline cream brow pencil
7. Deborah 24 Ore Eyebrow pencil. Rs. 495. The pencil defines, emphasises and fills in eye brow color for fuller looking brows. The special brush sculpts and shapes brows precisely and effortlessly. Well groomed neat and naturally beautiful eyebrows.For precise brow definition and all-day color. With special mini brow-brush.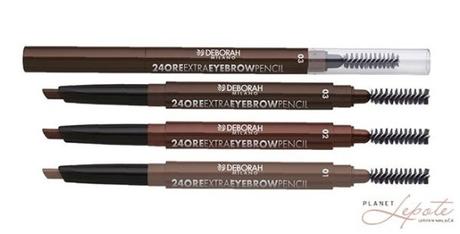 8. Nicka K Eyebrow Pencil. Rs. 425. I really like the shades this pencil comes in, its good for dark colored hair which have gray undertones Sculpt, shape, and define to transform your brows in style with the Nicka K Eyebrow Wood Pencil. This essential eyebrow pencil boasts a soft, blendable formula that shades through sparse eye brows for naturally fuller arches that last. Available in 5 universally flattering shades that suit all skin tones. You can fill in sparse areas with the pencil and use the spoolie side to blend and soften your brows.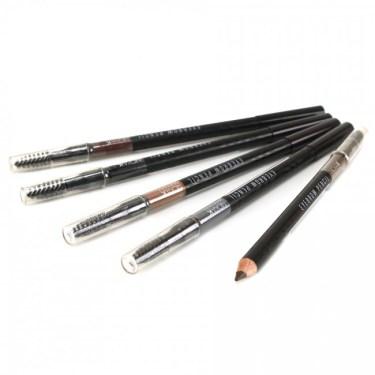 Nicka K Eyebrow pencil
9. Nicka K Eyebrow pencil duo : Rs 650. This is a dual ended pencil with sponge tip applicator on the other end. Instantly create two different looks with the brilliant Nicka K Eyebrow Art Pencil. The two-in-one eyebrow applicator has a long-lasting, densely colored pencil that draws impeccably on one end and a built-in spring sponge applicator at the other. Now movie star like brows aren't distant dreams anymore!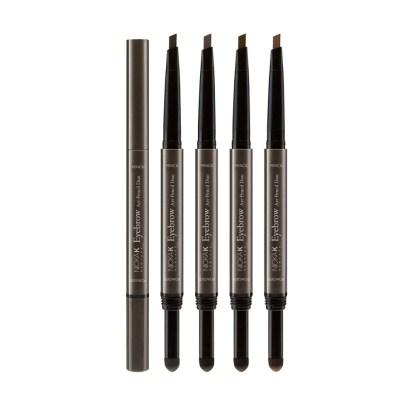 NICKA K EYEBROW PENCIL
10. NYX Push Up Bra for your eyebrows : Rs. 1025 This is a bit pricey but well worth it. This is a dual sided pencil with a highlighter side on the other end to clean up unwanted the eyebrow filling and giving the eyebrows a lifted look.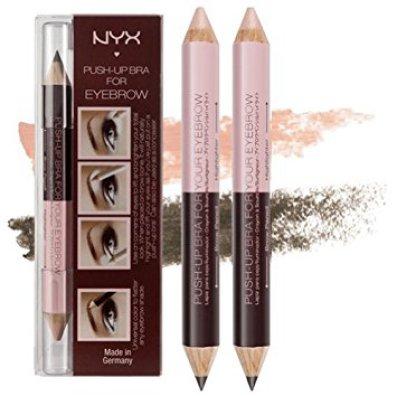 NYX Eyebrow pencil
Use the universally flattering brow pencil to draw and fill in your arches and the highlighting end to lift and brighten. Like the "little black dress" of Pencils, the effect is captivating and undeniably glamorous.Dual-sided pencil. Highlights brows and lift the brow bone. Lifts and brightens the eye area.
So these are my picks for the  Top 10 eyebrow pencils in India from the drugstore which are affordable adn easily available on either Nykka or Amazon or Flipkart. I hope you enjoyed my compilation of the best eyebrow pencils in India.
Related
Related Posts via Categories
A guide to all Maybelline foundations available in India
How to remove makeup Pixi Nourishing Cleansing Balm Review
Sugar Smudge Me Not Liquid Lipstick Review Swatches
KIKO Full Coverage Concealer Review
Estee Lauder Pure Color Envy lipstick review Impulsive
Vanity Cube At Home Salon service
Lakme 9to5 Primer + Matte Lipstick Review, Swatches
Top Foundations for Indian Skintone for dry skin
MAC Prolong Wear Nourishing Waterproof Foundation NC 35 Review, Photos
Tags:
best eyebrow pencils in India, eyebrow pencils, eyebrow pencils in India, how to fill your eyebrows, NYX eyebrow pencil