Hola beauties!
Here's another edition in this series, following

Best Beauty Buys - Under $5 - 5 Colorbar Products

that we saw earlier in the blog.
Today we are gonna see budget picks from -

LAKME!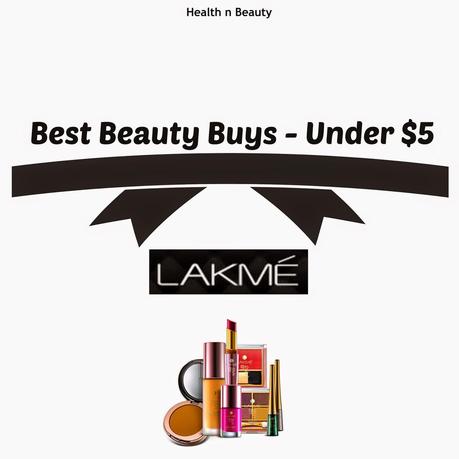 Lakme, being an indigenous brand, has a great variety to offer when it comes to makeup & skincare. Its been catering to the beauty needs of women in the country for long now & has been reinventing itself as a brand continuously.
Many share a love & hate relationship with this brand, but here are my absolute favorites from this brand under $5 (~ INR 300).


BEST BEAUTY BUYS, UNDER $5 - 6 LAKME PRODUCTS




1. LAKME INSTA LINER - INR 100


Nice dark black liquid eyeliner that is water resistant & costs you only as low as 100 bucks!
This has been a staple in my stash ever since I know I apply liquid liners - and that means since school days! :)
If you are into liquid liners or want to start off with some budget option - this is your best pick!
Just hope Lakme launches one cobalt blue & emerald green in this range - and I'm sorted. :D


2. LAKME CC CREAM - INR 250


Here CC is Complexion Care!
Though this product got launched in only 2 shades - Beige & Bronze and there was much hullabaloo about it, this product has been a total love for me ever since I purchased this soon after its launch.
I have

reviewed Lakme CC Cream in shade Beige here

already. Though the shade appears to be light initially, after application it adjusts & transforms to the natural skin tone adding brightness & glow.
I very rarely opt for medium or full coverage foundations these days & use this product pretty much every time I apply makeup as a base!
Highly recommend!


3. LAKME NAIL COLOR REMOVER - INR 70


Another amazing product at such a pocket friendly price, this nail enamel remover manages to remove all kinds of nail paints effectively with little use of the product. Even glitter nail paints go away with this remover with slightly more effort.
Comes in a pocket size container handy for travel too.
If you are a regular nail paint user & do not want to spend big bucks on other branded nail enamel removers - this is your best buy!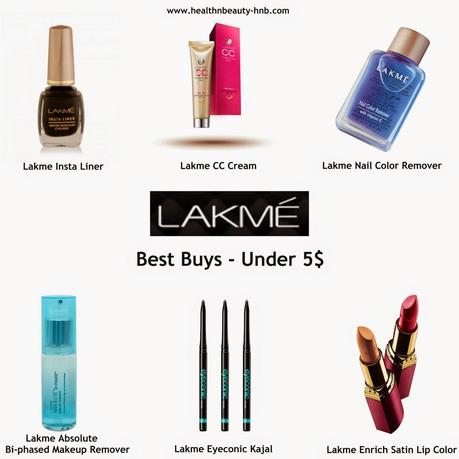 4. LAKME ABSOLUTE BI-PHASED REMOVER - INR 225


This was one of the earliest products launched once Lakme re-invented their brand.
An effective and non-irritating makeup remover, bi-phased & good at its job too at a fraction of the cost when compared to other high end bi-phased makeup removers in the beauty market!
You can read the

detailed review of Lakme Absolute Bi-phased Remover here

with demo.


5. LAKME EYECONIC KAJAL (BLACK) - INR 199


Everything about this eyeconic kajal is iconic!
The twist-up packaging, creamy jet black liner that is both water- & smudge- proof all made this product a big hit with the "kohl-frenzy" Indian women.
Lakme also launched 4 other color variants to the Eyeconic kajal range at INR 250 which turned out to be quite a hit too owing to their creamy texture & pigmentation.


6. LAKME ENRICH SATIN LIP COLOR - INR 225


One of the best lipstick Lakme has ever launched. A range of lipsticks that has something to offer for every lipstick lover at such a budget price tag.
The packaging is a little bore, but Lakme more than made up for it with the humongous range of shades & finishes available in this range.
You can check out swatches/review of the lipstick shades from the below links -


Lakme Enrich Satins Lipstick in Shade #140 - A MAC Dupe?




Swatch Santa - 9 Lakme Enrich Satin Lipsticks (Newly Launched)




Swatch Santa - 14 (More) New Lakme Enrich Satin Lipsticks


Here are other Lakme product reviews that you may be interested in -


Lakme Absolute Pop Tints Limited Edition Nail Paint in Orange Squash





Lakme Color Crush Nail Enamel - Shade #32




Lakme Fruit Blast Face Wash in Berry Lush - Review!



Lakme Sun Expert After Sun Face Wash - Review!