Heyya....
Have come up with this new series...

Best Beauty Buys Under Five ($5)!


We will be seeing a variety of drugstore products that have made to the favorites list of many makeup lovers all over, but just cost your pocket as low as $5 (~INR 300 or less) only.
Kicking off this series with one of our beloved brands...

COLORBAR!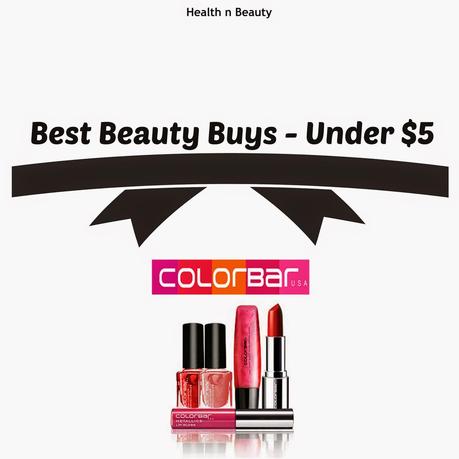 BEST BEAUTY BUYS, UNDER $5 - 5 COLORBAR PRODUCTS


1. COLORBAR VELVET MATTE LIPSTICK - INR 275
Every lipstick lover would have bought atleast one of these, since these made great waves when they were launched.
Long staying matte finish, yet non-drying on the lips -this formula is the sole reason behind its cult status.
And the droolworthy range of 36 shades ranging from reds-pinks-mauves-browns & oranges too is a big bonus factor!
2. COLORBAR ANGLED EYE DEFINING BRUSH - INR 250
When these brushes were launched in eye-popping shades of pink, orange & red, all of us wanted to own all of them. But later, the face brushes turned out to be quite scratchy and not upto expected quality.
But the eye brushes in this range are a huge hit among eye makeup enthusiasts.
This pretty angled eye brush is a must-have!
3. COLORBAR SMOKY EYES SMUDGER BRUSH - INR 250
This cute, little smudger brush is another worthy product to have in your kitty given its price.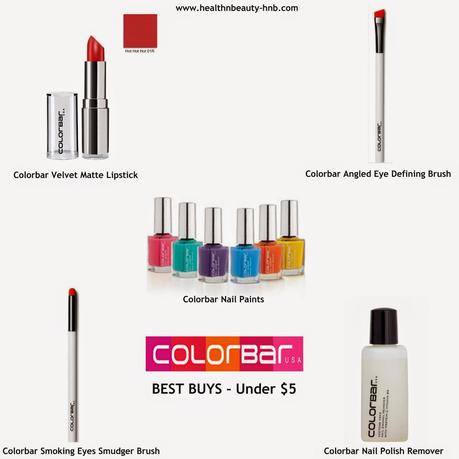 4. COLORBAR NAIL POLISH REMOVER - INR 125
An acetone-free nail polish remover with jojoba oil extracts that does its job perfectly at a gr8 pocket friendly price.
5. COLORBAR NAIL PAINTS - INR 110-250
Colorbar has an amazing range of nail paints that start from as low as INR 110 to INR 250 and more as well.
Huge range of shades and amazing quality is a big plus point again.
What all Colorbar stuff from this list do you have & are your favorites?
Hope you enjoy this series of best budget buys the way I am loving compiling these for you! :)
You might also like reading these -


Colorbar Take Me As I Am Lipcolor (Flirtatious Pink)




Swatch Santa - Colorbar Baked Shimmer Bar in Coral Hint




Colorbar Nail Lacquer (Lemon Drop) & a (terrible) mani...




Colorbar Take Me As I Am Lipcolor - Bare Dare Pink (Potential MAC Dupe??)




Swatch Santa - 3 Colorbar Ultimate Eyeliners




Colorbar Ultimate Nail Enamel Remover




Swatch Santa - 6 Colorbar 'Take Me As I Am' Lip Color Pencils