As Diwali is very near now and its first day of Diwali "Dhanteras", we all have done cleaning job of our houses, offices and cars, and so many things.I think Diwali is meant to clean everything, coz whole year we are busy doing our jobs and we avoid or neglect doing this important work, "cleanliness". So, our ancestors have thought to put this job under Dharmic occasion, so we all have to do it compulsorily ;-)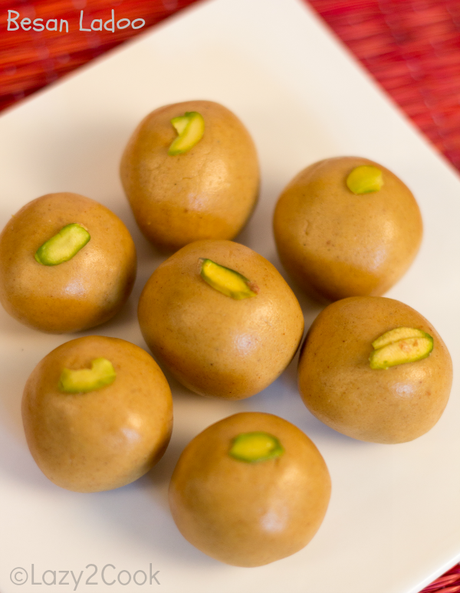 Diwali's another meaning is lots of sweets and snacks and we are thinking that what sweets we should make this time. I have so many things in my mind, but as time permits, I have to shortlist it.So, I am making very famous, Diwali sweet, " Besan Ladoo" in my mavashi (mai's) style. My mavashi used to make it all time this ladoo, she doesn't need any occasion to make this, because its her specialty and whenever guest comes, she always offers Besan ladoo them.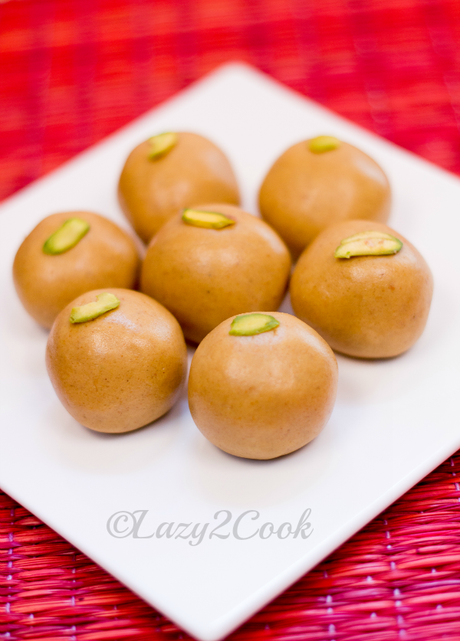 2 Cups Besan /Gram Flour
1/2 Cup Ghee (Melted)
1 Cup Powdered Sugar
4 Cardamoms /Elachi, crushed
few dry fruits/pistachios/raisins to garnish
1.Put Melted Ghee in Non Stick Kadaai or Pan on Low Flame.Add Besan and stir continuously for about 10-15 minutes on low flame only.

2.After 15 minutes you will notice the color changes and the besan starts releasing a nice aroma.
3.Now,add Powdered Sugar and Elachi Powder and keep stirring the mixture for 4-5 minutes so it does not stick to the bottom of the pan and burns.
4.Stop the flame and keep the Pan away from Stove.Keep stirring slowly to avoid lumps.And place it in a tray and cool down to room temperature.
5.Add dry fruits or raisins to mixture, it gives very nice nutty taste to ladoos.

6.Once it is cool down or warm enough to handle, start making balls.Store in air tight container.
Serve everybody these sweet, yummy Besan Ladoo this Diwali.