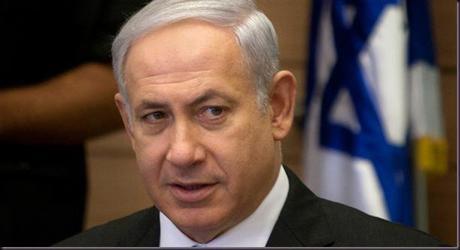 Whilst the world were straining their eyes on the Capitol building to see if the Americans would pass a budget for the next year, a important concession was rung out of Israeli Prime Minister Netanyahu by President Obama, namely for Israel to accept the 1967 borders as a starting point for peace negotiations with the Palestinians, although places where Jewish settlers were now occupying must also be taken into consideration. In Israeli terms, this is a seismic shift in policy, after in May Netanyahu flatly refused to accept such an idea and at home & it may have severe consequences for a leader under pressure from his own people.
Benjamin Netanyahu was born on 21st October 1949 in Tel Aviv, Israel at 09.30am. He is a double Libran with both Sun and Moon in the sign of the scales and he has, if the birth time is correct a Sagittarian Ascendant although right on the cusp, quite possibly he may have Scorpio rising if the birth time was a couple of minutes out. Libra is the sign of the diplomat, the negotiator, the one who wants an easy stress free life & Benjamin is very Libran in nature with 4 planets in the sign. Incidentally, you may not know, but wheeling and dealing is in the very fabric of Israeli consciousness too (not that you would have known it in the past few years), as Israel also has a Libran ascendant; one which conjuncts with Netanyahu's Sun. They go together like peaches and cream. Libra does have one big fault though, not being able to make one's mind up and wanting to keep people happy and it leads you to sit on the fence when a critical decision does have to be made.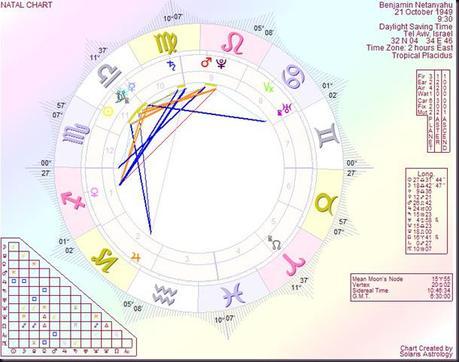 To the chart. Netanyahu has his Sun, Moon and Neptune all in the 11th house in Libra surrounding the South Node and still in conjunction with them but in the 10th sits Mercury. It is funny and quite ironic that the 11th house is both the house of politicians and also of love received, politicians adore all the attention, don't they? That's why they get into the job. With such a focus on the 11th house, politics and committees were always going to be an avenue Netanyahu in life would have travelled down. Eleventh house people need appreciation and love shown to them, and in that Libran way he will be able to "bend" or sacrifice principles to get the peace and harmony he inwardly craves as well as position himself to vault himself up the political ladder. Netanyahu is somewhat of a yes man, certainly in regard to his dealings with others in positions of power. Now, this chart does have 6 planets in cardinal signs so Netanyahu will be a go ahead type of man. It leads me to believe that he will act despite the Libran inclination to prevaricate, but in order to keep others around him sweet and possible at the expense of other more pressing matters. Criticism in Israel of Netanyahu's tenure as Prime Minister has been of his pre-occupation of keeping his coalition together, rather than forging ahead with new policies.
Sun, Moon, Neptune and Mercury is not only quite a gentle combination but also a slippery one too. This conjunction on this chart gives me the impression that Netanyahu goes very much on his instincts in negotiation and discussion, able to go with the flow. We have the influence of both water and air here, highly tuned in but also extremely flexible, so long as it is in the best interest of Netanyahu (and in turn through the connection of the two charts, the Israeli interest). Netanyahu knows his history, Moon and Mercury (especially in 10th) in conjunction always shows a deeply ingrained love of the past, and he should know what will and won't be acceptable to his people.
I feel that this passionate love of the homeland and history would have been ingrained into Benjamin by his mother, especially because of the close link of the Moon to the South Node and thus Nodal axis. There would have been an inseparable bond between them. It is also interesting to note that Cela his mother was born in the Palestinian part of the now Israeli state. The Sun/Moon/Neptune Mercury stellium make a sextile out to Pluto and Mars in Leo in conjunction in the 9th house of faith, education, wisdom and internationalism. This is a very power driven combination, ruthless & determined to make one's mark on the world. Netanyahu's Jewish faith will be very close to his soul, and he will defend it with all his might; as faith and homeland are so intertwined, he would fight just as much for his country shown by Mars sextile to his Sun (conjunct Israeli Ascendant). He entered the Israeli army after leaving school and served in the special elite forces with distinction. With a strong accent on this chart on the 9th house, it is no surprise that a major part of Benjamin's life was spent abroad, mainly in the US studying. Before he became Prime Minister, he served as a long time as Israeli foreign minister, and the international influence in his life also extended to his relationships as he was to married a British woman, the second of 3 marriages in his life so far. Gemini is on the cusp of the 7th house, so Benjamin was never going to be one who would be emotionally tied to just one woman in his life, Gemini is just too fickle for that, and Mercury ruling Gemini is in conjunction with Neptune, which is always searching for the ideal. This is backed up Venus in Sagittarius square to Saturn. Venus in Sagittarius wanders for love, is never settled, always wants more and is not afraid of taking the odd emotional risk. Along that road, Benjamin would have met a lot of setbacks and disappointments (Saturn) in his search for the ultimate love (remember back to the 11th house and his need for love).
We find Saturn in critical Virgo conjunct the Virgo Midheaven. The Virgo accent here clearly gives the message of serving others by administration. There is a hard critical edge to his work dealings, a penchant for order and correctness. I can imagine him to be a hard and severe task master to those below him. Saturn conjunct to the Midheaven is a statement of ambition to rise to the top of the tree, which he has done. The Saturn square to Venus I wrote of earlier leads us to the first house. There is obviously a very sociable side to Benjamin away from his work, although I feel that Saturn's influence would get in the way of him being a true party animal. Venus in the first is very conscious of one's personal appearance, and again rather than being casual and relaxed as you would expect a Venus in Sagittarius to be, I suspect that neat and tidy would be preferred Netanyahu's style, coloured by that precise, just so Saturn. Venus in Sagittarius does hint at the idea of idealism, and that idealism in Benjamin flows out from Venus through aspects to Mercury and Neptune (political idealism, 11th), to Saturn and the Midheaven (idealism in his ambitions & position in society/work, 10th) and to Pluto (idealism of his strongly held beliefs and faith, 9th). you can see why he took the path in life he did.
The Sun and Moon square to Jupiter in the 2nd house of money. Here is a big spender who will like a lavish lifestyle, no expense will be spared in acquiring quality possessions. This is a generous man with a big, almost self inflated ego. The square hints to a cheerful, optimistic disposition who generally looks to the bight side in life, there's always another opportunity around the corner. Jupiter in Capricorn is shrewd with money and here we see another link with his work career and Netanyahu served as Israeli finance minister. Uranus sits in the 8th house of big business and points to him being a big advocate of free market policy, Uranus never if fond of restrictions of any sort. Uranus squares back to Mercury giving him a quick thinking brain; he is an original thinker and will be a electric public speaker able to excite a crowd.
Uranus in the 8th house of change and death is a very dangerous position for it to be sitting, especially if one has a Pluto Mars conjunction as well. It certainly hints at a very up and down life, with big highs and lows, three marriages is an indication of the rollercoaster that Benjamin has lead. His brother Yonathan was killed in the forces while in military action (Aquarius ruled by Uranus is on the cusp of the 3rd house of brothers and sisters) and I get the feeling that Mr Netanyahu better be careful in the decisions he makes, there are a lot of enemies he could make whatever he decides on the Israel/Palestinian question, and nationally he is already in a weak situation.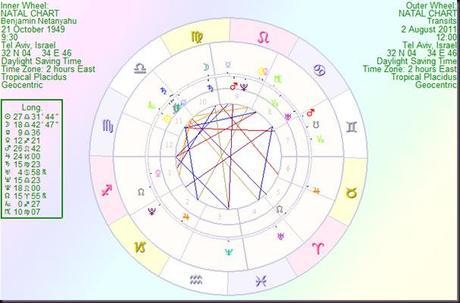 Currently we are approaching one of those very nasty and potentially dangerous periods for his own political ambitions. Transiting Uranus is square Benjamin's natal Uranus which is also being opposed by transiting Pluto. On 10th/11th August, Mars will conjunct Netanyahu's Uranus at 5 Cancer and a few days later hit the July 1st eclipse degree of 9 Cancer, still in conjunction with that natal Uranus. Remember, Mars and Pluto are in conjunction in Benjamin's chart so any Mars transit will be transformational. In this few days we have Uranus, Mars and Pluto all combining. Now Pluto is operating out of the second house of finance and natal Uranus is in the house of other people's finance and possessions. Netanyahu at home is facing social protests (Uranus) over housing and social benefits (all 8th house and Uranian issues) and he has record low popularity ratings. Pluto's rules Scorpio which rules the 12th house on this chart, so Netanyahu will feel helpless to stop the terminal decline he is facing. There could be worse to come as Mars connects up with natal Uranus and hits the eclipse degree. The fact that that eclipse hit Netanyahu in the 8th house of change close to natal Uranus could be a fatal hit. Transiting Saturn also shows a similar picture, as it is conjunct natal Neptune (showing weakness) and it will soon hit his 11th house Moon (depressing) and South Node (a spot on the chart which is always a fall position). By agreeing to this so called compromise with Obama, will the coalition in the Israeli Knesset stay together, or will his own Likud party members see this agreement as the last straw, and decide to distance themselves permanently from the embattled Israeli Prime Minister? The stars do not look helpful for him…