BENEFIT BRISTOL EVENT : STAY FLAWLESS 15 HOUR PRIMER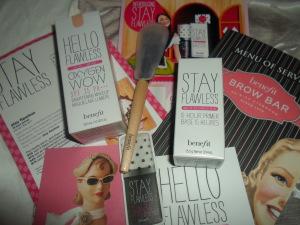 I'm very excited to write this post! I was lucky enough to get my name put down for the BENEFIT BLOGGER EVENT in BRISTOL last night! A while back they launched 'Fake Up' in Swansea and I was GUTTED I didn't get myself and invite – so I was determined to make sure that the next time there was an event near me I would get in there somehow!
And fortunately for me Benefit visited Bristol to launch their new product STAY FLAWLESS! (As soon as I saw it I was on it!)
My regular readers will know my LOVE for benefit products from previous posts:
A Ticket To Glossy Town
Arch Those Brows
Benefit Babe
I used to work for Benefit 3 years ago (For those who didn't know) and it was then that they saved my make-up look by introducing me to 'Coralista' and 'Hoola' and saved my eyebrows by introducing me to the ARCH and 'Brow Zings'.
It is safe to say I am a massive fan of Benefit – So you can imagine how excited I was for this event – And the fact that it was my first bloggers event made me ten times worse!
Enough of me babbling on…
The Benefit event was located in Bristol in a place called 'The Living Rooms' (It was very nice and very posh) – Full of suited men, and lots of wine – who could complain!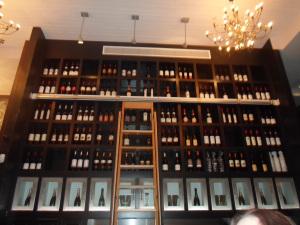 It was hosted by The Head Office Benebabes, including Head of Make Up, Lisa! I didn't really know what to expect, but it definitely went over my expectations!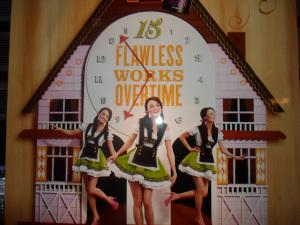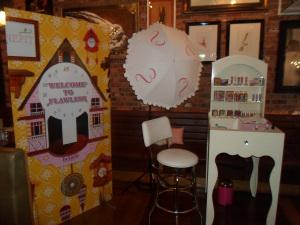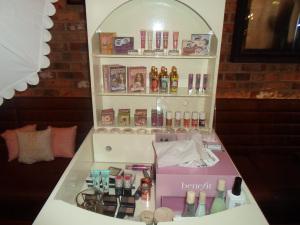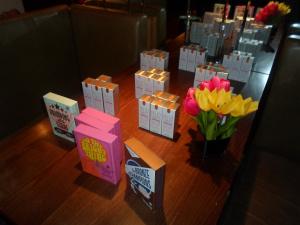 I arrived in the Living Rooms, where I was able to meet other Bloggers, (Beauty, lifestyle, & fashion) introduce ourselves and have a Blogger chat!
We were then called in where we were offered champagne or juice, (I obviously went for the champers) If I had known there was free champers I would of got the train! Unfortunately I was driving so I could only have the one!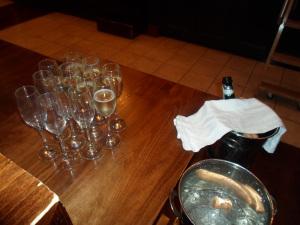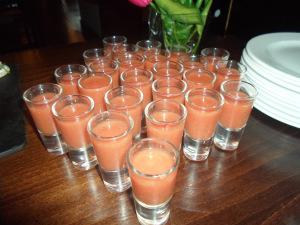 (Bloody Mary Shots)
After a few introductions we were shown the STAY FLAWLESS product – Lisa demonstrated the application on Rachel, (As pictured below).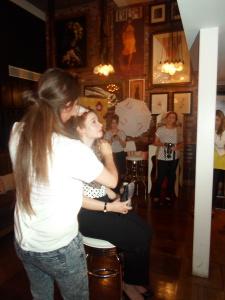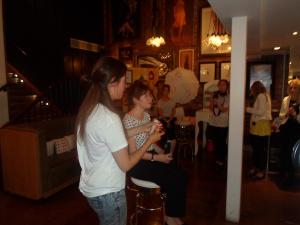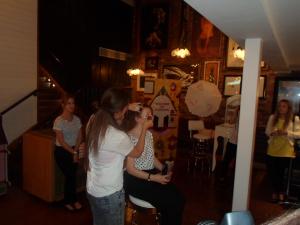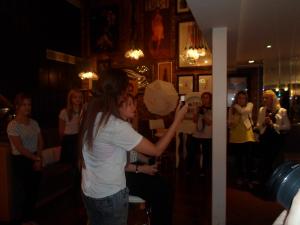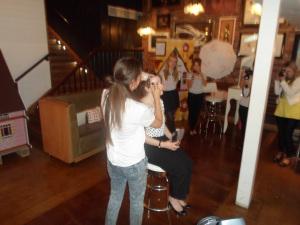 THE PRIMER: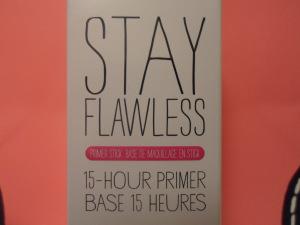 WHAT IS IT?:
It is a PRO long Primer which keeps your Make Up where it is meant to be, (On your face) for 15 hours (A makeup miracle)!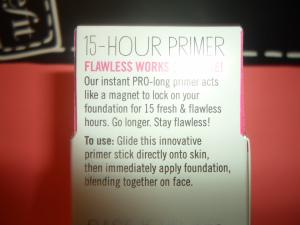 COST: £24.50
LAUNCH: End of June, start of July, (Sorry can't remember exact dates).
HOW TO APPLY IT:
Apply directly to the face, in circular motion, and immediately work the foundation in on top!
HOW IT WORKS:
The best way to explain it is the way the Benefit Girls did for us! They gave us three magnets, (As shown below) used to show how the primer works!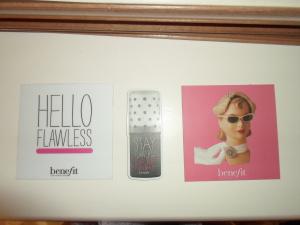 The Pink magnet being the Face – And the Hello Flawless being the foundation (Obviously)
When you put these two together they don't stick, but when the STAY FLAWLESS magnet is in the middle they don't move! – This represents the idea that the 15 hour primer works like a magnet to lock in the foundation, (Even when I applied it to my hand yesterday I could feel the foundation sticking  – so let's hope it does so on my face).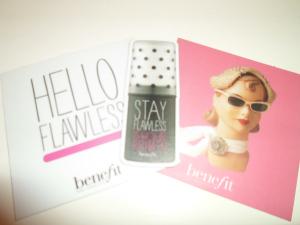 We then went in to a Q & A game, of which I was terrible at, I was so slow! – And worst of all I didn't win anything!
BUT I cannot complain as I was lucky enough to be given a GOODIES bag with STAY FLAWLESS and HELLO FLAWLESS in (And a brush)!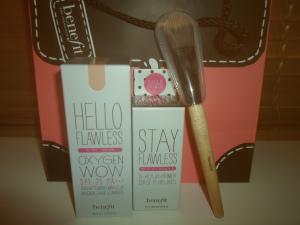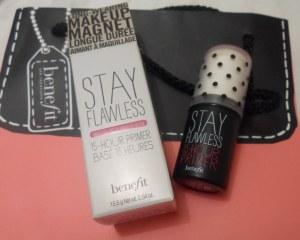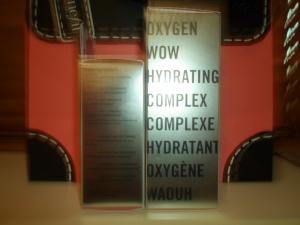 I am looking forward to putting the PRIMER to the TEST, and will take some photographic evidence to show you all as well as give you my honest opinion!
The STAY FLAWLESS primer is not going to be launched (Officially) until the end of June/July! So keep an eye out for MY PRODUCT REVIEW, and check out some of the other girl's views from the event to!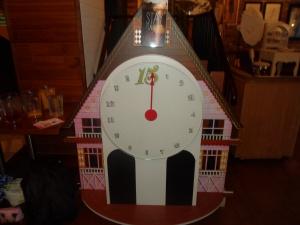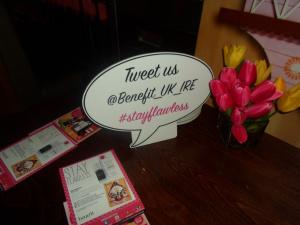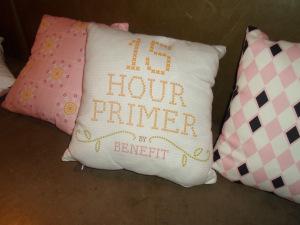 After having been to my first event, I cannot wait until the next one! Through some blogger socialising I was able to meet other bloggers from South Wales & Bristol so hopefully we will be able to sort a get together soon!
Not only did I have fun with the beauty talk, and socialising but the Benefit Girls were so nice! AND there was free food and drinks, (All my favourite things in once place)!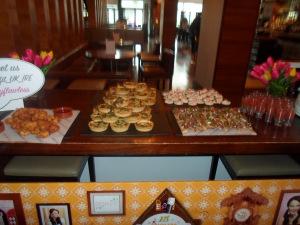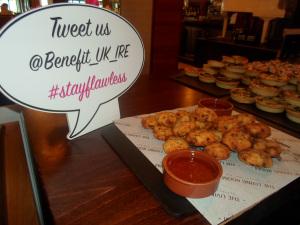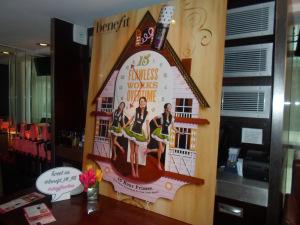 REMEMBER KEEP AN EYE OUT ON MY BLOG FOR MY STAY FLAWLESS REVIEW
(And my Hello Flawless one)
DO YOU USE A PRIMER?
HOW DO YOU KEEP YOUR MAKE-UP FLAWLESS?
Lots of Love,
KB xx