Ben Nye Banana Luxury Powder review : I cannot even begin to tell you guys for how long I have been wanting to try this cult favorite and highly recommended setting powder for myself. But being in Mauritius it was very difficult to get my hand on it. It is easily available on Ebay though but the price listed by some sellers is just plain ridiculous. So after a lot of searching I finally did manage to find a website where the shipping was not sky high. It was Makeupmania.com and since the size I ordered with them went out of stock they upgraded it to 3 oz from the 1.5 oz that I originally ordered. I also got 2 Ben Nye Blushes which I shall review later in a separate post.
Price for 3oz of Ben Nye Banana Luxury Powder is $20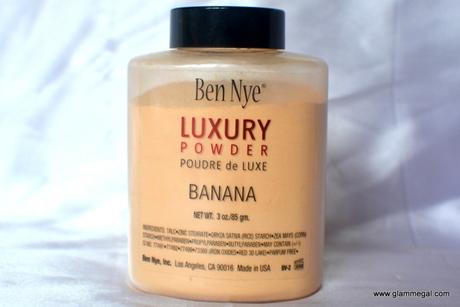 Ben Nye banana luxury powder
Ben Nye Banana powder is a yellow colored powder which is used mainly to set the undereye concealer as well as brighten up the under eye area and highlight anywhere else on the face as well. You can use it like a regular powder to set the concealer or you may bake your makeup with this loose powder as well. One thing to keep in mind though is that this particular color banana is meant for Olive skintones and deeper complexions with yellow undertones, if you have pink undertones and or  lighter complexion then you might want to pick up another shade not banana.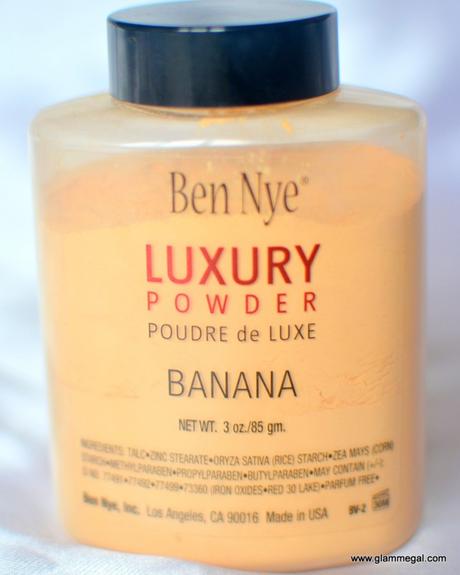 Ben Nye Luxury Powder Banana Review
Finely milled with superb texture, Ben Nye Luxury powders smooth skin while lightly enhancing skin tones. Banana is a perfect face powder for warmer skin tone or when a warm based higlighting is needed.  These powders tend not to clog pores and create a smooth finish over foundation while reducing shine and setting makeup.
So I have a bit of a problem with the packaging of the 3 oz size of this product. The 1.5 oz comes in a round tub whic is wider and since its a loose powder you need to dispense the product out on to the cap or lid or something else upon which you can use the product on a makeup brush or beauty sponge to set it. But the 3 oz size as you can see comes in a big plastic container and the top is very narrow and the lid very small, so when I have to use it I have to find another container where in I can dispense the product. And I tend to waste product too if I dispense more of it since there is no way to put it back inside or leave the unused powder in the container like in the ELF HD powder. So that is my complaint with the packaging.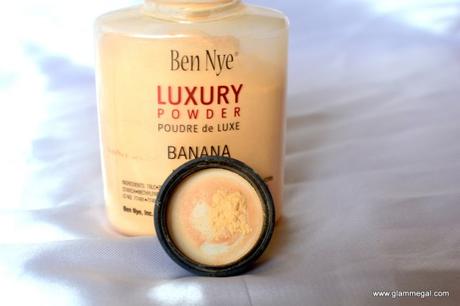 Ben Nye Banana Luxury Powder review.
That being said the product is itself is very nice. the powder is matte and very finely milled and very soft to touch. It did take me just a while to get a hang of the product as to how to use it to the best of its capabilities because I knew its a great product.
The trick is to press the powder into the skin rather than just applying it on the surface. I do not bake with this powder as much since I have dry skin, but when I do I apply it heavily under the eyes using either a beauty sponge which is dry and not damp or a stiffer makeup brush and then I like to just powder off the extra very lightly.
The powder is very finely milled and it doesnt clog up the pores and gives the skin a very smooth finish but it is not paraben free which has me on the edges for a repurchase.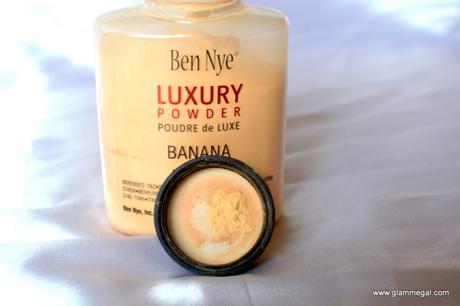 Ben Nye Banana Luxury Powder review.
If you have olive skin   tone or have yellow undertones then this is the perfect color of powder to brighten up the under eye area without it turning ashy or grey, because of the color it brightens up under eye area seamlessly and makes the makeup last longer. I did notice after using this powder that my under eye area looked smoother.
Using the Ben Nye Banana Luxury powder may take some practice but it totally changes the appearance of the under eye area. Even if you are into highlighting and contouring but if you just set your under eye area with this powder you will notice your concealer will stay longer and under eye area will look bright. If you have deep dark circles like I do  then you can truly appreciate this powder, it is so finely milled it doesnt cake up at all. Would totally recommend it.
Related
You Might Also Like
NYX Liquid Suede Cream Lipstick Vintage Review
Sleek Blush by 3 Pumpkin Review
Estee Lauder Dominant 430 Pure Color Envy Sculpting Lipstick Review Swatches
Estee Lauder Double Wear Foundation Review: 3W2 Cashew
Gerard Cosmetics Tequila Sunrise Lipstick Review Swatches Price
The Balm Mary Lou Manizer Review and Swatches / Dupe for Mary Lou Manizer
Bourjois Rouge Edition Velvet Lipstick Nudeist 07
Revlon Age Defying Foundation Review : 35 Honey Beige
Tags:
ben nye banana powder, ben nye banana powder review, how to highlight and bake using banana powder, how to set concealer, how to set under eye makeup, how to use ben nye banana podwer, how to use lose powder