Happy Hump Day!  I am noticing some cravings over the past week, and especially the past few days...  I am taking note of what things have changed, and here are the things I've come up with;
1) I have had caffeine(via espresso) a couple of times per week. 
2) I have not consistently had my green smoothie for breakfast, I've had Lara bars or something similar a couple of times... (usually with the espresso)
3) My water in take has not been what it was, and I've been more dehydrated.  When I'm dehydrated, I feel tired, when I feel tired - I crave food to "wake" me up, or to soothe me...
4) I've been stuck in a bit of a rut with what I'm eating, it's time to start trying recipes!
Cravings can be such a mix of emotions, AND physiological needs - which is why they are so powerful.  I stand by my rule of one week; If I am craving something consistently for one week, it's time to plan for the splurge - or make a healthier version.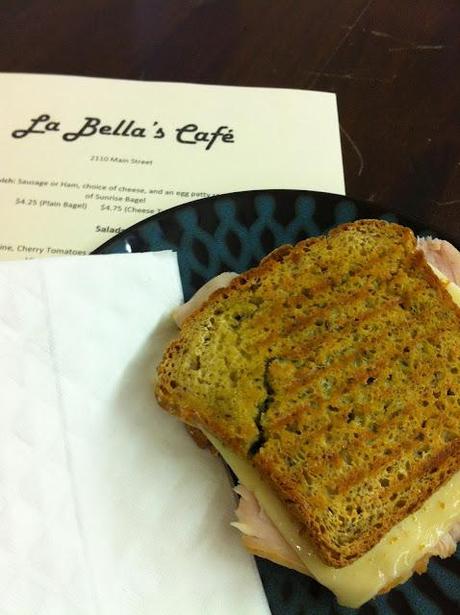 I had an hour between teaching and an appointment - so I stopped at a little cafe that said "gluten free" items on their sign outside.  I had a gluten free panini made with almond bread(really hearty and good) pesto, turkey, and provolone cheese.  It really satisfied!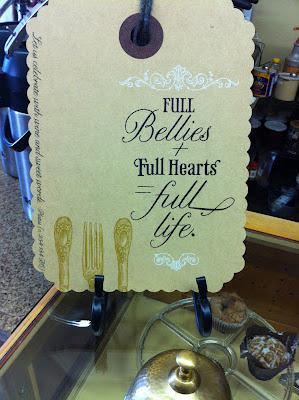 They have a good selection of gluten-free baked goods, and can do most sandwiches - including the breakfast sandwiches on gluten-free bread.  La Bella also carries espresso drinks, teas, and ice cream - all local!  I was so glad I stopped in.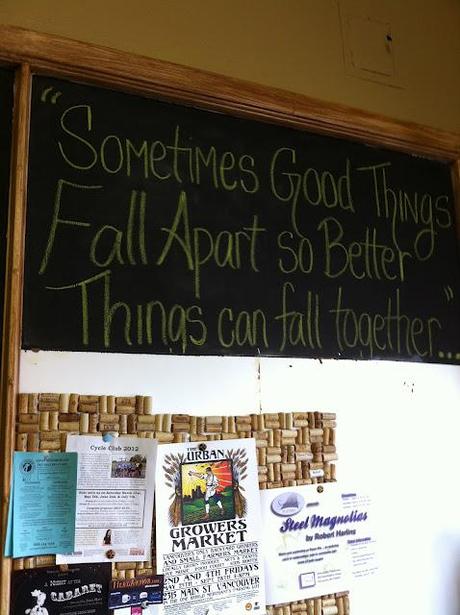 "Sometimes Good Things Fall Apart so Better Things can fall together..."  Love it.  I'll make that my motto.  I left a couple of my business cards behind on their cool cork board.  I love cork boards made with used corks!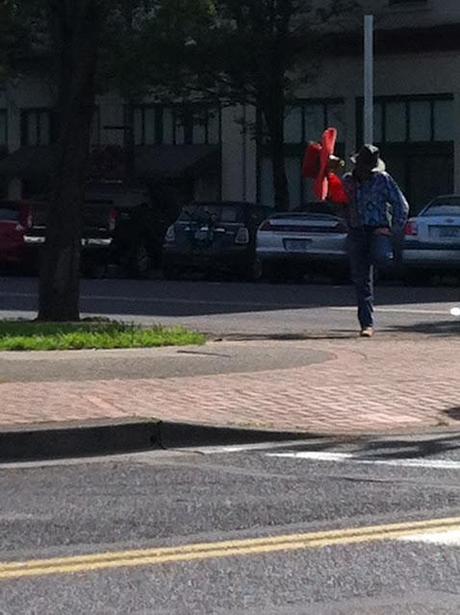 One of the things I love about living in the city is the random things you see on a hot sunny day.  It was 90 degrees here yesterday, and this man stood all afternoon against the post with his "horse".  His "horse" was wearing the big red cowboy hat, and the only time this "cowboy" moved was to nuzzle his "horse" under the chin.  He was one dedicated performance artist... not even a hat for tips.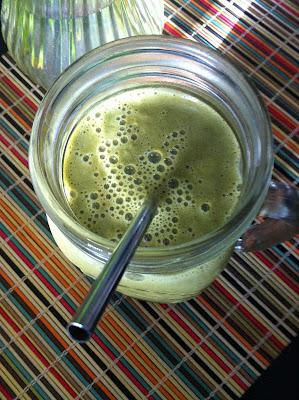 This morning's smoothie hit the spot! 
In the (Vita)mix:
1 cup spinach
1 frozen banana
1 handful of frozen strawberries
1 scoop rice protein powder
1/2 cup orange pineapple juice
1/2 cup almond milk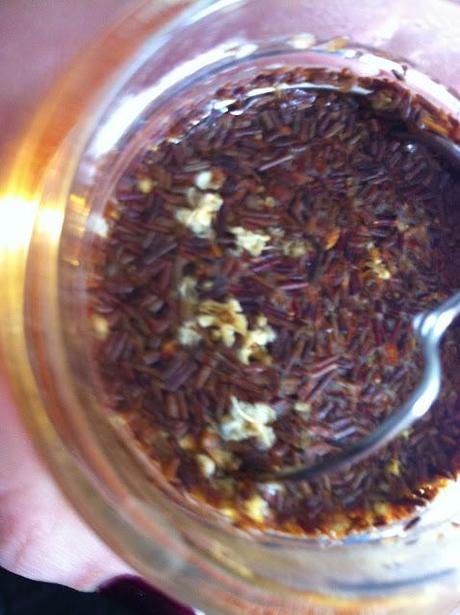 I've been drinking my new favorite "coffee" like tea a couple of days.  Rooibos with light notes of vanilla and cocoa - so good, and good for me!  It's going to be another beautiful sunny day here - yes!  Have a good Wednesday!