There was a little cafe in Minnesota near the place I worked in 2009 that had the most tasty sandwiches and coffee drinks!  I was missing home a bit, and I was really missing my favorite sandwich…  I tweaked their version, my boyfriend renamed it – and a tasty dinner was born!
First I cut and peeled some red garnet yams and cut them into wedges. (Don't even get me started on the sweet potato confusion, it's a whole post!)  Next I tossed them with olive oil, minced garlic, and sea salt.  I spread them in a single layer on a cookie sheet and popped them in the oven at 425 degrees for 30 minutes.  If you haven't made them with garlic, you are missing out!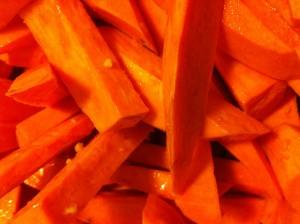 Sweet Potato Fries Never Disappoint!
While your fries are baking, spread two slices of your favorite bread with cream cheese or tofutti.  Sprinkle sunflower seeds on the cheese and place a generous amount of sprouts on top.  I used sweat pea sprouts and they were SO GOOD.  The original had alfalfa sprouts, but I couldn't find them anywhere, so after sampling my options – I went with pea sprouts.  They had a very similar taste, just a little sweeter.  Finally layer a few slices of turkey or tofurkey and your Gobble N' Seeds is complete!  (You can also add some cucumbers for extra veggie boost!)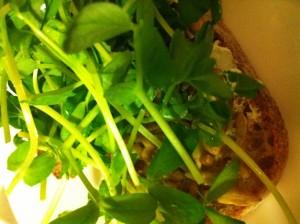 Simple and Tasty!
The key to this sandwich tasting like a true "deli" style sandwich is the bread.  You want a bread that is just the right amount of hearty and just the right of soft… I chose a 7 grain artisan bread and it was perfect!  This would work well with gluten-free artisan breads as well.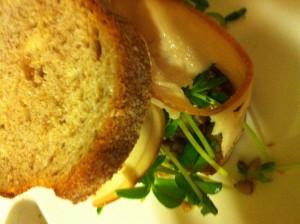 It's all about the right bread…
We also had a simple side salad but it was nothing special so this pic isn't included.  You can make a bunch of fries ahead of time and simply pop them in the oven to "re-crisp" and you've got dinner in 15 minutes!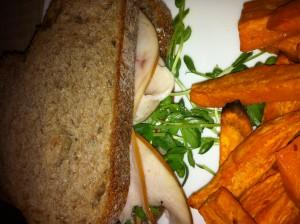 Gobble N' Seeds with Sweet Potato Fries
Cheers to Your Health!