This multifunctional iPad 2 case by Belkin can be easily turned into a viewing stand. Offering three different viewing angles, you can easily type your e-mails, edit documents, browse the Internet, and more. The Trifold case for iPad 2 safeguards sides and corners of your tablet computer. Since this is a play-through iPad 2 case, you will be able to fully use all the necessary features of your device such as buttons, ports, connectors, and camera, thanks to the custom cut-outs and openings.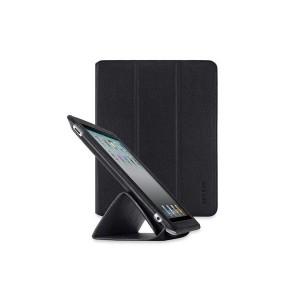 iPad 2 Case - Belkin Trifold Folio
The inner side of the Belkin Trifold Folio iPad 2 case is lined with soft and smooth materials that keep your touch screen from getting scratched, scraped, or damaged in general. You can easily personalize your iPad with this appealing and snazzy iPad 2 case, and stand out from the crowd.
Being a custom made case, it offers snug and perfect fit. The materials the case for iPad 2 is made from, PU Suede, feels smooth when in hands. Use the strap closure to safely and securely hold the tablet in the case when you are not utilizing it.
For more high-quality iPad 2 accessories by Belkin, please visit MyTrendyPhone.co.uk!