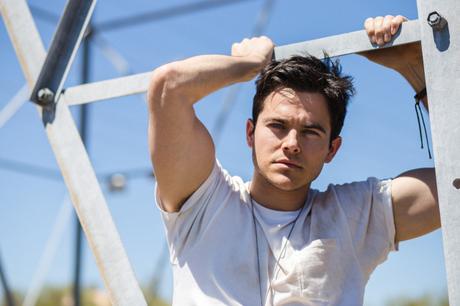 Some may recognize him as a former Dalton Warbler (fellow Gleeks, where you at?) but Brock Baker is also a talented singer and songwriter. At the young age of four, Brock started his musical journey performing in front of thousands and participating in singing competitions and in 2007, he received his first musical award at GMAs for "Best Vocals."  His debut EP "Young 'n' Stupid" was featured on the Homepage of iTunes during release week and continues to gain momentum daily.
Brock has released his newest video for his single, "FairyTale Ending" – this new stripped down version is completely swoon-worthy and we definitely let out an unanimous "aww" when we heard the meaning behind the song. Check out what Brock had to say about the inspiration for the song and the real life fairy tale ending that followed.
"Every good story starts with 'once there was a girl,' and in the case of 'A FairyTale Ending,' it is no different. Once there was a girl that was extraordinary, she was a middle aged beauty, successful in her career, and she cared for people above herself. I noticed this and asked her why she hadn't found anyone when she was so worthy of royalty. She looked at me with tears in her eyes and with a break in her voice said 'I don't know.' I couldn't help but feel like I had opened up a wound and decided to do something about it.
I penned 'FairyTale Ending' and all of the melodies came into place with the intention to give her hope. The song is in the perspective of an imperfect man (in "tattered" armor) acknowledging her worth, looking to care for her the way she cares for people. It wasn't too long after the song was released that she found her man, and had me sing the song live at her wedding as their "first dance." It really was a stand out moment in my career." – BB
Filed under: Behind The Song Tagged: a fairytale ending, behind the song, brock baker, dalton warbler, glee, music video, young n stupid