Two weeks ago Team Diet Doctor spent three days discussing what to do next and building our team. Want to know what happened?
Here's another behind the scenes post.
What we discussed
Every month we spend three days together discussing important stuff and hanging out. What did we discuss this time?
Monday: January
January is the time when people decide to try losing weight and become healthy. Last year, our traffic in January was nearly twice that of December!
So, the main goal of Monday was to plan for January.
Here's the detailed agenda:
12:30 - 13:30: Team lunch
13:30 - 14:00: Introduction (Andreas)
14:00 - 14:45: Evaluation of last month's priorities (Johan)
14:45 - 15:00: Break
15:00 - 15:45: January planning 1/4 (Andreas)
15:45 - 15:50: Short break
15:50 - 16:30: January planning 2/4 (Andreas)
18:00 - 20:00: Dinner (Kristin and Andreas)
Tuesday: Priorities
The primary goal of Tuesday was to finalize the January planning and agree our three priorities for how to make low carb simpler next month.
Here's the detailed agenda:
09:00 - 09:45: January planning 3/4 (Amanda)
09:45 - 09:50: Short break
09:50 - 10:30: January planning 4/4 (Amanda)
10:30 - 11:30: Long Break
11:30 - 12:15: Priorities next month 1/2 (Andreas)
12:15 - 13:15: Team lunch
13:15 - 14:00: Priorities next month 2/2 (Andreas)
14:00 - 14:15: Break
14:15 - 15:00: How to communicate responsibly and with goodness about weight loss? (Kristin)
15:00 - 15:15: Break
15:15 - 16:15: Open session (Simon)
17:00 - 20:00: Restaurant (Andreas)
Wednesday: Team
The main goal for Wednesday was to build our team by discussing things like employee ownership, salaries, fears and heroes.
Here's the detailed agenda:
09:00 - 10:00: Equity, and salary transparency (Andreas)
10:00 - 10:15: Break
10:15 - 11:15: Fears, failures and heroes (Bjarte)
11:15 - 11:30: Break
11:30 - 12:00: Weekly plan (Inger)
12:00 - 13:00: Team lunch
13:00 - 13:15: Karlstad Days evaluation (Alex)
13:15 - 14:15: What makes low carb hard (Bjarte)
14:15 - 14:30: Break
14:30 - 15:00: Blog improvements (Inger)

Next Month's Priorities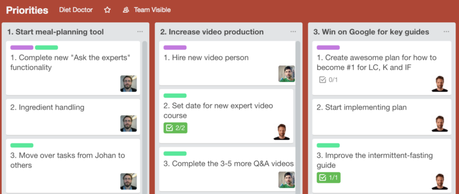 The above are next month's priorities. The items below each priority are what we aim to get done by October 17th. We will not be able to complete everything, but we will work hard to get as much as possible done.
As you can see, we have three priorities for the next month:
1: Start creating a meal-planning tool
You deserve meal plans with shopping lists. To make this happen we need to build a meal-planning tool. This will take months. As we want to have the first version ready for January we need to get started now.
2: Increase our video production
You also deserve more video courses and different types of low-carb videos. To do that we need to hire another video editor. Our awesome Simon can't do everything by himself anymore! We hope to have a new video editor in place by mid-October.
3: Win on Google for low carb, keto and intermittent fasting
It should be simple to find the most important information about low-carb, keto and intermittent fasting. We want to create guides that are so great that they are easily found when searching on Google. Creating such guides takes time and we need to work at it every month to succeed.
Should we be doing something else? Please tell us in the comments below.

Recent behind the scenes pictures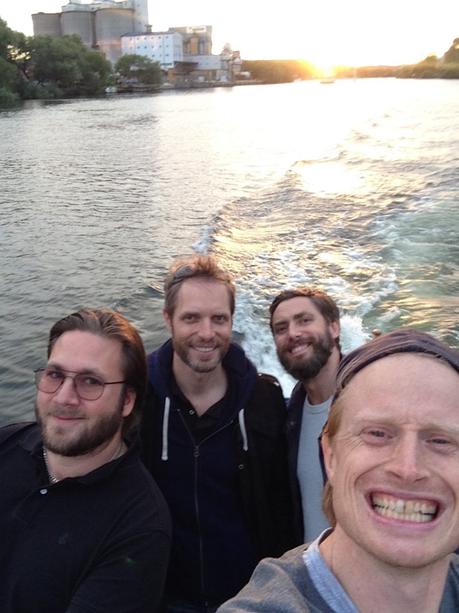 Cruising with Alex's boat around beautiful Stockholm, Sweden. From the left: Alex (captain), Andreas, Johan and Bjarte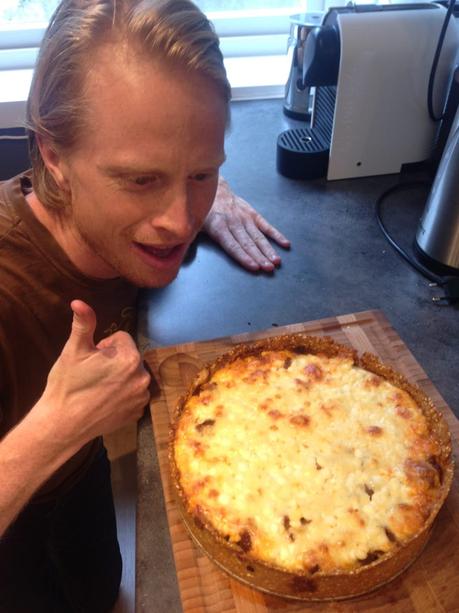 Bjarte with the awesome Diet Doctor meat pie!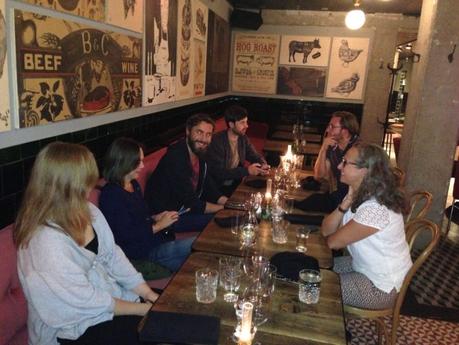 Team dinner in Karlstad, Sweden. From the left: Amanda, Annika, Johan, Simon, Alex, Anne.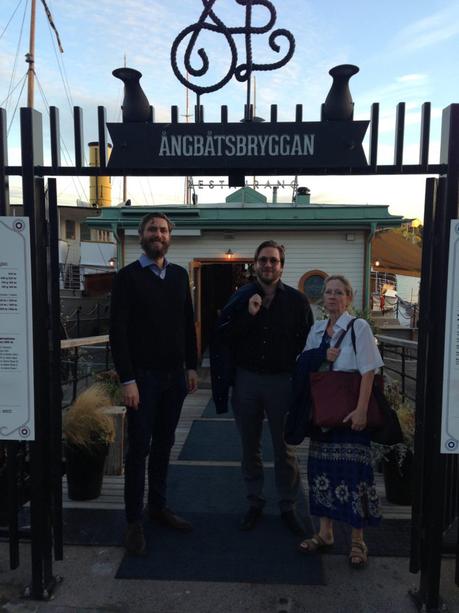 A glass of dry red wine after work in Stockholm, Sweden. From the left: Johan, Alex and Inger.
More behind the scenes
What do you want to know about Diet Doctor? Please tell us in the comments below and we will do our best to write about it.
Here are some earlier behind the scenes posts:
Behind the Scenes: How to Make Low Carb Simpler Next Month (September)Behind the Scenes: Making Products You LoveBehind the Scenes at Diet Doctor: Our Two-Month PlanHow Can We Make the Membership Insanely Great?Behind the Scenes at Diet DoctorWe've Passed 15,000 Members!
Support Diet Doctor
Diet Doctor is 100 percent funded by the people, via an optional membership. There are no ads, no food or supplements for sale, and we take no industry money.
Most of the site - like our guides, news and recipes - is free for everyone. But the more than 18,000 people who support us via the membership also get access to bonus material about low carb, like our over 150 high-quality video courses, movies, presentations and interviews, plus Q&A with experts etc.
Membership is $9 per month, and you can try one month for free.
Learn more about Diet Doctor