Bee Radiant, Bee Beautiful with Burt's Bees new RADIANCE Range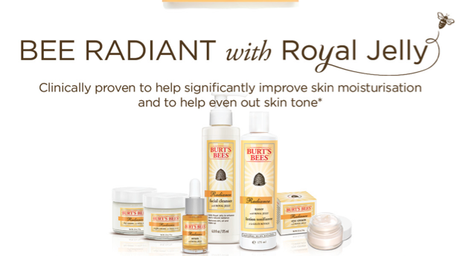 The reason for this range of Burt's Bees products standing out from the rest is due to the fact they have made and based the line around using Royal Jelly to enhance skin's natural radiance.
Made by worker bees and fed to the queen in her first days of life to ensure her growth and fertility.
Royal Jelly is packed with 134 nutrients- Royal Jelly is said to be on of the world's most nutriet-rich substance, packed with 134 nutrients including amino acids, minerals and vitamins B1, B2, B6, C, E along with Biotin, Niacin and Folic Acid.
 It is the reason why the worker bee only lives to be 30-40 days old, but the Queen Bee can live up to 2 years old- making the Queen Bee live 40 TIMES LONGER!!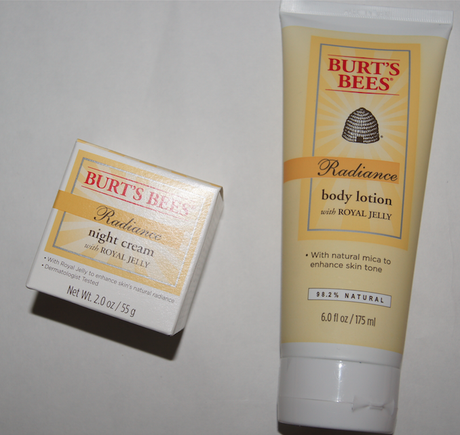 I have been lucky enough to try some of the products out and see for myself how great (or not so great) these products actually are.
Radiance Night Cream 99% Natural $39.95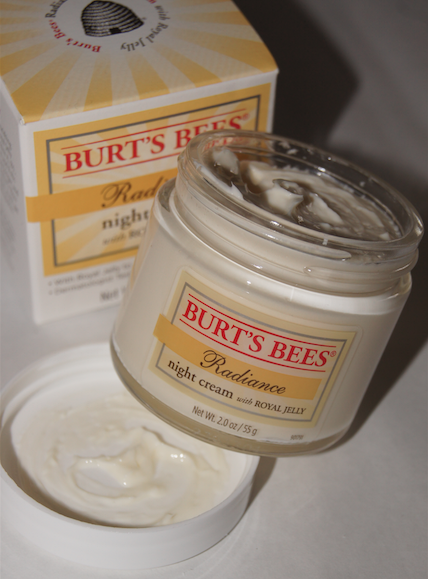 Uses lemon, rosemary and pine tree extracts for deep overnight treatment.
Anybody that knows me knows, I wear NOTHING on my face when I go to bed and even have wipes on my bedside table to wipe anything off before my head hits that pillow (germaphobe). So I was a little bit reluctant to put a cream on my face before heading to bed in fear that due to the oils I would wake up with a huge zit somewhere on my face.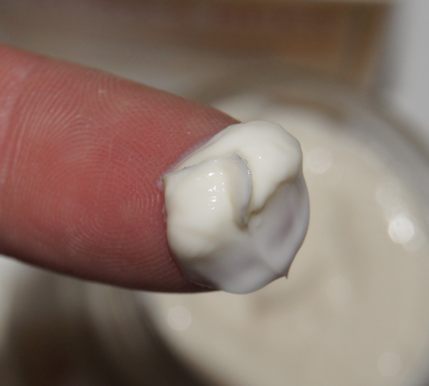 But for the sake of this review I took the plunge and tried it out, my intentions for being just the one night. I woke up in the morning and my skin had soaked up all the nutrients and product of the top layer of my skin, and it didn't even feel like I slept with anything on. My skin was nice and hydrated- but I would be lying if I said after one use you could see the difference. I know I said my intentions were to use this for the one night, but now I am going to try wearing this product to bed every night for the month to see if there is much of a difference as Spring and Summer means dry skin- and if I get any breakouts.
As for the smell, there isn't a real horrible smell but I wouldn't say it is beautiful it is just bearable and once rubbed in the smell is gone. If I were to put it down to one scent I would have to go with rosemary- which I prefer in my cooking then the smell on my face but that is just me haha.
Radiance Body Lotion 98.2% Natural $24.95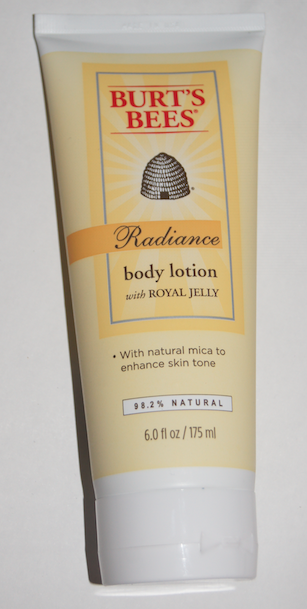 Sunflower oil moisturises and mica, a light reflecting mineral, enhances your skin's natural glow. The result is soft, shimmering skin you'll love.
Saving the best till last with this one
J
With both of my girls I used Baby Burt's Bees product on them and in their bath, so it is certainly a brand I know and trust. I cannot wait to have another bubba just due to the fact I can't wait for that aroma to fill my house again.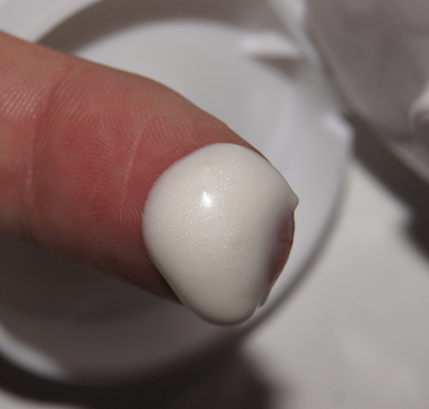 The Radiance Body Lotion, is pretty much like their other body lotion only this contains the Royal Jelly and also a light shimmer! It also smells different from the Original Body Lotion, but I do LOVE this scent- so pretty and Spring suitable that is for sure.
The consistency of this is also a lot runnier, but goes on the skin perfectly- I don't mind this consistency to be honest. For me it takes less then a minute for my skin to soak it up, so I think I put this down to the new consistency.
I won't lie, I have already gone through half the tube in a month on my entire body- I love it! I also use it on my legs after every single shave to put back the moisture I shave off. I will confirm this cream does not sting freshly shaven legs- and mine are super sensitive!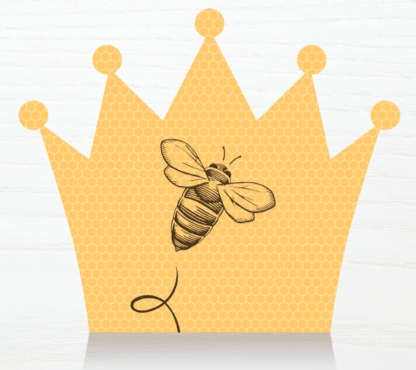 Have you tried any of the NEW Burt's Bees Radiance Range?  If so what are your favourites?
http://www.burtsbees.com.au